Baseball Recaps
October 1, 2006
Compiled and Copyright © 1997-2006 by Marco Stoovelaar
Sunday, October 1


Kinheim wins Dutch title
---

Kinheim wins Dutch title
Nederlands | Line Score | Box Score | Play-by-Play | Kinheim's previous game | Pioniers' previous game
Standings | Schedule | All Line Scores & Box Scores
HAARLEM (Neth.) - Corendon Kinheim on Sunday won Game Five of the Holland Series against Konica Minolta Pioniers 13-5 to claim the Dutch title for the first time in twelve years. By winning, Kinheim repeated the feat they accomplished in 1994 when they were also trailing 2-1 in games against Neptunus, but then won the last two games to win the championship.
For Kinheim, this was their third title in club-history after winning in 1978 and 1994. This was Kinheim's first appearance in a Holland Series since 1996.
But it took almost 5 1/2 hours for Kinheim to finally capture the title on Sunday, as the game was delayed for more than two hours by rain and even threatened to be suspended and be completed on Monday-evening.

This was the first game in this Series which was won by the home team. Never before in the Series-history were all games won by a visiting team, as happened in the first four games. But in the beginning, it appeared that Game Five also was to be won by the visiting team, as Pioniers had a 2-0 lead in the second inning. Kinheim then came back very strong offensively and scored ten runs in the second and third inning combined to decide the game.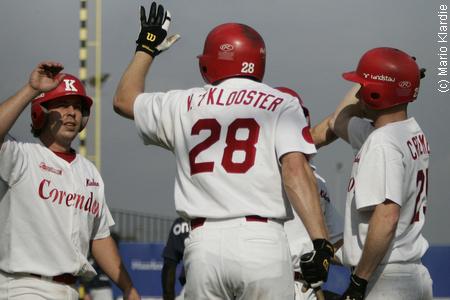 ...Wouter Heemskerk and Denny Beljaards get high-fives...
...from Dirk van 't Klooster and René Cremer after...
...giving Kinheim a 4-2 lead in the second inning...
(Photo: Mario Klardie - www.sport-fotos.nl)

Kinheim-starter David Bergman again didn't had his right stuff. The first pitch he delivered in the first inning hit lead-off batter Michael Duursma and that would result in the first run moments later. Duursma advanced on a wild pitch, then reached third base when his brother Mark Duursma singled. Glenn Romney then grounded into a double play, but that enabled Duursma to score the first run.
In the second at bat, Glennsig Polonius led off with a single, advanced on a sac-bunt by Edwin de Graaf and was able to reach third base when Marcel Venema flied out. Polonius then scored on Bergman's second wild pitch in the game.

Kinheim, which hit better in this Series than Pioniers, then showed its offensive strength in the second and third inning. Before today, Pioniers had scored more runs, but played better defensively, setting a record with 13 double plays. However, today, in the fifth and deciding game, Pioniers didn't got a chance to add more double plays. With one out, Vince Rooi hit a homerun to set Kinheim on the right track. Rooi's homerun would be the only one in this Series. Last year, when DOOR Neptunus and Mr. Cocker HCAW played in the Holland Series, also only one homerun was hit, as was the case in 2003, 2001 and 2000 Series, making this only the fifth Holland Series-homerun since 2000. Rooi became only the third player to homer in this period, as Dirk van 't Klooster homered in 2000 and 2001, while playing for Neptunus, and Percy Isenia (also Neptunus) homered in 2003 and 2005. This also was the first non-Neptunus Series-homerun since September 25, 1999 and the first Kinheim Series-homerun in almost 10 years since Giel ten Bosch hit one on October 6, 1996. After giving up the homerun, Pionier-starter Roger Kops walked next batter Edward Illidge. Next, Roel Koolen flied out, but Wouter Heemskerk followed with a single that put Illidge in scoring position. Illidge then scored the tying run when Denny Beljaards also singled. Centerfielder Glenn Romney threw the ball towards home, but it went by catcher Mark Duursma enabling the two runners to advance. Heemskerk and Beljaards then scored on a single by Danny Rombley to make it 4-2. The inning ended when Rombley was caught stealing.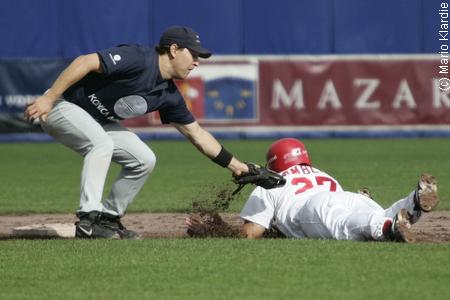 ...Danny Rombley is caught stealing in the 2nd inning...
...Second Baseman Lars Koehorst makes the tag...
(Photo: Mario Klardie - www.sport-fotos.nl)

In the third inning, Kinheim rallied for six runs to take a comfortable 10-2 lead. René Cremer led off with a single and moved on a failed pick-off by Roger Kops, who then gave up a single to Dirk van 't Klooster and was relieved by Tommy van Limburg. The submariner was greeted with an RBI-single by Tjerk Smeets, who was then forced out on a grounder by Vince Rooi. After Edward Illidge walked to load the bases, Van Limburg was relieved by Dave Draijer, who is the regular closer for Pioniers, but was brought in early, trying to silence the Kinheim-offense. The former starting pitcher however hit the first batter he faced, Roel Koolen, to bring in another run, then gave up a runscoring infield-hit to Wouter Heemskerk and a 2-run double to Denny Beljaards, who would then scored himself on a grounder by Danny Rombley, before the inning finally ended on another grounder.

Despite having a big lead, Kinheim-starter David Bergman ran into problems in the fourth inning and gave up three runs and five hits. Glennsig Polonius led off with a double, then Edwin de Graaf singled. After a strikeout, the bases were loaded when Lars Koehorst also singled. Norbert Lokhorst and Michael Duursma followed with RBI-singles. Next batter Mark Duursma then grounded to second where the ball jumped away from second baseman Roel Koolen towards short stop René Cremer, who was able to throw the ball in time to first baseman Edward Illidge for the out in a very close call, but TV replays showed veteran 1B Umpire Fred van Groningen Schinkel made the right call. On the grounder, Koehorst scored to make it a 10-5 score. The inning ended when leftfielder Denny Beljaards made a great catch on a line drive by Glenn Romney.

In the fifth inning, Dè Flanegin became the fifth lead-off hitter to reach base off David Bergman. After Flanegin singled, Bergman was relieved by Duko Jansen, who did a fine job hereafter. The righthander struckout next batter Glennsig Polonius, then Edwin de Graaf grounded into a double play to end the inning. Jansen allowed only two batters to reach base in the 3 1/3 inning he pitched.

Dave Draijer also settled down after Kinheim's big second inning, but saw the Haarlem-squad loaded the bases again in the sixth at bat. Danny Rombley then led off with a bunt-single and René Cremer followed with a single. With two outs, Vince Rooi walked, but then Draijer struckout Edward Illidge.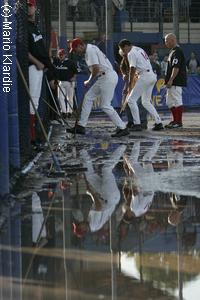 ...Players prepare field...
...during rain delay...
(Photo: Mario Klardie
www.sport-fotos.nl)

After it started to rain and thunder was hearible in the seventh inning, the game had to be stopped in the top of the eighth. With one out in that at bat, Edwin de Graaf singled. But when next batter Marcel Venema had a 1 ball-0 strike count, lightning was visible, prompting the umpire crew to stop the game immediately. Moments later, an enormous rain shower followed. After about ten minutes, the game was turned into a swimming pool. It appeared that resuming the game seems impossible. In that case, the remainder of the game would have to be played on Monday-evening, but it didn't came that far. Players, coaches and staff members of Kinheim joined the ground crew to prepare the field again. The weather cleared, but just when Home Plate Umpire Frank Volkers was giving an explanation about the situation in a TV-interview with Dione de Graaff of NOS Studio Sport, a heavy rain shower started. Luckily, that lasted long and preparations could continue. Finally, after a delay of two hours and eleven minutes, the game resumed and could be completed. After the delay, Michiel van Kampen took over the pitching for Duko Jansen and completed the at bat of Marcel Venema, who hit a force play-grounder. A flyout ended the inning.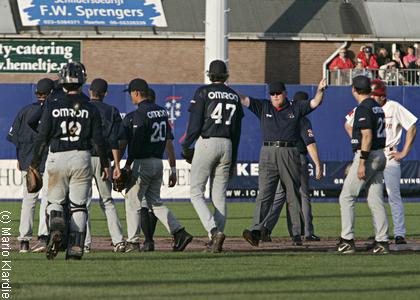 ...Umpire Fred van Groningen Schinkel sends players...
...away after argueing call in eighth inning...
(Photo: Mario Klardie - www.sport-fotos.nl)

In the home eighth, Pioniers also send a new pitcher to the mound, as Erik Jan Lind relieved Dave Draijer. In this at bat, Kinheim added three more runs after a disputable call. Danny Rombley led off with a double, then moved on a grounder by René Cremer. Next, Dirk van 't Klooster walked. With Rombley on third base, Van 't Klooster broke for second, but was hung up in a long rundown. While Rombley scored, Van 't Klooster appeared to go out of his running lane twice, but managed to reach second base with a stolen base. Heavy protests by Pioniers followed, asking 2B Umpire Arnold Verbrugge for an explanation. TV replays showed that Van 't Klooster probably was in his lane the first time, but the second time, it was visible that he was on the infield grass, appearing to be out of his lane. When things settled down again, Tjerk Smeets also walked, as did Edward Illidge after Vince Rooi struckout. Van 't Klooster and Smeets then scored when Roel Koolen singled to make it 13-5.

In the top of the ninth inning, Norbert Lokhorst led off with a pop-fly out, then Michael Duursma flied out to rightfield and Mark Duursma singled. Next batter Glenn Romney grounded the ball back to pitcher Michiel van Kampen, who reacted over-enthusiastically and wanted to make the last putout himself. But while running towards first base, he had to increase his running speed and arrived at the same time at the bag as Romney and was credited with an error. ,,I didn't know what I was doing, it was stupid'', Van Kampen said afterwards. But then Dè Flanegin popped up and it was his first base-colleague Edward Illidge, who caught the ball in foul territory for the final out of the 2006 season.

Celebrations began, as Kinheim won its first title since 1994, while in the opposite dug-out, Pioniers was completely silence, as they were very close to their first title since 1997 the day before. For the fourth time in Series-history, all games were neaded in a 5-game format, but only for the second time, a team turned a 2-1 deficit into a championship by winning the last two games. In 1994, Kinheim did the same against Neptunus.

Kinheim's leftfielder Denny Beljaards, who had ten basehits, was named the Most Valuable Player of the Series, also because of his fine defensive playing.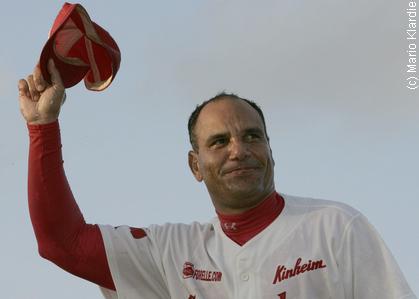 ...Kinheim's Head Coach Ben Thijssen salutes fans...
(Photo: Mario Klardie - www.sport-fotos.nl)

By winning the championship, Kinheim completed the high expectations of this season, after the team had added some high caliber-players after last season, such as national team-players David Bergman (RHP), Michiel van Kampen (RHP), Tjerk Smeets (C), Roel Koolen (2B), Dirk van 't Klooster (OF) and active pro Vince Rooi (3B), who played in the Pittsburgh Pirates-organisation this year and was added for the postseason. Kinheim was the favorite the entire season, but Head Coach Ben Thijssen never wanted to talk about a championship. ,,You don't win the title on paper, it has to be done on the field'', said Thijssen, who this year made his Head Coach-debut on the highest level with a top-team after having been a member of the successful coachingstaff of DOOR Neptunus the last four years. He already was Head Coach in the big league with Tilburg in 1999, but then ended in ninth place. Thijssen: ,,This is the crown for a year of hard working. We put a lot of time into is and that showed today. Of course it's fun to win the title in your first year, but this title has been a team-effort.'' Thijssen admitted that the Series went differently as expected. In the regular season, Kinheim swept Pioniers in six games, but in the Series, then two teams were more than equal, making the games unpredictable. Thijssen: ,,No, there was surely no under-estimation. Pioniers just played a very good Series and we didn't play as we could in our first two home games. Today, we showed what we were able to do. Sure, there have been difficult moments and doubts, but Pioniers failed to end it on Saturday. We finished it today.''

On the other side of the field, there only was silence in the dug-out of Pioniers, which was close to the title the previous day. Today, they were left empty-handed. About a dozen players remained in the dug-out and only looked ahead without seeing anything. Pioniers played a very good Series. ,,But that means nothing right now'', said a disappointed 1B Coach Peter Barentsen, who was visibly emotional afterwards, as the Kinheim-players celebrated around the mound. ,,Yeah, I do see them, but I also don't see them'', he tried to explain his feelings.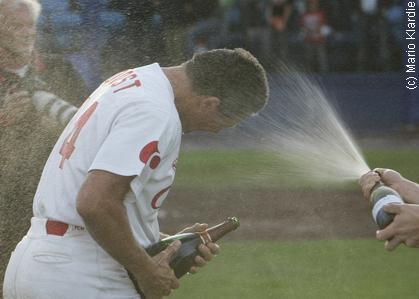 ...Marcel Joost is showered with champaign...
(Photo: Mario Klardie - www.sport-fotos.nl)

But Pioniers can be very proud of itself, as no one had expected them to reach the Holland Series beforehand. The goal for the team was to reach the Play-Offs and that they accomplished by finishing in third place in the regular season. Earlier in the year, the club captured the European CupWinners Cup in Prague (Czech Republic). In the Play-Offs, Pioniers dethroned reigning champion DOOR Neptunus in four games to reach the final. In the Holland Series, Pioniers played very strongly defensively and surprised everyone by taking a 2-1 lead. In the end, they were left empty handed, but this has been a great season for this club, which will celebrate its 40th anniversary later this month.

When Kinheim won its last title in 1994, current Pitching Coach Eelco Jansen was one of the pitchers, while current Bench Coach Marcel Joost played in rightfield. Jeffrey Verbij is the only active player, who was with the team in 1994, but he didn't played in this Series. From the team's staff, only Equipment Manager Ron Dekker was with the team in 1994, while then Team Manager and Dug-Out Scorer Kees Tromp currently is the Secretary of the team's Top Sport Section. Eelco Jansen: ,,1994 was my first year with the team as a player, this is my first year with the team as a coach. I only hope that it doesn't take as long for the next title.''
Kinheim's Top Sport Chairman Peter Jager afterwards spoke of ''a miracle'' when he joined the celebrating players. ,,To be honest, I was very somber on Saturday, but it ended well after all. It's a miracle'', Jager said.

By capturing the title, Kinheim also qualified for participating in next years European Cup-tournament in San Marino. As Pioniers won the CupWinners Cup this year, the club will return to that event, which it plans to organise in 2007. DOOR Neptunus also will play in that tournament as the second Dutch representative by finishing in second place in the regular season.
(October 1)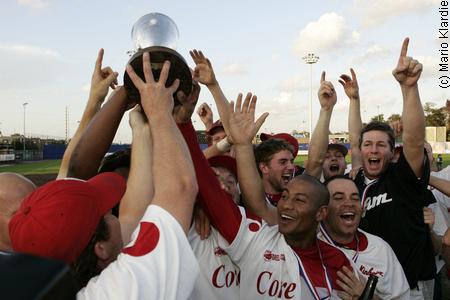 ...Kinheim celebrates with Championship Cup...
(Photo: Mario Klardie - www.sport-fotos.nl)
---
Thank you for visiting this site. See you soon!
Mail suggestions and questions to stoov@wxs.nl

Last Update: October 2, 2006
Copyright © 1997-2006 Marco Stoovelaar.