Grand Slam
Baseball Recaps
European Baseball Series
July 11, 2006
Compiled and Copyright © 1997-2006 by Marco Stoovelaar


Third shutout-win for Dutch
Nederlands | Box Score | Play-by-Play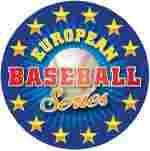 NETTUNO (Italy) - The Dutch Baseball Team took a 3-2 lead in the European Baseball Series on Tuesday-evening with its third shutout-win, beating Italy, 3-0 in front of a good crowd in the Steno Borghese Stadium, the home of Caffè Danesi Nettuno, one of Italy's leading baseball teams, which currently is being led by its longtime former player Ruggero Bagialemani. The stadium and the city of Nettuno also has a special meaning for Italian Manager Giampiero Faraone, who has played and managed for a lot of years for Nettuno.
On another sunny evening (it was about 29 degrees Celsius), Dutch rookie Tom Stuifbergen went six innings and Bryan Engelhardt opened the score with a homerun.
The Series will close on Wednesday-evening in Messina on Sicily. Game Six will start at 7:00 PM. The Dutch squad will have a short night, as they have a busy day ahead of them. After completion of Tuesday's game, which ended one minute before midnight, the team had to travel back by bus to their hotel, then everyone would have about only four hours of sleep, as the team has to be ready at 5:45 AM at their hotel for the busride to the airport in Rome. From there, the team will have a flight of about an hour to Catania on Sicily, followed by a busride from about an hour to Messina where Game Six will be played.
Dutch Manager Robert Eenhoorn got a good outing out of rookie Tom Stuifbergen, who is only 17 years old and made his national team-debut and became the winning pitcher. The righthander, who played for Amsterdam Pirates threw in his last game on April 23, before getting injured on his shoulder during a practice. Tonight's appearance therefore was his first in almost three months!
Stuifbergen threw six fine innings and encountered his biggest problems in the sixth at bat. In the first inning, he started by giving up a lead-off double to James Buccheri, but then recovered immediately and gave up only two more basehits in the next four innings. With Buccheri on second base, a grounder, walk, flyout and force play-grounder followed.
In the third inning, he gave up a single to Buccheri with one out and he would again strand on second base, as a groundout and strikeout followed. With the groundout, Stuifbergen retired seven in a row, before giving up an 2-out single to Igor Schiavetti in the fifth.
With a 2-0 lead, Stuifbergen returned to the mound for the sixth inning and got a quick out on a comeback-grounder. But then, he gave up a single to Max De Biase and a double to Gino Lollio. Stuifbergen managed to get out of the inning unharmed, as he struckout next batter Dean Rovinelli, then ended the at bat when Mario Chiarini grounded to third.
Italy outhit the Dutch team 10-6. Three of the Dutch hits came in the second inning off starter Bartolomeo Morreale and gave them a 2-0 lead. But before the second, the Dutch team already got a big scoring opportunity in the first at bat, when it left the bases loaded. With two outs, Ivanon Coffie was hit by a pitch, then Sidney de Jong and Dirk van 't Klooster both walked. But with the bases loaded, Percy Isenia struckout.
In the second inning, Bryan Engelhardt led off with a homerun, but injured himself while running around the bases. Engelhardt, who was the DH, was replaced by a pinch-hitter in his next at bat. With two outs, Eugene Kingsale tripled, then scored the second run in the at bat when Raily Legito followed with a single. Next, Ivanon Coffie was hit by a pitch for the second time by Bartolomeo Morreale, but then Sidney de Jong struckout to end the inning.
Tom Stuifbergen, who struckout three batters in his debut, was relieved by Gregory Gustina in the seventh inning. The big lefthander, however, gave up a one-out double to rookie Juan Pablo Angrisano, who made his debut in the Italian national squad. Gustina was relieved by Robin van Doornspeek, who ended the inning with a flyout and a strikeout.
In the home seventh, the Dutch team added an insurance run to make it 3-0. Eugene Kingsale led off with a walk and stole second base. He advanced to third base on a grounder by Raily Legito, which led to a pitching change. Lefthander Mattia Salsi became the fourth Italian pitcher in the game and started by hitting Ivanon Coffie with a pitch. This was the third time tonight that Coffie was hit by a pitch. In the first three games of this Series, the powerhitter had hit two deep homeruns. With Kingsale on third and Coffie on first, the latter took off for a stolen base, then Kingsale stole home when the throw went to second base to make it 3-0. The inning then ended with a flyout and a strikeout.
Leading 3-0, Dave Draijer became the fourth Dutch pitcher, as he started the eighth inning. But the experienced righthander had some problems, despite striking out three batters in this at bat. Draijer started by striking out pinch-hitter Andrea Sgnaolin, but then gave up a single to Max De Biase. Next hitter Gino Lollio also struckout, but the bases were loaded when Dean Rovinelli and Mario Chiarini also singled. The inning then ended in style when Draijer struckout Giuseppe Mazzanti.
In the ninth inning, Igor Schiavetti singled for Italy with one out, but then next batter James Buccheri grounded into a double play to end the game.
(July 11)
---
Thank you for visiting this site. See you soon!
Mail suggestions and questions to stoov@wxs.nl

Last Update: July 11-12, 2006
Copyright © 1997-2006 Marco Stoovelaar.