Grand Slam

Baseball Recaps
April 14, 2007
Compiled and Copyright © 1997-2007 by Marco Stoovelaar
Saturday, April 14
Opening Day Weekend


Kinheim opens with victory.


Sparta/Feyenoord wins big.


Comeback-win Pioniers vs. HCAW.


RCH returns with loss.
---

Kinheim opens with victory
Nederlands | Line Score | Box Score | Magpies' previous game | Kinheim's previous game
Standings | Schedule | All Line Scores & Box Scores
ALMERE (Neth.) - Dutch champion Corendon Kinheim started the new season on Saturday with a 9-4 victory. Starter David Bergman struckout eleven batters and gave up only four basehits in 6 2/3 inning, as Kinheim won 9-4 vs. Almere Magpies, which played its first game under its new nickname.
Trailing 5-1, Almere came back with two runs when Randy Daal hit a 2-run homerun, but Kinheim added four runs in the seventh at bat.

Kinheim struck early in the game, scoring five runs in the first two innings. In the opening at bat, the first big league-run of the 2007 season was scored by Danny Rombley. Moments later, Ralph Milliard would score for Mr. Cocker HCAW in Hoofddorp and Benjamin Dille for DOOR Neptunus in Heemstede. Rombley also accounted for the first basehit of the new season. The former pro led off the first inning with a single off starter Erik Remmerswaal, then reached second base safely when second baseman Randy Daal made an error on a force play-grounder by Renť Cremer. No, this was not the first error of the season, as Pionier-third baseman Marcel Venema had made one moments before in the opening at bat in Hoofddorp. Rombley then stole third base and also was credited with a stolen home plate, which happened in a double-steal situation with Cremer, who was thrown out at second base.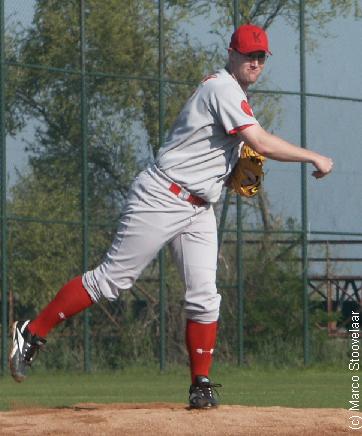 ...Winning Pitcher David Bergman...
(Photo: Marco Stoovelaar)

In the second inning, Kinheim scored four unearned runs as the Almere-defense committed three errors. Third baseman Niels van Weert made an error on a grounder by lead-off batter Jefrrey Verbij, which could have been unharmful, as two flyouts followed, but then Kinheim would score its four runs. Danny Rombley walked and then rookie short stop Emeron Lourens, who made his big league-debut, also made an error on a grounder by Renť Cremer, which loaded the bases. Next, Dirk van 't Klooster singled, resulting in two runs. The ball was thrown to the plate with Cremer moving to third base on the throw. Catcher Giovannie Samboe then threw the ball to third baseman Niels van Weert, who made another error and enabled Cremer to score also. On this play, Van 't Klooster advanced to second base. Moments later, he also scored when Tjerk Smeets doubled. Vince Rooi was then hit by a pitch, but the inning ended when Roel Koolen popped out.

Almere came back in the game with three runs to narrow the deficit to 5-3. All were scored with two outs. In the home of the second, David Bergman hit Randy Daal with a pitch, who then scored when Giovannie Samboe followed with a double.
Crucial for Almere was that only the middle of the batting order produced. The number five, six and seven batters were 6-for-10, while the top-four powerhitters (Eugene Kingsale, Emeron Lourens, Derrick Francisca, Bryan Engelhardt) was 0-for-15. The number eight and ninth batters were 0-for-7.

Hereafter, Bergman retired six batters in a row, before giving up a single to Rodney Michel, who wasn't expected to play this early in the season. Michel is recovering from an injury and was expected to make his comeback late this month or early May. But he started the season as the designated hitter and today went 3-for-4, accounting for the half of Almere's hit=production. With Michel on first, Randy Daal followed with a 2-run homerun to make it 5-3. Daal isn't known as a homerun-hitter, as this was only his second in his big league-career. In his first six seasons (including last year), he played 190 games without hitting a homerun, as a player for Amsterdam Pirates, Kinheim and Almere. On August 26 last season, he then hit his first homerun against Sparta/Feyenoord. Last weekend, Daal also homered during the J.C.J. Mastenbroek Tournament in Enschede.

After giving up the four runs in the second, Erik Remmerswaal threw three scoreless innings, then was relieved by Nick Veltkamp. The lefthander retired the side in the sixth, but then gave up four earned runs in the next at bat. With one out, Tjerk Smeets, last season's league MVP, hit his second double of the game and Vince Rooi walked. For Rooi, who played for Kinheim in last years Play-Offs and Holland Series, this was his first regular season-game in the Dutch big league since making his debut with Amsterdam Pirates in 1998. In between, he played professionally in the States in the organisations of the Montreal Expos, Washington Nationals and Pittsburgh Pirates. With Smeets and Rooi on base, Roel Koolen also doubled to bring the two runners in and increase the lead to 7-3. Moments later, a single by Jeffrey Verbij enabled Koolen also to score. Verbij was then forced out on a grounder by pinch-hitter Wouter Heemskerk, who was awarded second base by 1B Umpire Edwin van den Berk, because of obstruction by first baseman Ricky Daal. Denny Beljaards followed with an RBI-double to make it 9-3.

In the home of the seventh, Almere added one run when Rodney Michel singled and moved on errors by centerfielder Danny Rombley and short stop Roel Koolen.
(April 14)
---

Sparta/Feyenoord wins big
Nederlands | Line Score | Box Score | Sparta/Feyenoord's previous game | ADO's previous game
Standings | Schedule | All Line Scores & Box Scores
ROTTERDAM (Neth.) - Sparta/Feyenoord opened the 2007 season with a 10-2 win vs. ADO to give new Head Coach Adonis Kemp a victory in his big league-debut, while it handed their former coach Wim Martinus a loss.

It was a game with a lot of ties between coaches Adonis Kemp and Wim Martinus and the two teams they're leading this season. Both have played for Neptunus and in the national team. Both have coached for Tridents, the second team of Neptunus. Kemp succeeded Martinus twice as coach. In 2005, he became the Head Coach of Tridents, when Martinus moved to Sparta/Feyenoord. In September last year, Kemp was named as the successor or Martinus with Sparta/Feyenoord. Martinus twice started to coach a team, where Kemp had played. In 1987 and from 1989-1990, Kemp played in the big league for Sparta/Feyenoord and from 1991-1994 and 2000-2002, Kemp played for ADO. But there was more, as the sons of the both Kemp and Martinus today played together for the first time in the same big league-team, being Sparta/Feyenoord. Dwayne Kemp played at second base, while Calvin Martinus played the last inning in leftfield. The two now are playing for Adonis Kemp, but also played together for Wim Martinus, when he was coaching Tridents.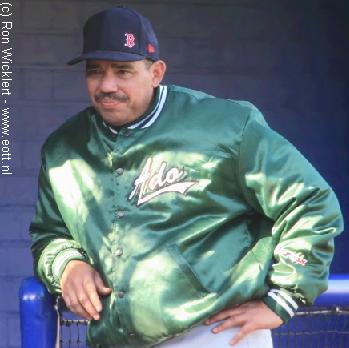 ...Pitching problems for ADO-coach Wim Martinus...
(Photo: Ron Wicklert - www.eott.nl)

After three scoreless innings, Sparta/Feyenoord scored three runs in the fourth inning off Jeoffrey de Groot, who earned the Opening Day-assignment during the exhibition season. So far, ADO is struggling with a pitching problem. After Japanese Akira Okamoto and American/Croatian Jimmy Summers left after last season, their pitching ace Rob Cordemans left in January to start a professional career in Taiwan. And because Jurrian Koks is currently studying in the States, new Head Coach Wim Martinus had only three pitchers available for the exhibition games. Pitchers from ADO's second and third team were added as non-roster players and one of them was righthander Jeoffrey de Groot, who left a good impression, made the team and was given the start in the season-opener. Last week, ADO hoped to add lefthander Berry Tilmans, who plays for Fourth Divisionist Hellevoet Athletics, but the club got no permission, as the transfer was to be made after the November 1-deadline. Only players in the big league and First Division can get special permission to change teams in the first month of the season. The team did announce the addition of Venezuelan Elvis Polanco, who played for the Spanish Rojos de Tenerife on the Canary Islands. Polanco arrived on Friday-evening and was initially named to start tomorrow's game. But he was scrubbed from his start, as the Spanish Federation hadn't signed the release-papers yet and its Secretary was expected home from vacation on Monday.

In his first three innings on the Dutch big league-level, Jeoffrey de Groot allowed only three batters to reach base and struckout two. In the fourth inning, he gave up a lead-off single to Dwayne Kemp. With one out, Orson Slaats walked, then rookie Rien Vernooy, another product of Tridents, doubled. Kemp scored and Slaats moved to third base, but also was able to score when leftfielder and former Trident Adrian Anthony made an error. Vernooy advanced to third on the error, then scored on a wild pitch.

ADO answered with a run in the sixth inning when they registered their first (and only) basehits off starter Herman Gaarman (yes, another former Trident). The lefthander faced only nine batters in the first three innings and 18 in the first five and threw 5 1/3 hitless innings, before Maikel Benner reached on an infield-hit. After retiring the first eight batters in order, Gaarman walked Dimitri Leon, but then picked him off first base. In the fourth and fifth inning, he walked three batters. In the sixth inning, Benner was awarded second base on a balk, then scored when Marvin Bleij followed with a single. But these were the only hits Gaarman allowed, before being relieved in the seventh inning with two outs.

In the home of the sixth, Sparta/Feyenoord got the run back when Dwayne Kemp reached on an error and scored on another. The team then added four more runs in the next at bat off new pitcher Dennis Burgersdijk. He was greeted with a single by Shurendell Borgschot, who today made his big league-debut. Earmy Isabella followed with a single and the bases were loaded when Nick Eppinga was hit by a pitch with two outs. A 2-run double by Dwayne Kemp and (after a walk) a 2-run single by pinch-hitter Patrick Wabbijn then lifted the lead to 8-1. In this game, Kemp reached base in all of his five at bats and scored three runs.

In the eighth, ADO scored its second run when Maikel Benner reached on an error and scored on a 2-out double by Percy Isenia.
Sparta/Feyenoord made it 10-2 in the home of the eighth by again scoring with two outs on a 2-run single by Nick Eppinga.
(April 14)
---

Comeback-win Pioniers vs. HCAW
Nederlands | Line Score | Box Score | Pioniers' previous game | HCAW's previous game
Standings | Schedule | All Line Scores & Box Scores
HOOFDDORP (Neth.) - Mr. Cocker HCAW had a surprise 6-1 lead in the third inning on Saturday, hitting nine hits off starter Richard Orman in this period, against Konica Minolta Pioniers, but the home team came back with five runs in the fifth inning to come alongside, then added three runs in the next two at bats ton win 9-6.
In the second inning, HCAW increased its lead from 2-1 to 4-1 when Ralph Milliard hit a unique 2-run homerun, but eventually the lead wasn't enough, as Pioniers came to win its first game under new Head Coach Frank Koene.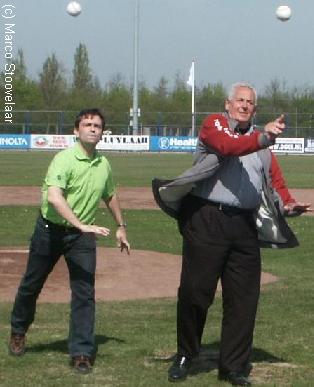 ...Alderman Bezuyen (left) and...
...Konica Minolta President Compaan...
...throw out the ceremonial first pitch...
(Photos: Marco Stoovelaar)

HCAW started the season with a young and in some places inexperienced team, as some veterans had left the squad after its troubled last season. Before the start of the season, HCAW expected to be vulnerable in hitting and pitching, but today, they showed otherwise and held a 6-1 lead after three innings.

HCAW immediately scored two unearned runs with two outs in the first inning. Ralph Milliard, one of three veterans who remained with the team (the others are utility Gino Henson and outfielder Ronald Jaarsma), led off the game with a bunt towards third baseman Marcel Venema and reached base safely when a throwing error followed. Some said, Milliard also would have reached base when the throw would have been on target. Anyhow, because of the errant throw, Milliard moved into scoring position and reached second base. Pionier-starter Richard Orman then struckout next batter JuriŽn Overman, but then enabled Milliard to move on a wild pitch. Next, he scored on a grounder by Ronald Jaarsma. Bart GabriŽls followed with a single and scored the second run on a double by former Pionier Sergio Koelemij, who played in his first big league-game since the 2004 season when he wore the Pionier-uniform. In the last two seasons, Koelemij played for First Divisionist Alcmaria Victrix. The inning ended when Orman struckout Sidney Ensermo, who started his third big league-season with his third team. In 2005, he made his debut with Amsterdam Pirates, then played for Instant Holland Almere '90 last year.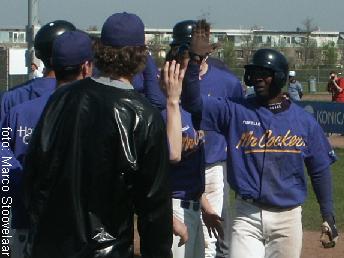 ...Ralph Milliard is greeted after hitting...
...first homerun on Pionier-site in 5 years...
(Photo: Marco Stoovelaar)

In the second inning, Orman added three strikeouts, but in between gave up three hits. With one out, Sebastiaan Olgers singled and stole second. Then, with two outs, Ralph Milliard hit a homerun over the leftfield-fence. And that was something, no one had seen on the Pionier-field in the last 95 games. The last homerun hit on Sportpark Toolenburg came on June 2, 2002, when Jeffrey Verbij hit a grand slam for Kinheim. Earlier that season, Rutger Veugelers had homered on behalf of Neptunus on April 30. Before the start of this season, the outfieldfences were brought in 20 meters to comply with international conditions, but that immediately resulted in the first homerun in five years. On May 22, 2004, Pionier Michael Duursma hit a homerun on the huge field, but that was an inside-the-park-homerun.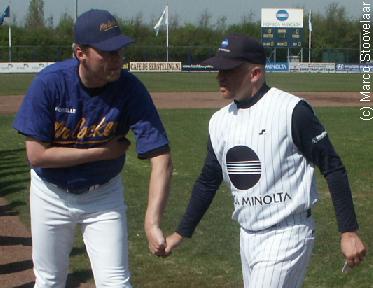 ...Head Coaches and former teammates...
...Roy Berrevoets (left) and Frank Koene...
...'shake' hands during introductions...
(Photo: Marco Stoovelaar)

In the third inning, HCAW increased its lead to 6-1. Bart GabriŽls led off with a single and Sergio Koelemij walked. Then, the latter was forced out on a grounder by Sidney Ensermo, before three singles followed. Siemen Korff, who didn't play the entire last season due to an injury, singled in his first run in a HCAW-uniform, followed by an RBI-single by Sebastiaan Olgers, but on the same play Korff was thrown out at third on a fine throw by rightfielder Edwin de Graaf. Hereafter, Shurty Tremus also singled, which was the ninth basehit off Orman in not even three innings. But then things started to turn around in favor of Pioniers. After a talk by Pitching Coach Maurice DeConge, who last year started the season as Head Coach of HCAW, Orman settled down and dominated in the next four innings. DeConge is not the only former HCAW-player/coach on the Pionier-roster. Head Coach Frank Koene also played and coached for HCAW, while 3B Coach Lars Koehorst played the majority of his career for the Bussum-team. Others are players Michael Duursma, Glenn Romney, Nick Fridsma and Dave Draijer. HCAW is led this season by former players Roy Berrevoets and Jurjan Koenen, who were teammates of Frank Koene with HCAW.

With two runners on, the third inning ended with a foul-out by Ralph Milliard, who was the first of 13 batters to be retired in order by Orman, who never gave up and again showed his fighting spirit in this game. Orman struckout eleven batters. In the eighth inning, Orman gave up a lead-off single to Sergio Koelemij and was relieved by closer Dave Draijer, who was supported with a double play and a grounder, before retiring the side in the ninth. In the last six innings, Koelemij was the only batter to reach base for HCAW. As Orman, who is the all-time recordholder for victories by a lefthander, left the mound with a lead, he eventually became the winning pitcher and earned his tenth Opening Day-victory in 15 seasons with Pioniers.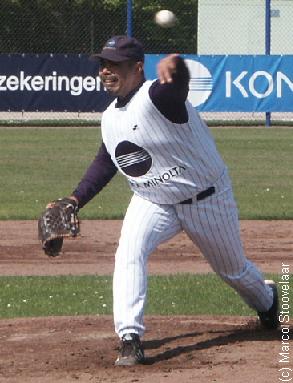 ...Winning Pitcher Richard Orman...
...Tenth Opening Day-victory...
(Photo: Marco Stoovelaar)

In the first four innings, the Pionier-batters went after bad pitches thrown by rookie Mark Kolner, who issued five free passes in the first two innings, but gave up only one (unearned) run. In the first inning, Michael Duursma led off with a walk and moved on a sac-bunt by Norbert Lokhorst. He then advanced to third on a single by Glenn Romney and scored when the throw form rightfield went by the catcher. But Pioniers stranded two runners in this at bat, before leaving the bases loaded in the next inning. In the second, Mark Kolner hit Edwin de Graaf with a pitch, then hit next batter Michael Duursma on his helmet and walked Norbert Lokhorst, but ended the inning with a groundout.

After two quick innings, the game turned around completely in the fifth inning. Kolner walked Norbert Lokhorst, who advanced on a wild pitch, gave up a single to Glenn Romney and loaded the bases by walking DŤ Flanegin. Hereafter, Kolner was relieved by Jeroen Hubert, who last season threw only 4 2/3 inning in three appearances on the big league level. The experienced lefthander was greeted with a 2-run double by Mark Duursma, then walked Jourick Blanco to load the bases again. Next, pinch-hitter Glennsig Polonius hit the ball into rightfield for a flyout, but that situation was reversed, as Home Plate Umpire Henri van Heijningen had given the 'delayed balk' signal (extended left arm). All runners were awarded a next base, resulting in a run, while Polonius came back to bat. With the score now only 6-4, Polonius grounded out, but another run was scored. Marcel Venema then struckout and Edwin de Graaf was hit by a pitch for the second time, before Michael Duursma singled in the tying run. A flyout ended the long and productive inning, but it was a complete new ballgame.

In the sixth, Pioniers took a 7-6 lead. With two outs, Mark Duursma walked and scored when Jourick Blanco, who made his big league-debut, followed with a double.

Two runs were added in the seventh inning. With one out, Edwin de Graaf singled and scored on a double by Michael Duursma, which marked the end of Jeroen Hubert. He was replaced by Rutger Zwaal, who made his big league-debut. In 2001, Zwaal was on the roster of Amsterdam Pirates, but returned to his former team Flying Petrels before the season started. Last year, he pitched for First Divisionist Alcmaria Victrix. After a groundout Zwaal gave up a triple to Glenn Romney, which gave Pioniers a 9-6 lead.

Pionier-closer Dave Draijer then retired the side in the ninth to secure the comeback-victory in a remarkable opening game.
(April 14)
---

RCH returns with loss
Nederlands | Line Score | Box Score | RCH's previous game | Neptunus' previous game
Standings | Schedule | All Line Scores & Box Scores
HEEMSTEDE (Neth.) - MediaMonks RCH celebrated its comeback to the Dutch big league on Saturday, but started the new season on the highest level with a 10-1 loss against DOOR Neptunus, which had 17 basehits, including four by newcomer Martijn Meeuwis.

For RCH, this was their first big league-game since June 16, 2002. After that date, the team played the second half of the 2002 season in the Promotion/Relegation Pool. At the end of the season, the team relegated to the First Division. Last season, the Heemstede-squad captured the First Division-title and promoted back to the big league. Five years ago, RCH lost its last big league-game 10-0 to Almere '90. The battery of that game, pitcher Dave Dusseau and catcher Ramses Meering, today made their big league-debut as coaches. Meering is the interim Head Coach, while Dusseau is the Pitching Coach. Talks with candidates for the coachingspot continues, but as of now, Meering remains in charge of the team after taking over during the exhibition season after Guus van Dee had withdrawn. Last season, Meering led RCH to the First Division-title. Coincidentally, today's 1B Umpire Henny Jansen also was on first base in RCH's last big league game in June 2002.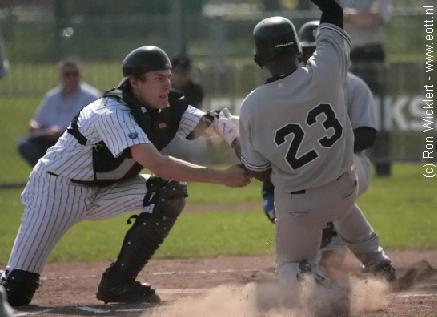 ...Johnny Balentina is tagged out at home...
...by catcher Floris Morang in the first inning...
(Photo: Ron Wicklert - www.eott.nl)

Despite reaching base frequently, Neptunus needed three innings to take charge of the game, as their lead was only 2-1 after three at bats. The Rotterdam-squad got 34 baserunners in this game, but left 16 of them behind. In the first inning, the first four batters reached base, but only one of them scored. Johnny Balentina led off with a walk and stole second base. Balentina then was waved home trying to score on a single by next batter Benjamin Dille, but he was thrown out at the plate on a fine throw by centerfielder Nick Heij, one of the few players on the RCH-roster with big league-experience. Dille advanced to second base on the throw, then next batter Raily Legito walked. Evert-Jan 't Hoen followed with a single on which Dille scored, but again a runner was thrown out. Legito tried to advance to third base, but was thrown out there on a throw from leftfielder Sefard Sefarina, relayed by short stop Kevin Gerard. On the throw, 't Hoen advanced to second base and stranded there as Lennart Koster flied out.

In the second inning, Neptunus left two runners behind. Martijn Meeuwis singled in his first Neptunian at bat, followed by a Jeffrey Arends-single. Then, Jurriaan Korff grounded into a double play. Jeroen Sluijter followed with a walk, but was forced out to end the inning.
A run was added in the third inning, but again two runners stranded. With two outs, Evert-Jan 't Hoen walked and scored when Lennart Koster and Martijn Meeuwis singled.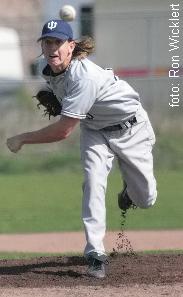 ...Chris Ryan debuts...
...for Neptunus...
(Photo: Ron Wicklert
www.eott.nl)

In the home of the third, RCH came back with a run after leaving two runners in the second. Then, Floris Morang (with one out) and Jim Leijenaar (with two outs) singled, but were left behind. Leijenaar singled in his first big league at bat. In the third, with two outs, debuting Neptunus-starter Chris Ryan gave up a single to Jeroen Bakker, who then scored when next batter Danny Mujica doubled. It was to be RCH's lone run in this game. In the next at bat, the team got the bases loaded with two outs, but a force play prevented them from scoring. In the last five innings, RCH had only six baserunners.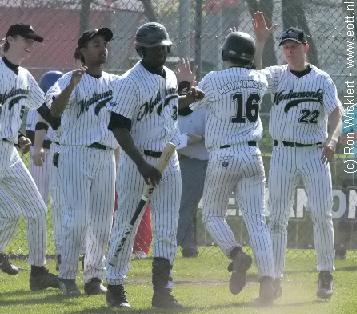 ...Jeroen Bakker (16) scores RCH's first big...
...league-run in five years in the 3rd inning...
(Photo: Ron Wicklert - www.eott.nl)

In the fourth and fifth inning, Neptunus scored five runs to decide the game. In the fourth, Jurriaan Korff singled and Jeroen Sluijter reached on an error, which resulted in a pitching change. Thomas Morang took over from Alexander Plakke and walked Johnny Balentina to load the bases. Korff was then forced out at home on a grounder by Benjamin Dille, but then Sluijter scored when Raily Legito walked. A sac-fly by Evert-Jan 't Hoen followed which scored Balentina and moved Dille to third. After Legito had stolen second base, Lennart Koster singled, enabling Dille to score a run, which was credited to Plakke, because he became responsible for Dille, due to the force play at home.
In the fifth inning, Neptunus scored twice with two outs. Jeroen Sluijter doubled and Johnny Balentina singled and stole second, which was followed by a throwing error, resulting in a run. Next, Benjamin Dille walked. Ewout Bos came in to relief Thomas Morang and gave up an RBI-single to Raily Legito, which increased the lead to 7-1.

In the seventh inning, three more runs were scored off new pitcher Bobby van Duuren. Benjamin Dille led off with a single, then Evert-Jan 't Hoen walked with one out. Hereafter, Lennart Koster hit an RBI-single, followed by a 2-run double by Martijn Meeuwis, who again doubled in the ninth inning and was 4-for-6 in his Neptunus-debut.

All nine starting players of Neptunus had at least one basehit and that almost also happened for the starting RCH line-up. The Heemstede-team had eight hits, which were registered by eight different players. Lead-off hitter Nick Heij was the only player without a basehit.
(April 14)
---
Thank you for visiting this site. See you soon!

Mail suggestions and questions to stoov@wxs.nl


Last Update: April 17, 2007
Copyright © 1997-2007 Marco Stoovelaar.