Softball Recaps
October 14, 2006
Compiled and Copyright © 1997-2006 by Marco Stoovelaar
Saturday, October 14


Sparks again wins Dutch title
---

Sparks again captures Dutch title
Nederlands | Line Score | Box Score | Play-by-Play
Standings | Schedule | All Line Scores & Box Scores
HAARLEM (Neth.) - Sparks Haarlem again is the best softball-team in The Netherlands. Saturday-afternoon, on a packed Noordersportpark in Haarlem, the team shutout A4 Terrasvogels, 1-0, to win the Holland Series, 3-1, and win its third consecutive Dutch title and fifth in the last six years.
This is the sixth Dutch title for the team since it is known as Sparks, but the 17th overall, as it already had won eleven championships when it was known as HHC. With its third title in a row, Sparks ties a Holland Series-record. Terrasvogels won the title three times in a row twice, 1982-1984 and 1998-2000. From 1990-1993, HCAW was Dutch champion four years in a row, but there was no Holland Series in 1991, making this also three titles in a row.

This was the third time a game ended with an 1-0 score, setting a Series-record. Twice before there was a Series with two 1-0 games. In 1984, Terrasvogels won twice with a 1-0 score vs. HHC, while in 1994 HCAW and Twins each had a 1-0 shutout. Three games ended in a shutout this year, tying a record, which was set in 1994 when Twins had two and HCAW one.

An other interesting fact is that Sparks won the title three times in a row, while finishing in second place in the regular season. All those times, Terrasvogels finished in first place, but ended up empty handed everytime. Of its six titles since 1996, Sparks finished four times in second place. In 2001 and 2002, they captured the title after also finishing in first place in the season. The last time a team won both the season and the title was in 2002 when Sparks defeated Terrasvogels in the Holland Series, 3-1. In 2003, DSC '74 captured the title after having finished in fourth place in the regular season, something Terrasvogels had done before in 1999.

The ten runs scored in this Series tie the record for fewest runs scored in a 5-game Series set in 1997 when HCAW scored 8 and Terrasvogels 2. There were fewer runs in earlier Series before that, but that were 3-game series.

Sparks-pitcher Crissy Autry threw all 30 innings in this Series. The American righthander struckout 31 and gave up only one earned run for an 0.23 ERA and was named the Most Valuable Player of the Series.
Hitting with Runners in Scoring Position
Sparks Haarlem
Terrasvogels
2-for-6
.333
Game One
0-for-6
.000
0-for-8
.000
Game Two
0-for-5
.000
4-for-18
.222
Game Three
2-for-12
.167
1-for-7
.143
Game Four
0-for-6
.000
7-for-39
.179
Totals
2-for-29
.069
On Saturday, producing a basehit with runners in scoring position again was a problem for both teams, underscoring the strength of the pitching in this Series. Terrasvogels was 0-for-6, while Sparks was 1-for-7, but that lone hit did produce the lone run. Overall in the Series, Sparks had seven basehits with runners in scoring position, while Terrasvogels had only two. Not counting the tie-break innings, Terrasvogels was 0-for-23 in the regular seven innings in the four games played!

,,We didn't produce with runners in scoring position. That's the difference. They hit when they had to, we didn't and then you can't win'', Terrasvogels Head Coach Darwin Tolzin said afterwards. ,,Their pitching was good, but not dominating, we simply didn't hit.''
His Assistant Coach Marco Molleman underscores Tolzin's words. ,,We should have won last Tuesday. We had several opportunities, but we failed to score. And then you will see that the opponent does, which happened. Yes, this is disappointing. It could have been our year, as Sparks wasn't as strong as previous years.''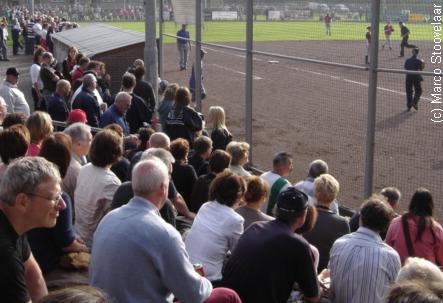 ...A large crowd visited Game Four in Haarlem...
(Photo: Marco Stoovelaar)

Winning Head Coach Johan Kluijskens mentioned the strength of this Series. ,,These were two very equal teams with good pitching for both sides. Yes, Crissy has been an enormous strength for us, but this is a very competitive and driven team, which is playing along with each other quite a long time. You know what they can do. Yes, I think we are the right champion. We were leading the league almost the entire season, until we entered a dip in the last month'', said Kluijskens, who took over as Head Coach on September 22. Kluijskens led Sparks to both the championship and captured the European Cup in 2004, then retired. This season, he returned as the Assistant Coach for Bas Langezaal, who guided the team to the title last season. However, in September Langezaal and Sparks separated after a disappointing European Cup-tournament and lack of confidence from within the group. Kluijskens took over and did another fine job of leading the team to the title.
Terrasvogels again was left empty handed after ending the regular season in first place. ,,Yes, that's disappointing'', Darwin Tolzin confirmed. ,,We played very well this season.'' Tolzin stated that not playing for more than a month was not favorable. After a 3-week break from June-July when the Dutch National Team participated in the Canada Cup, then a long break from August 2 through September 6 when the national squad prepared for and participated in the World Championships in Beijing (China). ,,We didn't had that much national team-players, so not playing for a long period didn't do the team well. After that, you have to pick up the rhythm again and get back into action. That can be difficult. Yes, I think that also hurt us'', said Tolzin, who plans to return next season. The experienced American coach arrived in Santpoort already in March. ,,This has been a long period, especially with so much time off. Yes, I think I come back next year, but not for so long a period. I have family in the States and other things. That's important also. We will have talks soon to see how we are going to fill in things. I would love to have some kind of role again with Terrasvogels.''

Maybe it was a sign of things to come when Terrasvogels' experienced lead-off hitter Sandra Gouverneur struckout to open the game. It immediately gave pitcher Crissy Autry a good position to start the game, but she had to wait until the sixth inning to work with a lead.

Sparks got a runner in scoring position right away in the home first. Kim Kluijskens led off with an infield-hit, which was stopped fine by second baseman Nicole Wessels, who had no chance of making an out however. Terrasvogels-pitcher Kirsten Scheele recovered immediately and did fine, as she retired the next eight batters in a row. Kluijskens would end up on second base after a throwing error, but stranded there.

Sparks almost helped Terrasvogels to a run in the second inning with two outs and Nathalie Gosewehr on first base, Linda Hoenderdos was hitting. With a 2 strike-count, Sparks thought of a strikeout and some players were leaving the field. Gosewehr moved to second base and catcher Kinge Bouma was credited with an error. Instead of taking advantage of this weird play, Terrasvogels left Gosewehr behind, as Hoenderdos grounded out to end the inning.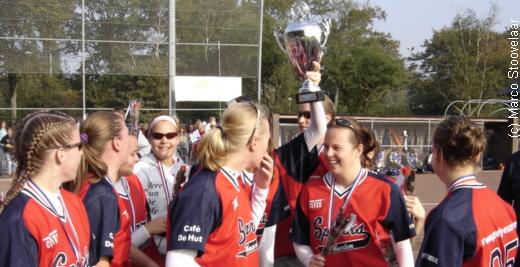 ...Sparks-players celebrate the title with the Cup...
(Photo: Marco Stoovelaar)

In the fourth inning, Terrasvogels got its next chance when Nina van Huissteden doubled to deep centerfield with one out, but two outs followed. In the home fourth, Sparks also left a runner on second base. Lynn Geertman led off with a nice bunt-single and moved on an one-out sac-bunt, but a groundout ended the at bat.

In the fifth, Sparks was again close to a run. Mariska Greve led off with a double into the leftfield-corner and moved to third base on a passed ball, but two flyouts and a groundout left her at third.

In the sixth inning, Sparks got its fourth lead-off batter on base and initially it appeared nothing would happen again. Kim Kluijskens led off with a walk (she reached base three times), but was forced out at second on a grounder by Lynn Geertman. After Jolanda Kroesen popped out, Geertman advanced to second base on a single by Noémi Boekel. She then scored on a single down the leftfield-line by Marloes Fellinger, the lone hit today with a runner in scoring position. Boekel and Fellinger advanced on a following error in leftfield. With runners on second and third base, Judith van Kampen took over the pitching for Kirsten Scheele and ended the inning with a groundout.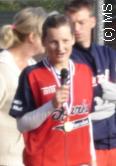 ...Retiring King Bouma...
...thanks teammates...
(Photo: Marco Stoovelaar)

Terrasvogels appeared to come back in the seventh inning. Dana Horeman led off with a single and moved to second on a sac-bunt by Annemiek van Riessen. Next, Nathalie Gosewehr reached on an error, but then Crissy Autry underscored her pitching dominance by striking out Linda Hoenderdos and pinch-hitter Olga Kleinlooh to end the game and the 2006 season.

It was time to celebrate. First, Ruud van Zetten, vice-president of the Royal Dutch Baseball and Softball Association handed Sparks the Champion Cup. Then, the team said goodbye to its American pitcher Crissy Autry and coaches Johan Kluijskens and Jacqueliene de Heer, who are both retiring. The latter joined Kluijskens after he took over as Head Coach. Next season, the team is led by Peter van der Aart and Frank van de Sanden.
Sparks also said goodbye to catcher Kinge Bouma, who announced her retirement after playing eleven seasons on the highest level, including the last three with Sparks Haarlem, winning the Dutch title in all those seasons. In the first eight years, she played for Terrasvogels, with whom she also won three championships.
By capturing the title, Sparks also qualified for the participation in the European Cup. Sparks plans to bid for the organization of the event next year.
(October 14)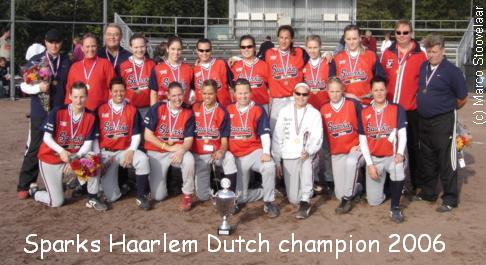 ...Sparks Haarlem captures its third consecutive Dutch title...
(Photo: Marco Stoovelaar)
---
Thank you for visiting this site. See you soon!
Mail suggestions and questions to stoov@wxs.nl

Last Update: October 14, 2006
Copyright © 1997-2006 Marco Stoovelaar.