Grand Slam
Baseball Recaps
April 15, 2006
Compiled and Copyright © 1997-2006 by Marco Stoovelaar
Saturday, April 15
Opening Day


Neptunus wins in ninth inning vs. Pirates


Pioniers nips Sparta/Feyenoord


HCAW wins big in Almere


Kinheim shuts out ADO
---

Neptunus wins in ninth inning vs. Pirates
Nederlands | Line Score | Box Score | Pirates' previous game | Neptunus' previous game
Standings | Schedule | All Line Scores & Box Scores
AMSTERDAM (Neth.) - Amsterdam Pirates was en route to an 1-0 shutout-victory vs. reigning champion DOOR Neptunus on Opening Day, but failed to hold onto the small lead. Neptunus came alongside, then scored two runs in the ninth inning to win 3-1.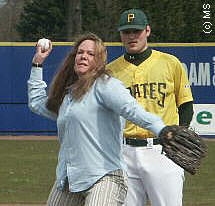 ...Hester Maij...
...opens season...
(Photo: Marco Stoovelaar)

Opening Day is always special in Amsterdam, where Pirates is one of the few clubs that introduces the players before the first game of the season. This year, players of both Neptunus and Pirates were accompanied on the field by youth baseball and softball players from the Pirates-club. After the introduction, Hester Maij, the departing Alderman of Sports for the Municipality of Amsterdam, threw out the ceremonial first pitch.

Neptunus had only two basehits in six inning off 18-year old starter Tom Stuifbergen. The righthander allowed only four batters to reach base in that period and retired eight of the first nine batters. Defensively, Pirates made to fine plays to support their young starter, but it took until the sixth inning to open the score.
In that at bat, rookie Derick Francisca (who last year played for First Divisionist RCH-Pinguďns) hit a homerun with two outs to give Pirates a 1-0 lead. For Francisca, the homerun was his first career big league-basehit. He joins a select group of players, who did the same. One of them being Ronald Stoovelaar, who did it in 1982 as a player for Pirates and now is a member of the Pirates' coaching staff.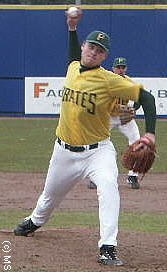 ...Tom Stuifbergen...
(Photo: Marco Stoovelaar)

Neptunus got a runner on second base with two outs in the fourth inning. Johnny Balentina, who played in his first game for Neptunus since 1999, led off by reaching base on an error and stole second, but he was tagged out on a grounder towards third to end the inning.
In the second inning, Raily Legito had led off with a single, but was picked off. The second Neptunus-hit was registered in the sixth inning when Sape Wagenaar singled, but he stranded on second base.

In the home fourth, Pirates had a big opportunity of breaking open the game. Tyson Arishenkoff led off with a single, then Derick Francisca reached when pitcher Diegomar Markwell was charged with an error after a sac-bunt. The two runners advanced when Markwell balked, but then Fausto Álvarez grounded out and Boudewijn van Elswijk struckout. Next, a hard line drive by Ralph Lagas was caught by second baseman Benjamin Dille to end the inning.
But in the sixth Pirates opened the score when Derick Francisca hit his homerun.

Neptunus came alongside in the eighth inning. Melfried Comenencia led off with a double, after which starter Tom Stuifbergen was relieved by Robin Franken, who ran into problems almost immediately. Comenencia moved on a grounder by Jeffrey Arends, then scored on a sac-fly by rookie Sape Wagenaar. Franken then gave up a double to Jeroen Sluijter and walked Johnny Balentina, before he was relieved by Maarten Mulder, who ended the inning when Benjamin Dille grounded out.
In the ninth inning, Neptunus grabbed a 3-1 lead off Mulder. The team's new addition Yuji Nerei, who arrived in the morning shortly after midnight, led off by driving the ball into leftfield. There, leftfielder Derick Francisca misjudged the ball, enabling the Japanese Neptunian to reach second base on a double. After Raily Legito was walked intentionally, the two runners moved on a sac-bunt by pinch-hitter Lennart Koster. Another intentional pass, this time for Melfried Comenencia, followed to create a force play, but then things went wrong defensively for Pirates. Jeffrey Arends hit a sac-fly into centerfield to score Nerei. Two throwing errors followed, enabling Legito also to score and give Neptunus a 3-1 lead.
Pirates was unable to come back off closer Gregory Gustina, who earned his first save in a Neptunus-uniform.
(April 15)
---

Pioniers nips Sparta/Feyenoord
Nederlands | Line Score | Box Score | Sparta/Feyenoord's previous game | Pioniers' previous game
Standings | Schedule | All Line Scores & Box Scores
ROTTERDAM (Neth.) - Sparta/Feyenoord ended up short in its home opener on Saturday, as opponent Konica Minolta Pioniers won 3-2 to give debuting Head Coach Trevor Rooper a win in his first Dutch big league-game.

Pioniers scored its first run of the new season right away in the first inning with had an unique beginning. Lead-off hitter Michael Duursma became the first player in the league to register the first basehit of the 2006 season, then stole second and advanced on a one-out single by his brother Mark Duursma, who accounted for the second hit of the season. Moments later, Michael opened the score on a sac-fly by Dč Flanegin. This very well might be the first time in history that two brothers register the first two basehits of a new season. DOOR Neptunus and ADO didn't had a basehit in their first at bat, while Sidney de Jong had an infield-hit for Mr. Cocker HCAW in the first inning, which came shortly after Mark Duursma's single.
In the third inning, Sparta/Feyenoord-starter Daan Baecke walked the two Duursma-brothers, but this time its didn't result to a run.
Pioniers got another chance to score in the fourth inning when it got the bases loaded with no outs. Glennsig Polonius led off with a double, Edwin de Graaf followed with a single and Marcel Venema walked. But then a flyout was followed by two strikeouts to end the inning.

Sparta/Feyenoord couldn't do much off starter Roger Kops in the first four innings, but came alongside in the fifth at bat. Rutger Veugelers led off with a single, moved on a sac-bunt by Jeroen Hermans and reached third on a single by Patrick Wabbijn, which was followed by an error by centerfielder Jefferson Muzo, enabling Veugelers to score the tying run.
Pioniers re-took the lead again in the sixth inning. Edwin de Graaf and pinch-hitter Mark-Jan Moorman led off with singles and moved on sac-bunt. De Graaf then scored on a grounder by Jefferson Muzo.
Another run was added in the seventh inning. Norbert Lokhorst walked, stole second and reached third on a grounder. With two outs, he scored when rookie second baseman Dwayne Kemp made an error on a grounder by Glennsig Polonius.

Sparta/Feyenoord left a runner on third base in the sixth, was the victim of a double play in the seventh and were struckout in order in the eighth by closer Dave Draijer. In the ninth, the Rotterdam-team came back with a run. With one out, Sjoerd Hermans walked and scored on a double by Jeffrey Sprott, but two flyouts ended the game.
(April 15)
---

HCAW wins big vs. Almere
Nederlands | Line Score | Box Score | Almere's previous game | HCAW's previous game
Standings | Schedule | All Line Scores & Box Scores
ALMERE (Neth.) - Mr. Cocker HCAW, which had lost four of its last five games to close the exhibition season, opened the regular season on Saturday with a big 9-1 win vs. Instant Holland Almere '90 to give Maurice DeConge a win in his debut as Head Coach.
It was a surprisingly big score, as Almere has some powerfull players in its team, including two former Major League-players, Ivanon Coffie and Gene Kingsale.
Before the game started, Floor Roosenboom, Almere's longtime Public Address Announcer, threw out the ceremonial first pitch.

HCAW collected 15 basehits and all nine starting players had at least one, including three by Bas de Jong. Besides that, three Almere-pitchers issued eight walks. The team from Bussum started well by scoring four runs in the first inning off starter Forstin Coenraad. The righthander walked lead-off hitter Ronald Jaarsma, who scored three runs in the game. After a sac-bunt, a throwing error followed to put runners on first and third. Next, an infield-hit by Sidney de Jong enabled Jaarsma to score, then Coenraad made a throwing error to let the runners advance. The bases were loaded when Kenny Berkenbosch also reached on an infield-hit. Coenraad then walked Gino Henson to bring in a run, before giving up a 2-run double to Bas de Jong.
Three runs were added in the second inning on a sac-fly by Sidney de Jong and a 2-run single by Gino Henson, after which Coenraad was relieved by Martin Kuipers.

After leaving two runners in both the third and fourth inning, HCAW added a run in the fifth at bat. Ronald Jaarsma led off with a single, moved on a single by Martijn Meeuwis and advanced on a force play-grounder by Bart Gabriëls. Jaarsma then scored on a single by Sidney de Jong.
In the sixth at bat, HCAW increased its lead to 9-0. With one out, Bas de Jong walked, followed by two singles. With the bases loaded, Manuel Dame took over for Martin Kuipers, but hit next batter Ronald Jaarsma to bring in another run.

Almere faced Patrick de Lange, who last year pitched for them, but went back to HCAW after only one season. Almere did reach base in the first five innings, but only three runners reached second base. In the sixth inning, Almere scored its lone run of the game. Jason Halman reached on an infield-hit and advanced on a single by Ivanon Coffie. With one out, Halman moved on a flyout, but then De Lange committed an error when the ball was thrown back to the infield, enabling Halman to score.
Jos de Jong took over for De Lange in the seventh, pitched three innings and earned a save.
(April 15)
---

HCAW shuts out ADO
Nederlands | Line Score | Box Score | Kinheim's previous game | ADO's previous game
Standings | Schedule | All Line Scores & Box Scores
HAARLEM (Neth.) - Corendon Kinheim opened the new season on Saturday with a big 10-0 shutout vs. ADO, which strenghthen its roster in the off-season with some premier players.
Kinheim scored all its runs in the three middle innings (fourth, fifth, sixth) and was able to end the game after 6,5 inning due to the 10-run difference mercy rule. The win was the first under guidance of new Head Coach Ben Thijssen.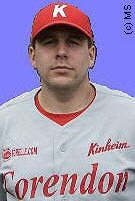 ...Tjerk Smeets...
...3 Runs, 2 Hits...
(Photo: Marco Stoovelaar)

Kinheim had 12 basehits, with all starters, except René Cremer, collecting at least one. All starting players, except Robin Longhurst, also scored at least once. The only player with more than one run, was catcher Tjerk Smeets, who made his debut in a Kinheim-uniform, went 2-for-3, scored three runs and had one RBI.

In the beginning, it didn't looked at all that the game would end with a 10-run difference. ADO-starter Jimmy Summers did well in his first three innings, striking out five batters and giving up only two hits. But suddenly, in the fourth innings, things went Kinheim's way, as the team Haarlem-team rallied for four runs.
Dirk van 't Klooster led off with a double, Tjerk Smeets followed with an RBI-single and scored himself when Edward Illidge also doubled and advanced to third on an error. After Roel Koolen walked, Illidge scored on a grounder by Robin Longhurst. With two outs, Denny Beljaards (3-for-3) added an RBI-single.
In the fifth inning, a run was scored with two outs when Tjerk Smeets singled and scored on a double by Edward Illidge.
In the sixth, the team had a 5-run rally. Three consecutive basehits opened the at bat and loaded the bases, after which Jimmy Summers was relieved by Tjibbe van Dijk. Then, a run was scored when René Cremer was hit by a pitch. Dirk van 't Klooster then produced a runscoring grounder, followed by walks for Tjerk Smeets and Edward Illidge, which brought in another run. A sac-fly by Roel Koolen and a double by Robin Longhurst then lifted the score to 10-0.

ADO had only two hits in the game off Patrick Beljaards, who had no strikeouts, but went the distance to complete the shutout. The lefthander allowed only five batters to reach base, but only one of them reached second base. That was Percy Isenia, who led off the fourth with a single and advanced on a one-out grounder. In the second inning, James Rutherford had led off with a single.
(April 15)
---
Thank you for visiting this site. See you soon!
Mail suggestions and questions to stoov@wxs.nl

Last Update: April 17, 2006
Copyright © 1997-2006 Marco Stoovelaar.