Grand Slam
Baseball Recaps
April 27, 2006
Compiled and Copyright © 1997-2006 by Marco Stoovelaar
Thursday, April 27


Neptunus hands Pioniers first loss
---

Neptunus hands Pioniers first loss
Nederlands | Line Score | Box Score | Neptunus' previous game | Pioniers' previous game
Standings | Schedule | All Line Scores & Box Scores
ROTTERDAM (Neth.) - DOOR Neptunus handed Konica Minolta Pioniers its first loss of the season by winning 8-1 in Thursday-evening. With the victory, Neptunus broke Pioniers' 4-game winning streak. Mr. Cocker HCAW now is the lone unbeaten team.

Despite outhitting Neptunus 10-8, Pioniers managed to score only once. That is because four Pionier-pitchers issued eleven walks, which contributed to eight opposing earned runs. Both teams reached base frequently, Neptunus 20 times, Pioniers 16 times, but both left twelve runners behind.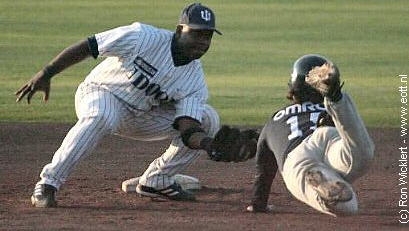 ...Norbert Lokhorst is caught stealing in first inning...
...Short Stop Raily Legito awaits him with the ball...
(Photo: Ron Wicklert - www.eott.nl)

It was Pioniers that opened the score in the third inning. With one out, Norbert Lokhorst doubled and injured himself on the way to second base. He remained in the game, then scored when Mark Duursma also doubled, before the inning ended after two groundouts. When Pioniers entered the field for the home of the third, Lokhorst remained in the dug-out and was replaced by Marcel Venema, who took over in leftfield.
In the first inning, Pioniers already was close to a run. With one out, Norbert Lokhorst singled, but was caught stealing. Mark Duursma then walked, was awarded second base when Neptunus-starter Kevin Heijstek balked, then reached third on an infield-hit by Dè Flanegin, but a flyout ended the chance.
Neptunus also came close in its first at bat. With two outs, Yuji Nerei walked and Raily Legito doubled, but a flyout also ended this opportunity.

In its third inning, Neptunus came alongside. Johnny Balentina led off with a double, then scored when Benjamin Dille followed with a single.
In the fifth inning, Neptunus took a 2-1 lead. This time, Balentina led off with a walk and advanced on a grounder by Dille. Balentina then stole third base, which was important, as he was able to score the go-ahead run when Yuji Nerei flied out.

In the seventh inning, Neptunus decided the game by scoring four runs on only two basehits. Johnny Balentina again led off the inning and again reached base, this time with a single. After he moved on a sac-bunt by Benjamin Dille, Tommy van Limburg was relieved. Van Limburg had taken over in the fifth for starter Daniël Overbeek, who had walked four batters. Van Limburg, the only Pionier-pitcher who didn't walk a batter, was relieved by Venezuelan Erkly Esteban Hinojosa Viloria. The lefthander had arrived last Monday and had an unsuccessful debut tonight, as his control wasn't sharp yet, as was underscored by his first three pitches. On his first delivery, Yuji Nerei singled, enabling Balentina to score. His next pitch went to first base, where Nerei just had arrived. However, first baseman Dè Flanegin came in and the pick-off attempt sailed over his head into rightfield for a 2-base error, sending Nerei to third base. Hinojosa's next throw was a wild pitch on which Nerei scored. The Venezuelan then walked the next three batters to load the bases and was relieved by Mark-Jan Moorman. But Moorman, who was playing in rightfield before coming to the mound, also couldn't find the zone. He walked Jeffrey Arends and Sape Wagenaar to bring in two automatic runs, which gave Neptunus 6-1 lead. Next, Moorman struckout Jeroen Sluijter, who was the league's leading hitter when the game started, but struckout three times tonight. A flyout ended the inning.

In the eighth inning, Neptunus added two more runs. The first was scored on a grounder by Evert-Jan 't Hoen, who played in his first game of the season, after sitting out a suspension, which was handed him during last years Holland Series. The second run was registered on a single by Lennart Koster.
Trailing 2-1, Pioniers came close to the tying run twice. In the sixth, Mark Duursma led off with his second double in the game and moved to third on a one-out grounder. But after a walk, the inning ended when Mark-Jan Moorman struckout.
In the seventh inning, Jefferson Muzo and Michael Duursma walked with one out, then both moved when Kevin Heijstek made his second balk of the evening. After Marcel Venema fouled out, Heijstek was relieved by Jan Naterop. With runners on second and third, the lefthander saved the lead by striking out Mark Duursma and earned a Hold.
In the eighth, Gregory Gustina took over with a 6-1 lead and completed the game.
(April 27)
---
Thank you for visiting this site. See you soon!
Mail suggestions and questions to stoov@wxs.nl

Last Update: April 27, 2006
Copyright © 1997-2006 Marco Stoovelaar.