Breaking News: Pirates-coach Boland steps down
Nederlands

AMSTERDAM (Neth.) - Amsterdam Pirates, which is playing in the 'Overgangsklasse' (second highest division), reported on Saturday-evening late that much to the surprise of everyone, Head Coach Erik Boland had stepped down effective immediately.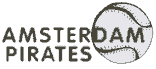 On Saturday, the softball-team of Pirates won 5-3 and 6-5 vs. Be Wild! Zuidvogels after having split their Opening Day double-header a week before against Roef!. After completion of the second game vs. De Zuidvogels, Boland informed the players of his decision.
As Boland's decision came unexpected, Pirates is currently looking into the matter of his succession.
Erik Boland stepped down for personal reasons, but he also explained that he is unable at the moment to combine coaching with his regular job.
Kees van Vegten, Boland's Assistant Coach and member of the board for Amsterdam Pirates, stated: ,,Of course we respect Erik's decision and thank him for what he did for the team. We now will look for a successor''.
(April 16)