New pitchers for Centrals, UVV
Nederlands


UTRECHT (Neth.) - Two new pitchers arrived in the Netherlands last week and made their debut in the Dutch leagues on Saturday.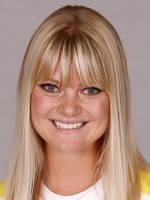 ...Samantha Skillingstad...
(© Photo: Univ.Oregon)

Samantha Skillingstad made her debut in the Dutch big league on Saturday-afternoon after arriving in the Netherlands earlier in the week. The righthanded pitcher started for Centrals in the opening game of a double-header against Tex Town Tigers and gave up two quick runs in the first inning when the defense committed two errors. Later in the game, Samantha gave up two more runs and ended up being the losing pitcher. In her debut, in which she went the distance, she gave up 12 hits and struckout eight batters. Centrals lost the game, which was stopped in the seventh inning by hail, 4-1.

Samatha Skillingstad, who is of Norwegian descent, is labeled as a talented rise ball pitcher. Recently, she finished her third season with the Ducks, the team of the University of Oregon, where she ranks in the top-10 all-time with strikeouts. In the 2010 season, Samantha was 11-6 and struckout 119 batters in 100 innings, while finishing with a 2.94 ERA. She earned an All-Pac-10 Honorable Mention. In 2009, she was 12-15 for Oregon, struckout 170 in 178 1/3 inning and had a 2.36 ERA, which earned her a place in the Pac-10 All-Freshman Team.

Before coming to Oregon, Samantha Skillingstad was named to the NFCA All-Region and All-America First Team and was named Washington Gatorade Player of the Year twice. During the 2008 nationwide tour of Team USA (which then prepared for the Beijing Olympics), Samantha pitched against the national squad for the Spokane All-Stars, allowing five hits in 1 2/3 inning. In 2008, she was 28-1, had an 0.39 ERA and struckout 396 batters in 178 innings, leading Shadle Park High School to the state championship. She also hit .417 with nine homeruns and 37 RBI's that season.

On the roster of Centrals, Samantha replaces Melissa Dowling, who returned to the States.


...Donna Kerr...
(© Photo: UCLA)

Donna Kerr arrived on Friday on Schiphol Airport to join the team of UVV in the 'Overgangsklasse' (second highest league). UVV already was in contact with her since November, but she first had to finish the season with the University of California at Los Angeles (UCLA) before being able to come to the Netherlands. This season, the righthanded pitcher was 14-10 and struckout 182 batters in 170 1/3 inning for the Bruins, finishing with a 2.38 ERA. Last year, she won the College World Series with UCLA. In the championship clinching game, Donna pitched the final 2 2/3 inning on June 8 against Arizona, ending the game with a strikeout.

In 2010, Donna Kerr was named to the All-Pac-10 honorable mention team after leading the UCLA Bruins in wins (18), innings pitched (150 1/3) and strikeouts (185). In 2009, she also led the Bruins in victories (19) and strikeouts (230). In her four seasons with UCLA, she won 65 games. In 2007, Donna was a member of the USA Junior Women's National Team that captured the title at the Women's Junior Championships. In that event, she appeared in five games and struckout 18 in nine innings.

Donna Kerr, who turned 22 on April 16, replaces Leah McIntosh on the roster of UVV. The Canadian pitcher will remain with the team, but in another function. Donna will make her debut on Saturday-evening in the double-header vs. De Zuidvogels at Huizen.

(June 18)