Amsterdam Pirates adds Canadian pitcher
Nederlands

AMSTERDAM (Neth.) - Amsterdam Pirates announced that the team will be joined by Canadian pitcher Carling Beninger towards the end of April. Last year, American pitcher Lauren Supak threw for the team in the 'Overgangsklasse'. Besides pitching, the Canadian player can also be used as outfielder, as well as offensively.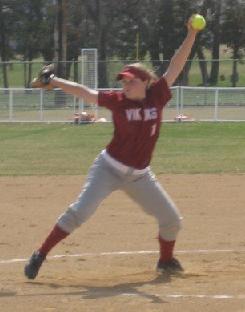 ...Carling Beninger...

With the addition of Carling Beninger, Pirates hopes to have a pitcher not only for this season, but for future seasons as well. As a pitcher, but also as an instructor or possible pitching coach, as Beninger intends to stay in Amsterdam for a longer period. And besides pitching, she also has experience in coaching.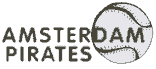 Last year, the 25-year old lefthander pitched for Whitby Eagles, which captured the Ontario Provincial championship. In the final tournament, the Eagles defeated the Guelph Gators to win the gold medal. In the first game between the two teams, the Eagles were beaten 10-4. Because of this, the Eagles had to win twice vs. the Gators to win the championship. In the first final, the Eagles won 6-5 and Carling Beninger was the winning pitcher. The Eagles then also won the next game, 9-3, to win the championship.
Carling Beninger pitched three seasons in the NAIA Division I for Valley Ciy State University in North Dakota (USA), where she was 14-7 in the last two seasons for the Vikings and struckout 91 batters in 127 2/3 inning.
Besides that, she pitched for several teams in Canada. In 1997-1999, she threw for Calgary Illusion, which won the bronze medal in the Provincial championship in 1999. Next, she played for North Vancouver Stars (1999-2004), winning the bronze medal in 2004. In between, she finished in fourth place in the Western Canadian Championship Tournament in 2003 playing for the Rutland Rebels. In this period, she also played for the University of Victoria Club Team (2003-2005). In 2006, Carling was a member of the Provincial championship-team of the Island Devils. She then went on to throw for the Richmond Islanders in 2008-2009, with whom she won the bronze medal.
Carling Beninger also played for the Cairns Ivanhoes in 2007 and 2008 in Australia, finishing in third place in 2008.
As a coach, Carling is active for the Petersborough Thunder in Ontario (Canada) since 2009, where she also gave pitching clinics. She also conducted pitching clinics for the Cairns Softball Association in Australia (2008) and for the Richmond Islanders in Canada (2009).
(March 29)