25-year old righthander Justin Erasmus went the distance for Twins. The Australian pitcher, born in South Africa, struckout eight batters and gave up only seven basehits.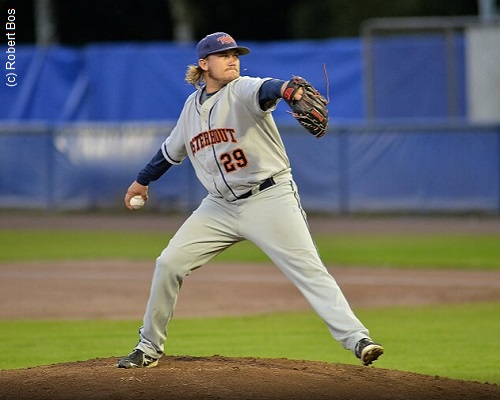 ...Justin Erasmus => complete game victory...
(© Photo: Robert Bos)

In 2007, Erasmus was signed as an international free agent by the Boston Red Sox. He then played in the Rookie League-team of the Red Sox in 2009 and 2010 and was promoted to Single-A in 2011, where he also played in 2012. In the winter of 2010, Erasmus made his debut in the Australian Baseball League, pitching for Brisbane Bandits. There, he played for two seasons, then pitched for Melbourne Aces in the 2013-2014 season, before returing to Brisbane for the previous Australian season that ended earlier this year. In 2013 and 2014, Erasmus pitched for four different teams in Independent Leagues in the USA.

Erasmus represented both South Africa and Australia in international events. In 2009, he pitched for the National Team of South Africa in the World Baseball Classic. Then, in 2011, he threw for the National Team of Australia during the World Championship in Panama. His brother Bradley Erasmus was a catcher for the South African squad during the 2006 World Baseball Classic.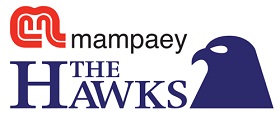 Lefthanded American Enoch Deaton started for The Hawks and he saw Twins open the score in the fourth inning. With one out, Mick Molenaar singled and stole second base. Next, the first of four crucial defensive errors led to the first run. Christopher Ge reached on an error, that enabled Molenaar to score. Two outs followed, but Twins had taken the lead.
In the fifth, Twins doubled its lead. Bart Janssen led off with a single, then Shurty Tremus reached on a bunt-single. The two advanced on a sacrifice bunt by Bart Hanegraaff, then the run was score on a sacrifice fly by Anthony Vrolijk.
In the top of the eighth, The Hawks committed three more errors, leading to two unearned runs with two outs. With one out, Molenaar reached on an error, then his pinch-runner Nick Peels advanced on a grounder. He then scored when a throwing error followed on a grounder by Stijn Janssens. Next, Branden Kuzyk walked and another run was then added when Bart Janssen singled to make it a 4-0 score.
The Hawks stranded four runners in the first seven innings off of Eramus, then scored its lone run in the bottom of the eighth. With two outs, Odion Gouverneur and Jules Peters singled. Peters then stole second base, which led to Gouverneur stealing home.
In the ninth, The Hakws got two baserunners with two outs when Tim Roodenburg was hit by a pitch and Brian Raap walked. But hereafter, a grounder ended the game.