Japan, China, Chinese Taipei qualify for World Championship
Nederlands

KAOHSIUNG (Taiwan) - Japan, China and Chinese Taipei (Taiwan) will represent Asia in next years 14th ISF Women's World Championship, which will be held August 15-24 in the city of Haarlem in the Netherlands. The three countries qualified on Thursday (November 28) in the World Championship Asian Qualifying Tournament in Kaohsiung (Taiwan). The event ended on Friday (November 29) with China winning the final 2-1 vs. Japan, which won the World Championship-title last year in Whitehorse (Canada).

Besides Japan, China and Chinese Taipei, three other countries participated in the event, being the Philippines, South Korea and Hong Kong.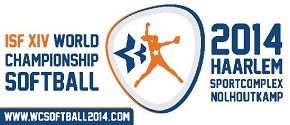 Japan remained unbeaten in the preliminary round and even didn't gave up a run. The Japanese squad registered convincing victories vs. Hong Kong (10-0), Korea (11-0), Philippines (7-0) and Taiwan (6-0), but won only 4-0 to China. The loss against Japan was China's lone one, as it won big vs. Hong Kong (15-0), Philippines (9-1) and Taiwan (7-0). China had a tough opponent in Korea, winning only 7-5.
Taiwan finished in third place after the preliminary round, suffering losses against Japan and China, but winning against Hong Kong (16-0), Korea (13-2) and Philippines (9-0). The fourth team to reach the page-system Play-Off was the Philippines, which defeated Hong Kong (3-1) and Korea (3-2). Hong Kong finished in last place winless, as Korea registered its lone win against this team with an 11-0 shutout.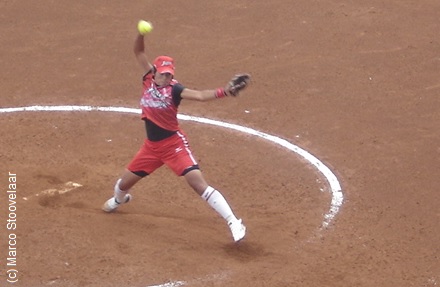 ...Japan's ace Yukiko Ueno pitching during the...
...2008 Olympic Games in Beijing...
(© Photo: Marco Stoovelaar)

By finishing in first and second place, Japan and China became the first two teams to qualify for the World Championship. In the first Play-Off game on Thursday, Japan remained unbeaten and also continued its shutout-streak, winning 4-0 vs. China. With the win, Japan reached the final, while China had to play the bronze medal game.

In the second Play-Off game, Taiwan eliminated the Philippines by winning 9-2 and become the third team to qualify for the first World Championship to be held in Europe.

On Friday, China won vs. Taiwan to become the second finalist of the tournament. In the final, China faced Japanese pitching ace Yukiko Ueno, who won the bronze medal with Japan on the Olympic Games of 2004 (Athens, Greece) and the gold medal in 2008 (Beijing, China). But today, she gave up two runs, resulting in a 2-1 win for China, which broke Japan's winning streak to win the tournament.

Last year, Japan won the final of the World Championship in Canada vs. USA 2-1 in 10 innings. China finished in fifth place after losing 5-4 in eight innings vs. Australia, which went on to win the bronze medal. Taiwan was eliminated in the Play-Offs last year by the Netherlands Softball Team, which won 4-3 to advance to the next round. The Dutch Team was then shutout 4-0 by host Canada to finish in sixth place, while the Canadians ended up in fourth place.

(November 29)