Documentary Win Remmerswaal on TV West
Nederlands


THE HAGUE (Neth.) - Coming Wednesday, November 3, TV West will broadcast a documentary about Win Remmerswaal, the first Dutch-born and raised baseball-player, who reached the Major League.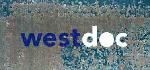 In the program Westdoc, the 20-minute documentary, made by Jan Hermsen, starts at 5:20 PM and can also be viewed (through a live stream) on the website of TV West.
The documentary will be repeated every hour from 7:23 through 7 AM on Thursday-morning. There will be more re-runs on Thursday at 9:22 AM, 11:30 AM, 2:30 PM and 4:30 PM.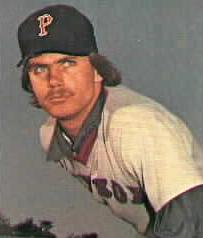 ...Win Remmerswaal...

In a press release, TV West announced the documentary as follows:
''Win Remmerswaal had everything to become a great baseball-player. The citizen of Wassenaar signed a professional contract at a young age in the United States and in 1979 became the first European to make his debut in the Major League. A shoulder-injury blocked a great career. Nowadays, the former player lives in a nursing home. Where did it went wrong and how good a player was Remmerswaal? TV-West reporter Jan Hermsen researched the live of Win Remmerswaal and talked with former colleagues, his 86-year old father Jaap Remmerswaal and with Win Remmerswaal himself.''

On November 22, 1974, Win Remmerswaal, who played for Storks in The Hague (and started his career at Wassenaar), signed a contract with the Boston Red Sox. The next year, he made his professional debut, playing in the Single-A team of the Red Sox and in the following seasons, he promoted to Double-A and Triple-A. On August 3, 1979, Remmerswaal made his debut in the Major League-team of the Red Sox and went on to pitch in eight games that season. In 1980, Remmerswaal added 14 more big league-appearances. After the 1981 season, when he pitched in Triple-A, Remmerswaal's professional career ended.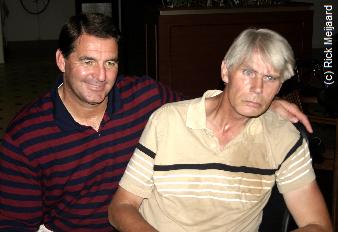 ...Win Remmerswaal is re-united with...
...former teammate Bruce Hurst in 2006...
(© Photo: Rick Meijaard)

In 2006, De Telegraaf-journalist Marco Stoovelaar (yes, the webmaster of this site) arranged a meeting between Win Remmerswaal and his former teammate Bruce Hurst. In that year, Hurst was the Pitching Coach of the National Team of China, that participated in the Haarlem Baseball Week. Remmerswaal, who nowadays lives in a nursing home due to his health condition, and Hurst were re-united and Rick Meijaard (one of the Baseball Week-photographers who accompanied Marco) got the chance to take some memorable photos. When Remmerswaal and Hurst played in the minor league of the Red Sox-organization, the two were roommates.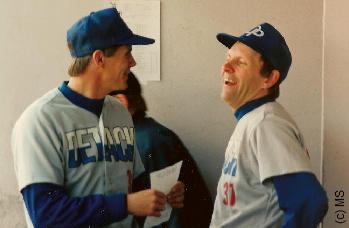 ...Win Remmerswaal as coach of Pirates...
...in 1989 with his assistant Jaap Muts...
(© Photo: Marco Stoovelaar)

After his professional career in the USA, Remmerswaal (who turned 56 earlier this year) pitched in Italy for several seasons, where he played for Parma, before retiring.

He then came back to the Netherlands where he was the Head Coach of Amsterdam Pirates in 1989 in the Dutch big league.

After leading the team for one season, he returned again to Italy. There, he suffered a severe case of pneumonia, was in coma for a few weeks and since then lives in a nursing home.

(November 1)