Come-from-behind win Dragons in 11 innings
Nederlands

CHIBA (Japan) - The Chunichi Dragons evened the Japan Series again at 2-2 in a come-from-behind 4-3 victory in 11 innings vs. the Chiba Lotte Marines on Wednesday in a game that lasted four hours and 41 minutes.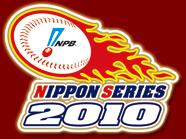 Starting pitcher for the Dragons was 45-year old Masahiro Yamamoto, who became the oldest player to play in the Japan Series. Yamamoto, who is playing in his 27th season, gave up three runs in the third inning. Yoshifumi Okada then singled and advanced on a wild pitch. Next, Tsuyoshi Nishioka hit an RBI-double and Tadahito Iguchi followed with a 2-run homerun to make it 3-0.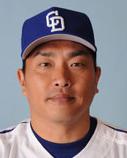 ...Masahiro Yamamoto...

45-year old Masahiro Yamamoto is not the only veteran on the roster of the Dragons, as Motonobu Tanishige is 40 and is playing in his 22nd season, while Kazuhiro Wada is 38 and playing in his 14th season in the Japanese big league.

The Dragons came back in the fourth inning off 21-year old starter Yuki Karakawa. Masahiko Morino led off with a triple, then Kazuhiro Wada followed with an RBI-double. The latter advanced on a flyout and then scored on a sacrifice fly by Kei Nomoto to make it 3-2.

In the fifth inning, the Dragons came alongside when lead-off hitter Motonobu Tanishige reached on an error and moved when Yohei Oshima was hit by a pitch. The two then advanced on a bunt-single by Masahiro Araki, who reached first base safely, as the second baseman failed to take over when the first baseman came in for the bunt. But with the based loaded, next hitter Hirokazu Ibata grounded into a double play, but that enabled the Dragons to tie the score.

In the home of the ninth inning, the Marines got a chance to win the game. Tae-Kyun Kim led off with a single, then his pinch-runner Hisao Heiuchi advanced on a sacrifice bunt by Tomoya Satozaki. Next hitter Tsuyoshi Nishioka then drove the ball into deep rightfield for an apparent homerun, but the ball went just foul. Moments later, he struckout.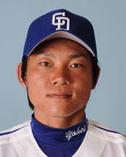 ...Yohei Oshima...

In the 10th inning, the Marines again were close to scoring. Lead-off hitter Ikuhiro Kiyota was hit by a pitch by reliever Takuya Asao, who then gave up a single to Tadahito Iguchi, which also resulted in an outfield-error, enabling both runners to advance to another base. After a flyout, the bases were loaded by walking Toshiaki Imae intentionally. Hereafter, Akifumi Takahashi was brought in as new pitcher. He faced Kazuya Fukuura, who then lined out to third baseman Naomichi Donoue, who stepped on his base to complete a double play and end the inning.

In the top of the eleventh inning, with a runner on second base and two outs, rookie Yohei Oshima decided the game by hitting a triple that gave the Dragons a 4-3 lead. In the home of the eleventh, Takahashi retired the first two batters he faced, then closer Hitoki Iwase took over and got the third out.

(November 3)