Amsterdam wins Holland Series-opener!
Nederlands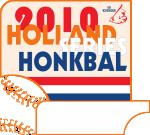 ROTTERDAM (Neth.) - L&D Amsterdam Pirates opened the best-of-seven Holland Series on Saturday-afternoon with a 5-2 victory vs. defending champion DOOR Neptunus. Amsterdam opened the score in the fourth inning when Sidney de Jong homered, then added a run in the seventh at bat. In the ninth, the team scored three more runs, which proved to be very important, as Neptunus got two runs back in its ninth, but their comeback was too late. Game 2 will be played on Sunday-afternoon in Amsterdam, starting earlier at 1:15 PM due to TV-broadcast.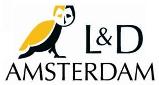 Amsterdam-starter Jos de Jong gave up only two basehits in the 6 2/3 inning he pitched, while his Neptunus-colleague Diegomar Markwell gave up seven in seven complete innings. In the ninth, Neptunus opened with three consecutive basehits off Al Morales Gomes, who had taken over the pitching in the eighth, which led to two runs.
While the game was a pitching-duel between Jos de Jong and Diegomar Markwell, it was Amsterdam that was the better team, grabbing the chances when it got them. Neptunus on the other hand reached base more off De Jong, but failed to score, also because two baserunners were picked off early in the game. In the first six innings, Pirates reached base five times off Markwell, stranding three runners. Neptunus reached base seven times off De Jong in the first six innings, six of them already with two outs, got three runners in scoring position, but left five behind.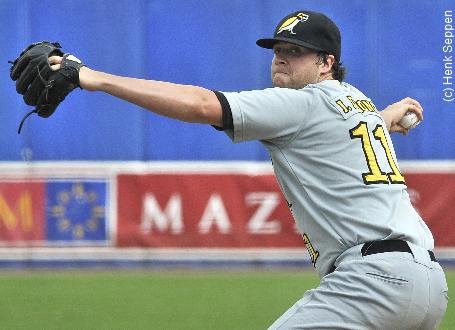 ...Jos de Jong...
...two hits given up in 6-plus inning...
(© Photo: Henk Seppen)

Diegomar Markwell retired the first seven batters he saw, before giving up an one-out single to Roelie Henrique in the third at bat, but then two fly-outs followed. In the fourth, with one out, Sidney de Jong homered to give Amsterdam an 1-0 lead. Last Tuesday-evening, De Jong also homered in the fourth and final Play-Off game against Corendon Kinheim. While this is De Jong's fifth appearance in a Holland Series, this was only his first homerun in the league's final.

After De Jong's homerun, Bas de Jong singled, but then a double play ended the at bat. Hereafter, Markwell retired the side in the fifth. The lefthander then gave up a lead-off single to Michael Kramer in the sixth, struckout the next two batters and hit Sidney de Jong with a pitch, before ending with another strikeout. In the seventh inning, Markwell gave up the second Amsterdam-run. With one out, Kenny Berkenbosch and Rashid Gerard singled, then the first was forced out at third base on a grounder by Roelie Henrique. Next, Michael Kramer (who was 2-for-4) also singled, enabling Gerard to score and bringing Henrique to third base, while he himself was able to reach second base thanks to an outfield-error. But with runners on second and third base, a grounder ended this scoring opportunity.

Neptunus got its first batter on base in the second inning when Jos de Jong walked lead-off hitter Danny Rombley. However, the former pro was picked-off first base and was caught stealing, followed by two outs. In the third inning, Neptunus saw another possibility to open the score fail. With two outs, Shaldimar Daantji doubled, then next batter Eugène Kingsale was walked intentionally to set up a force play, but that wasn't necessary, as Daantji was then also picked off and caught stealing to end the inning.

In the fifth, Neptunus got two more runners on base with two outs. Marvin Bleij and Martijn Meeuwis then both walked, but a strikeout ended the at bat. As happened in the third and fifth inning, the Rotterdam-squad again got two baserunners with two outs in the sixth inning. Raily Legito then walked and Danny Rombley singled (which was only the second basehit off De Jong) to put runners on first and third base, but Dwayne Kemp flied out, ending the inning.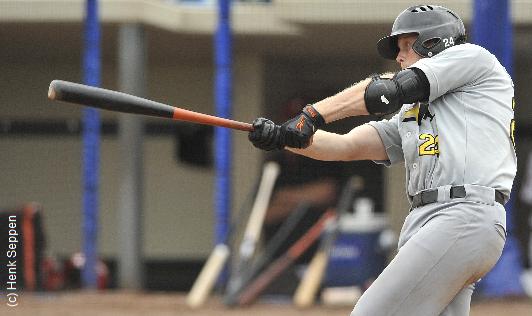 ...Sidney de Jong...
...homerun...
(© Photo: Henk Seppen)

Trailing 2-0, Neptunus got two runners on base again in the seventh inning, but for the fourth time, and third inning in a row, it happened with two outs. Martijn Meeuwis then walked and hereafter, Jos de Jong was relieved by Rik Geestman, who got a force play-grounder from Shaldimar Daantji to end the inning.

In the eighth, Geestman gave up an one-out single to Benjamin Dille and was relieved by Al Morales Gomes, who then got out of the inning when Raily Legito grounded into a double play.

In the ninth inning, Pirates not only added an important insurance run, it scored three times to increase its lead to 5-0. Jorian van Acker, who had taken over the pitching for Markwell in the eighth inning, walked lead-off hitter Kenny Berkenbosch and was relieved by Berry van Driel, who ran into problems immediately. First, Berkenbosch stole second base to get into scoring position, then Van Driel walked Rashid Gerard and loaded the bases by hitting Roelie Henrique with a pitch. Next, the righthander threw the ball passed catcher Martijn Meeuwis for a wild pitch, enabling Berkenbosch to score and make it 3-0. Michael Kramer then grounded to short, but there short stop Dwayne Kemp made a throwing error, resulting in another run and putting runners on first and third base. A sacrifice fly by Wesley Connor then lifted the lead to 5-0, before a strikeout and pop-fly ended the inning.

Now trailing 5-0, Neptunus got two runs back in its ninth, but it was too late for the home team. Danny Rombley, Dwayne Kemp and Jeffrey Arends all started with singles off Morales to bring in the first Neptunian run. Morales then struckout pinch-hitter Eldrion Regina, but loaded the bases by walking Martijn Meeuwis. The latter was then retired on a force play-grounder by pinch-hitter Rien Vernooij (who has returned from his pro-season in the States), but with runners on first and third, powerhitter Eugène Kingsale came to the plate. Amsterdam's Head Coach Charles Urbanus left his closer on and gave him the confidence to end the game. That worked, as Kingsale grounded to second, where Vernooij was forced out to end the game.

For Neptunus, this was only its sixth home loss in the Holland Series since the 1999-Series. Since then, the Rotterdan-team registered 13 wins at home. For Neptunus, which participates in its 17th Holland Series, this was only the sixth time that it started the final with a loss. For Amsterdam, which is playing in its fourth Series, this was its third consecutive opening victory.

In the regular season, Neptunus dominated and set a record by winning 39 of its 42 games to finish in first place. The first of its three losses came on May 6 when Neptunus lost 3-2 in 12 innings vs. Amsterdam, which ended an 10-game winning streak. After the season, Neptunus swept Konica Minolta Pioniers 3-0 in the Play-Off. But it was again underscored that playing in the Holland Series is a complete new competion!

(September 4)