Neptunus beats Pioniers
Nederlands

ROTTERDAM (Neth.) - Trailing 1-0, league-leader DOOR Neptunus rallied for eight runs in the third inning and went on to defeat Konica Minolta Pioniers 10-3 on Thursday-evening, to resume the regular season. The season got its international break recently, as the Dutch National Baseball Team participated in the Haarlem Baseball Week and European Championship.

Pioniers opened the score in the first inning off starter Kevin Heijstek. The righthander gave up a lead-off single to Mervin Gario, who then advanced on a wild pitch and scored on a grounder by Mark Duursma.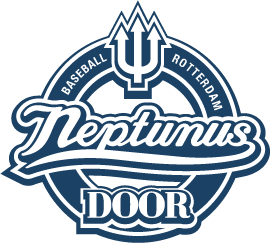 After two scoreless innings, Neptunus reacted with eight runs (only two of which were earned) in the third at bat. In the inning, Martijn Meeuwis led off with a single, then Shaldimar Daantji walked. Next, a throwing error on a sacrifice bunt by Eugène Kingsale led to two runs. With one out, a single by Raily Legito accounted for the third run, then the bases got loaded after another error and a walk. Jeffrey Arends followed with an RBI-single, which led to a pitching change. Rookie Mica de Lincel was brought in to relief starter Shane Gnade with the bases loaded, but he was greeted with a 3-run double by Marvin Bleij that increased the lead to 7-1. De Lincel, who made his big league-debut, then walked two batters to re-load the bases, before issuing another walk to Benjamin Dille that made it 8-1. A force play-grounder then finally ended the at bat.
Neptunus added two more runs in the fourth inning on a single by Arends and a sac-fly by Daantji. Also in this at bat, Kjeld de Lincel relieved his brother and also made his debut on the highest level.
Pioniers got two runs back in the fifth inning. With one out, Shurty Tremus doubled, but was eliminated on a grounder by Michael Duursma. Hereafter, Mervin Gario and Mark Duursma singled to load the bases. Jourick Blanco was then brought in as pinch-hitter for Mark-Jan Moorman to make his first appearance of the season. Blanco, who last played for Pioniers in the 2008 season, connected for a 2-run double in his first at bat of the year to cut the deficit to 10-3, but that was to be all.
(August 5)