Neptunus evens Series with comeback-win
Nederlands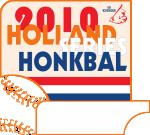 AMSTERDAM (Neth.) - DOOR Neptunus evened the best-of-seven Holland Series on Sunday-afternoon at 1-1 with a come-from-behind 5-3 victory vs. L&D Amsterdam Pirates. Game 2 of this years final was broadcast live by NOS Studio Sport. Initially, it appeared that Amsterdam was en route to its second victory, as the home team led 3-1 after seven innings, but Neptunus then turned the game around with a 4-run eighth inning. Game 3 will be played next Thursday-evening at Rotterdam, with Game 4 following on Saturday at Amsterdam and Game 5 on Sunday back in Rotterdam. If necessary, Games 6 and 7 will be played in the week after. This is only the second best-of-seven Holland Series. The first was in 1989 when Haarlem Nicols defeated Neptunus 4-3.

With the loss, Amsterdam's Holland Series winning streak ended after nine victories. In 1987, during the very first Holland Series, Amsterdam opened with a loss vs. Neptunus, but then won the next two to win the championship title in the then best-of-three. In 1990, Amsterdam swept Neptunus 3-0 in a best-of-five, then also registered a 3-game sweep vs. Kinheim in 2008. Therefore, Saturday's victory became the ninth in a row for Pirates in Holland Series-play. For Neptunus, which is participating in its 17th Holland Series, this was their 40th victory in 66 games played. In the previous 22 Holland Series, 16 of them were won by the team that won the opening game, including the last three Series.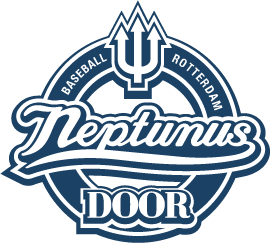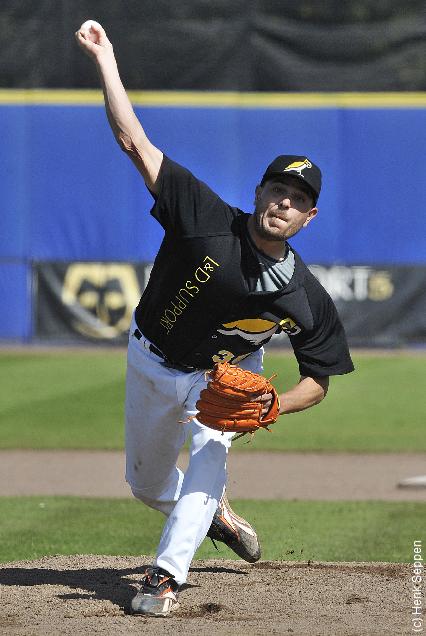 ...Rob Cordemans...
...nine strikeouts...
(© Photo: Henk Seppen)

In the first at bat of Game 2, Neptunus got the opportunity to break open the game right away, as it got the bases loaded with only one out. Veteran pitcher Rob Cordemans gave up a lead-off single to Eugène Kingsale, then struckout the next batter, but then the bases got loaded when Raily Legito also singled and Danny Rombley's force play-grounder was misplayed at third base. Cordemans, who is playing in his eleventh Holland Series, then struckout the next two batters to end the inning and escape unharmed. In the second inning, Neptunus got two batters on base with two outs (as happened four times on Saturday), but again Cordemans closed with a strikeout. In the six innings he pitched, Cordemans struckout nine batters, two shy of his own Holland Series-record.

Amsterdam then opened the score in its second at bat, scoring one run, but that could have been more. Bas de Jong led off with an infield-hit off Neptunus-starter Leon Boyd, who then walked Vince Rooi. Next, Kenny Berkenbosch also singled to bring in the first run. After Rooi and Berkenbosch advanced on a sacrifice bunt by Rashid Gerard, Boyd struckout the next batter. Michael Kramer then hit the ball off the third base foul-line, where third baseman Raily Legito looked at the rolling ball and apparently touched it on fair territory just before the bag, before it rolled foul. In the meantime, Rooi scored the second run. Also, at the same time, Home Plate Umpire Henri van Heijningen signaled that the ball was fair, while third base umpire Jac Vrij ruled the ball foul. It resulted in a heated discussion between Amsterdam's Head Coach Charles Urbanus with both umpires, but in the end the foul ball would stand and Rooi had to return to third base. On the next pitch, Boyd struckout Kramer to end the inning which could have been very productive.

In the third inning, another Neptunian baserunner was eliminated after reaching base, as happened twice on Saturday. Veteran Raily Legito led off with a walk, then left first base when Cordemans threw the ball into the ground in front of Sidney de Jong. However, De Jong got the ball in time and eliminated Legito, then two outs followed.

In the home of the fourth inning, Bas de Jong led off for Amsterdam with a walk, but was caught stealing, moments before next hitter Vince Rooi singled, but then Boyd struckout the next two batters. In the meantime, Cordemans dominated for Amsterdam. After Legito was eliminated as runner in the third inning, the righthander retired the next six batters, before giving up a bunt-single to Eugène Kingsale. But then Benjamin Dille lined out to first baseman Kenny Berkenbosch, who completed an unassisted double play by tagging Kingsale.

Amsterdam doubled its lead in the fifth inning. With one out, Michael Kramer doubled and advanced on a grounder by Wesley Connor. Kramer then scored when Nick Urbanus hit a Texas Leaguer-single just over the short stop. After Urbanus moved on a failed pick-off by Boyd, Sidney de Jong was walked intentionally, which brought in Dushan Ruzic as new pitcher. A grounder ended the inning, but Pirates had taken a 2-0 lead.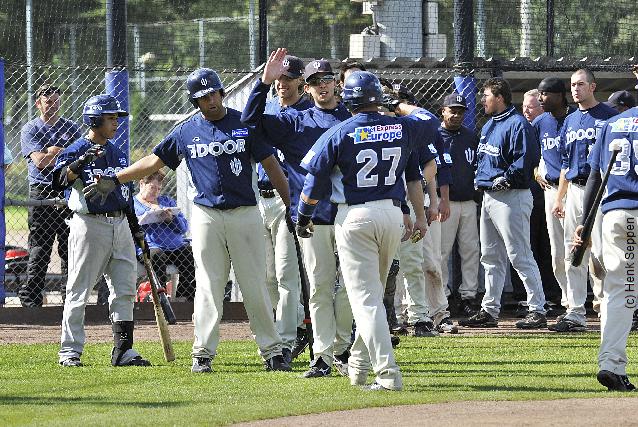 ...Danny Rombley (27) is welcomed after hitting his homerun...
(© Photo: Henk Seppen)

In the sixth inning, Neptunus narrowed the deficit to 2-1 when Danny Rombley hit a homerun with one out. After pitching six complete innings, in wbich he delivered exactly 100 pitches, Cordemans was relieved by Ben Grover, who got some fine defensive support in the seventh inning, but then ran into problems in the eighth. In the seventh, second baseman Roelie Henrique made a great catch on a hit by Martijn Meeuwis and then also retired Shaldimar Daantji on a grounder. Next, Eugène Kingsale reached on a single, but had to be replaced as he pulled a muscle after rounding first base. Kingsale's injury was one of several for Neptunus this afternoon. Catcher Martijn Meeuwis was hit on his hand by a foul ball and left after the sixth inning, Dwayne Kemp hit himself on the foot with a foul ball and first baseman Jeffrey Arends twisted his hand during a tag. Kemp and Arends were able to complete the game, but it was a busy afternoon for trainer Dick van der Noordt. With two outs and pinch-runner Jeroen Sluijter (who is coming back from an injury himself) on first base, the inning ended when Benjamin Dille lined out to Ben Grover.

Amsterdam made it 3-1 in the home of the seventh inning when Neptunus was credited with three defensive errors. Roelie Henrique led off with a bunt-single towards third base, then Michael Kramer also bunted. Dushan Ruzic tried to field the ball, might have had a play and was credited with an error, while Kramer got a sacrifice bunt. Mourik Huijser, who had just taken over behind the plate for Martijn Meeuwis, then threw the ball over first base, enabling both runners to advance. It then appeared as if Ruzic was walking next batter Wesley Connor intentionally, but then did pitch to him eventually. Connor hit the ball up in the air into short centerfield behind second base. Centerfielder Shaldimar Daantji initially lost the ball into the sun, then appeared to pick it up again, came a long way trying to catch the ball near second baseman Benjamin Dille and was credited with an error. Henrique scored on the action and made it 3-1 in Amsterdam's favor. Kramer and Connor advanced on a sac-bunt by Nick Urbanus, then Sidney de Jong was walked intentionally to set up a force play. With the bases loaded and only one out, Ruzic struckout Bas de Jong, then got a force play on a grounder by Vince Rooi that ended the at bat.

The eighth inning then proved to be disastrous for Amsterdam and of course was the turn-around for Neptunus. Ben Grover gave up a lead-off double to Raily Legito, then hit next batter Danny Rombley with a pitch. The bases were loaded when Dwayne Kemp reached on a bunt-single. Next, Jeffrey Arends also singled to make it 3-2. Grover then struckout pinch-hitter Rien Vernooij, but walked next batter Mourik Huijser to bring in the tying run. Grover was replaced by Al Morales Gomes and the Mexican started by striking out Shaldimar Daantji. Morales then faced veteran Jeroen Sluijter, who bunted foul on his first delivery, but then lined a double down the first base-line to bring in two runs. Huijser also was sent home, but the ball became unplayable when it caroomed off rightfielder Bas de Jong's foot underneath the fence, making it a ground-rule double for Sluijter and Huijser had to return to third base. A flyout ended the inning, but Neptunus had taken a 5-3 lead.

In the eighth and ninth Amsterdam at bat, Dushan Ruzic retired all six batters to secure the victory.

(September 5)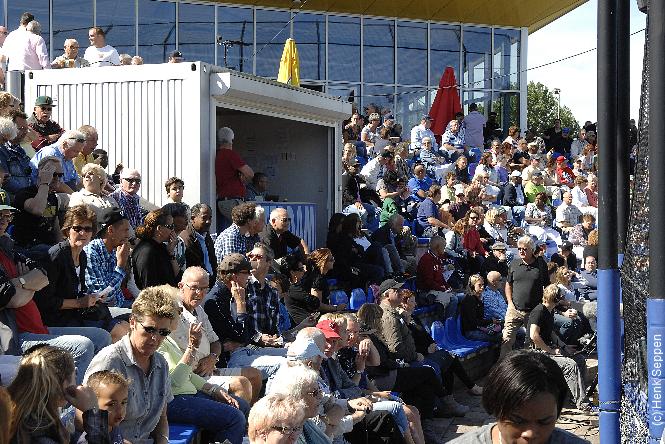 ...The second game also was well visited...
(© Photo: Henk Seppen)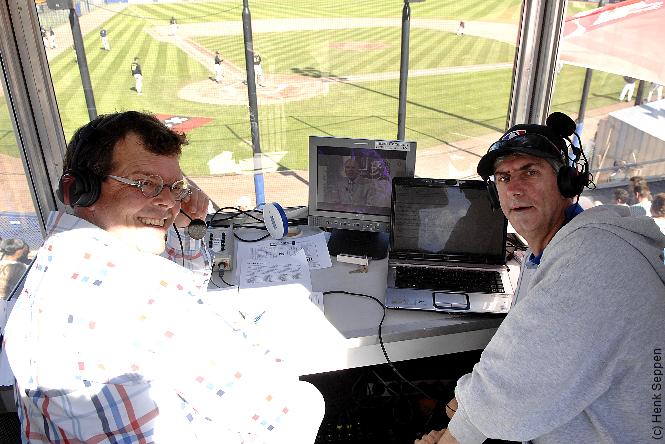 ...Commentator Andy Houtkamp (links) and editor Marco Stoovelaar...
...in the TV-commentator's booth of NOS Studio Sport...
(© Photo: Henk Seppen)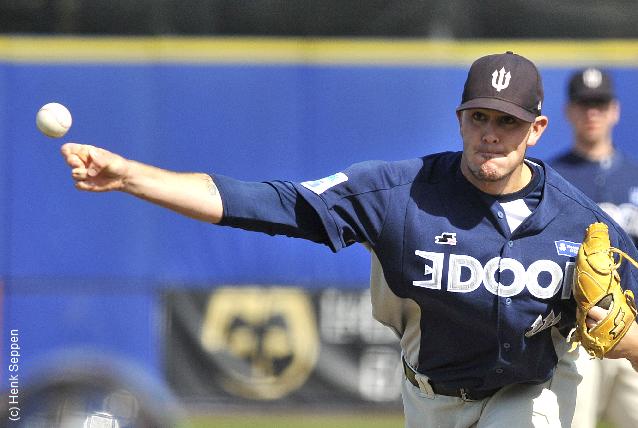 ...Neptunus-starter Leon Boyd...
(© Photo: Henk Seppen)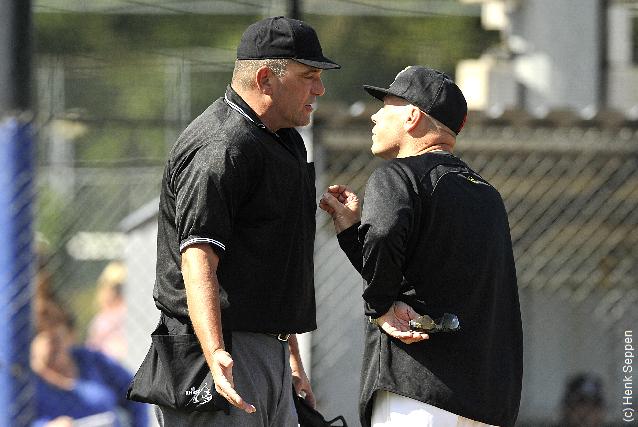 ...Amsterdam's Head Coach Charles Urbanus discusses the foul ball...
...with HP Umpire Henri van Heijningen in the second inning...
(© Photo: Henk Seppen)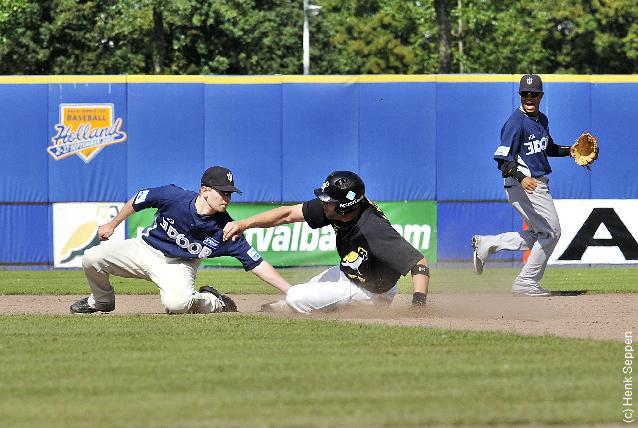 ...Bas de Jong is caught stealing in the 4th inning; Benjamin Dille makes the tag...
(© Photo: Henk Seppen)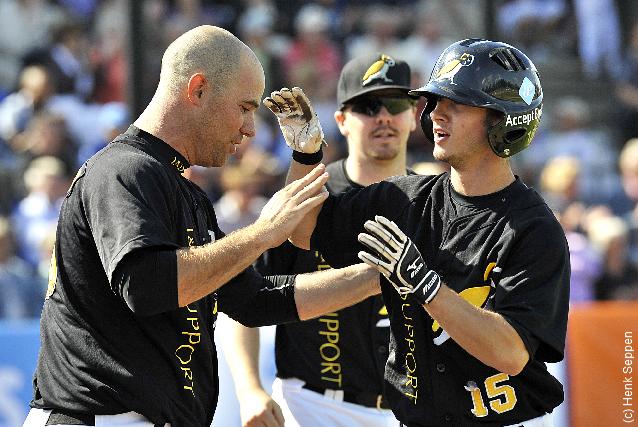 ...Michael Kramer is welcomed by Kenny Berkenbosch...
...after scoring Amsterdam's second run in the fifth inning...
(© Photo: Henk Seppen)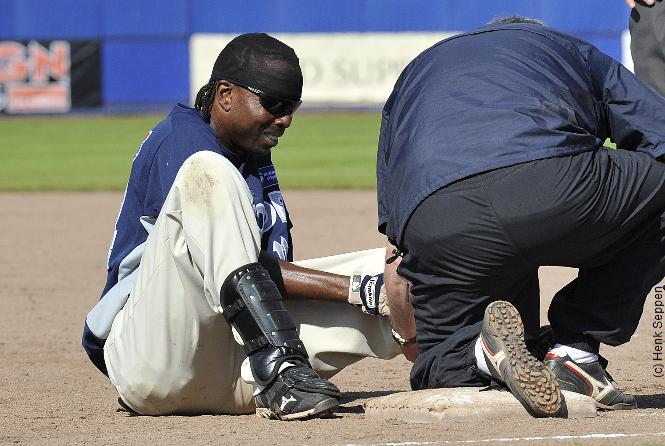 ...Trainer Dick van der Noordt checks the injury of Eugène Kingsale in the 7th inning...
(© Photo: Henk Seppen)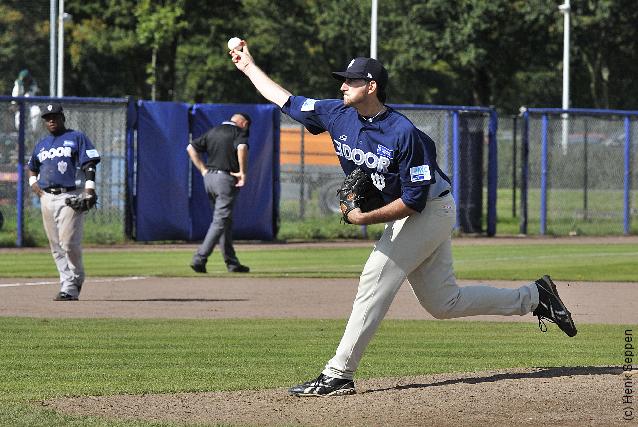 ...Dushan Ruzic was the winning pitcher for Neptunus...
(© Photo: Henk Seppen)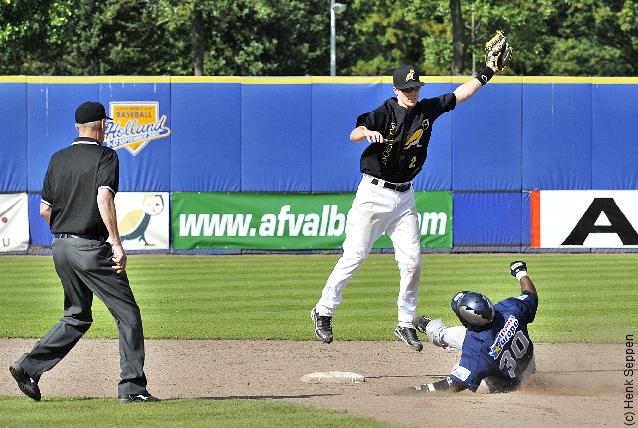 ...Raily Legito slides into second base with a double in the eighth inning...
...to start a 4-run rally that gave Neptunus the victory...
(© Photo: Henk Seppen)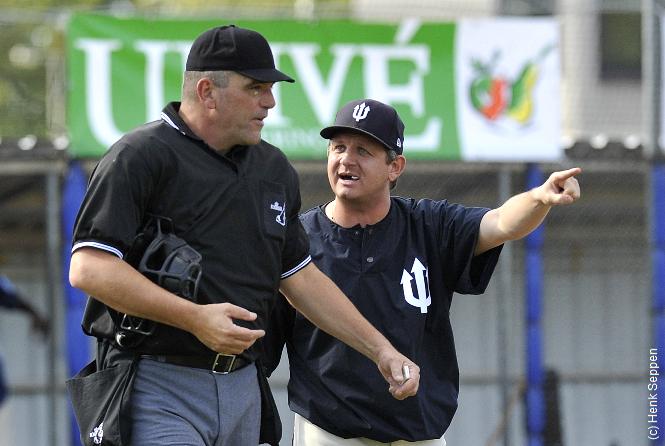 ...Neptunus' Head Coach Steve Janssen discusses with HP Umpire...
...Henri van Heijningen regarding the 'ground-rule double'-situation in the 8th inning...
(© Photo: Henk Seppen)