Asjes replaces Santander at Pioniers; Almere and Graham separate
Nederlands


HOOFDDORP / ALMERE (Neth.) - Dutch National Team-pitcher Arshwin Asjes has been added to the active roster of Konica Minolta Pioniers, replacing Venezuelan Nelson Miguel Santander Olajo, who was released by the Hoofddorp-club. At Almere, Australian short stop Mitch Graham left Almere Magpies.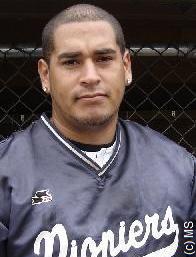 ...Nelson Miguel Santander...
(© Photo: Marco Stoovelaar)

Initially, it was tried to add Santander to the Almere-roster to replace Graham as foreign player, but that transfer was not accorded by the Dutch Federation, as the league rules state that a foreign player can play for only one team in the same season. Dutch-born players, however, may play for another team in the same season in case of a separation between both parties.

Nelson Miguel Santander Olajo appeared in four games this season for Pioniers, where he also played in the 2007-2008 seasons. Initially, Santander already was to join Pioniers for the 2006 season, but then signed a professional contract with the Pittsburgh Pirates. He then did pitch for Pioniers in 2007 and returned briefly in 2008. In the four games he pitched this season, all in relief, Santander threw in 5 2/3 inning, struckout four, walked three and gave up eight basehits. The righthander was 0-1 and had a 6.35 ERA. As it was not possible for Almere to pick up the Venezuelan, he returned home.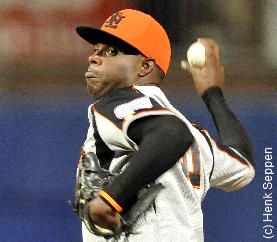 ...Arshwin Asjes...
(© Photo: Henk Seppen)

Arshwin Asjes signed a professional contract in the winter to play in the organization of the Cincinnati Reds, but was released during Spring Training. Last year, the 24-year old righthander played for the Midwest Sliders in the Independent Frontier League. After being released, Asjes was to return to this league, as he was on the roster for the Oakland County Cruiser, but due to visa problems, he was unable to travel to the USA and therefore was let go by his team. Last year, Asjes made his debut in the Dutch National Baseball Team during the World Championship. Asjes joined Pioniers on Thursday (May 6) and made his debut on Saturday (May 8).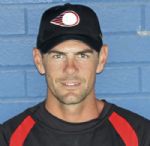 ...Mitch Graham...
(© Photo: Perth Heat)

24-year old Australian Mitch Graham decided to leave Almere Magpies himself. According to publications in Almere Vandaag, Graham was not satisfied with his housing in Almere. On the website of the club it is mentioned that the board of Almere Magpies ''is not happy with the publications'' regarding the leaving of Graham, but a reason for his leaving is not mentioned. However, on the sidelines, it was also mentioned that Graham had homesickness. The short stop played professionally in the Rookie League-team of the Philadelphia Phillies in 2004, then was a member of Perth Heat in Australia in the 2008-2009 season and played in the Claxton Shield (Australian Championship Tournament) for Western Australia. Last year, Graham played for the Edmonton Capitals in the Golden Baseball League in Canada. Almere is planning to replace Graham with another foreign short stop and talked to two candidates from the Italian and Spanish league. A replacement has not yet been announced. In nine games this season, Graham batted .235 (8-for-34) and at that moment led the team hin Hits (8), doubles (2), triples (1) and RBI's (4), but also in strikeouts (10). Defensively, he committed only two errors in 62 chances.

(May 6-8)