Loek van Mil traded to Angels
Nederlands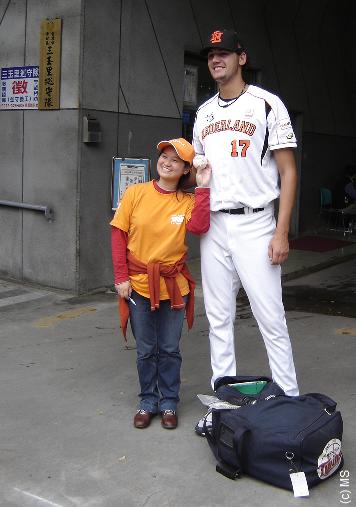 ...Loek van Mil was popular during...
...the World Championship 2007 in Taiwan...
(© Photo: Marco Stoovelaar)

AMSTERDAM (Neth.) - Dutch professional pitcher Loek van Mil was traded on September 1 from the Minnesota Twins-organisation to the Los Angeles Angels of Anaheim. With this, an earlier trade, made on August 27, was completed in which closer Brian Fuentes went from the Angels to the Twins for a player to be named later. Van Mil became that player to be named later. Because of the trade, Van Mil technically was part of the Major League-roster on September 1, but he was assigned to the Double-A team of the Angels the next day, as pitchers Jason Bulger and Brian Stokes were activated from the disabled list. Despite being sent to Double-A, Van Mil is part of the 40-man roster of the Angels, but is not on the active roster. As he was optioned to Arkansas, this means that the Angels can call him up any moment when needed.

Van Mil, who turns 26 on September 15, threw in 23 games as a reliever this season for the New Britain Rock Cats, the Double-A team of the Minnesota Twins in the Eastern League. In 29 2/3 inning, the tall righthander (7 ft 1) struckout 21 batters. His record was 1-2. Van Mil also threw in three games for the Fort Myers Twins in the Florida State League (Single-A), where he was 0-1.

After being assigned to the Arkansas Travelers, the Double-A team of the Angels in the Texas League, on September 2, Van Mil threw in his first game for his new team last Saturday. Against the Springfield Cardinals, Van Mil threw the last inning in a 3-1 loss.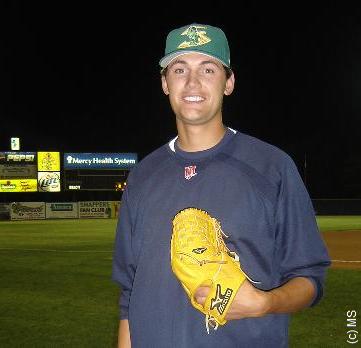 ...Loek van Mil when he was with Beloit in 2008...
(© Photo: Marco Stoovelaar)

Loek van Mil signed a professional contract on July 7, 2005 with the Twins. He made his professional debut in 2006, when he was 1-2 with the Gulf Coast Twins (Rookie League), appearing in 10 games, including eight as a starter. He struckout 24 batters in his first pro-season.

From the 2007 season on, Van Mil was used only as a reliever. In 2007, Van Mil was 2-2 for the Elizabethton Twins (Rookie League). The next year, he also was 2-2 when he pitched for the Beloit Snappers (Single-A). In 2009, the righthander played the majority of the season for Fort Myers Twins (Single-A), where he was 0-0, then was promoted to double-A, where he appeared in eight games for New Britain Rock Cats, where he was 1-1.

In 2007, Van Mil was a member of the Dutch National Baseball Team during the World Championship in Taiwan. In 2008, he initially also was a member of the national squad and was about to participate in the Olympic Games in Beijing, but had to replaced two days before the start of the tournament due to an injury.

In 2005 and 2006, Loek van Mil pitched in the Dutch Major League for Mr. Cocker HCAW. Since November 2007, Van Mil is a member of L&D Amsterdam Pirates.

(September 6)