Game 6 ends in 15-inning tie!
Nederlands

NAGOYA (Japan) - Game 6 of the Japan Series between the Chiba Lotte Marines and Chunichi Dragons ended in a rare 2-2 tie in 15 innings on Saturday-evening, meaning the best-of-seven final might need an eighth game to decide the championship. The longest game in the 61-year history of the Japan Series lasted 5 hours and 43 minutes, breaking the record of Game 4 of the 1975 Series between the Hankyu Braves and Hiroshima Carp, which ended in a 4-4 tie after 13 innings.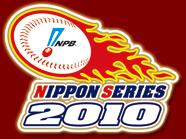 In the regular season, ties are also possible, as games in the Central League are stopped after 12 innings and in the Pacific League after 15 innings and games will finish before midnight. The original thought behind these rules is to enable fans to catch the last train to get home. Game 6 was closing in on midnight, as it was 11:53 when the 15th inning was completed, meaning the game ended. As the game will not be completed the next day, it has officially ended, meaning the Marines are still leading 3-2 in the Series. When they win Game 7 on Sunday, they will be champion, but when the Dragons win, the Series is tied at 3-3 and then an eighth and deciding game has to be played.
The two starting pitchers, both lefthanders, dominated initially. Taiwanese Dragons-starter Wei-Ying Chen gave up only four hits in seven innings, while Yoshihisa Naruse struckout seven batters in six innings. The two teams combined used 15 pitchers.

...Wei-Ying Chen...

...Yoshihisa Naruse...
...starting pitchers...
In the top of the first inning, Tsuyoshi Nishioka led off for the Marines with a single and went on to score on a 2-out single by Saburo Omura. In the home of the first, the Dragons tied the score. Masahiro Araki led off with a single, advanced on a sacrifice bunt and scored on a double by Masashiko Morino.

The Dragons took a 2-1 lead in the seventh inning. With one out, Hirokazu Ibata singled and stole second. Next, Kazuhiro Wada was walked intentionally, but then Tony Blanco doubled to make it 2-1.

In the eighth inning, the Marines tied the score again. With one out, Ikuhiro Kiyota doubled and scored on a single by Saburo Omura.

Both teams got scoring opportunities in the 10th and 11th inning, but then failed to put down bunts. In the top of the 10th, the Marines bunted in a double play, then got runners on first and second inning and saw Tomoya Satozaki hit the ball into deep centerfield, but there rookie Yohei Oshima made a great catch. In the bottom of the 10th, the Dragons had runners on first and third base with two outs, but then a grounder followed.
In the top of the 11th, the Marines again bunted in a double play, this time when the batter bunted the ball in a pop-fly. In the home of the 11th, a runner was on base with one out, but then was caught stealing when a sacrifice bunt attempt failed. Two more walks followed to load the bases, but then Masahiro Araki lined out to end the at bat.

(November 6)