Brian Farley new Manager Dutch National Baseball Team
Nederlands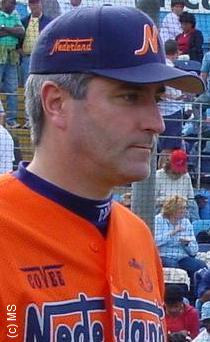 ...Brian Farley...
(© Photo: Marco Stoovelaar)

NIEUWEGEIN (Neth.) - Brian Farley is the new Manager of the Dutch National Baseball Team, the Dutch Federation KNBSB announced on Saturday, November 6. Farley, who will turn 50 next month, succeeds Jim Stoeckel, who stepped down earlier in the week for personal reasons after completion of the successful Intercontinental Cup in Taiwan. Like Stoeckel, the American-born Farley has a long history and affiliation with Dutch baseball, which started 22 years ago.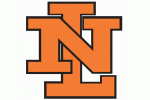 Brian Farley, who was born in Methuen (Massachusetts), played baseball for Vanderbilt University in Nashville (Tennessee) when he signed a professional contract with the St. Louis Cardinals in 1982. Later that year, he made his professional debut as a pitcher in the Single-A (Short Season)-team of the Cardinals in Erie, where he was 3-4 and struckout 71 batters in 86 innings in 14 games, 13 as a starter. A year later, he again started with Erie, but promoted to the Single-A team in Macon during the season, finishing with a combined 6-5 record and 95 strikeouts in 111 2/3 inning. In 1984, Farley played the entire season in the Single-A team at Springfield and was 8-9. The next year, he threw in only one game and then was released. He returned to the Cardinals-organization in 1987 when he pitched in 11 games (2-2), but again was released. In his five professional seasons, Brian Farley was 19-21 and pitched in 71 games.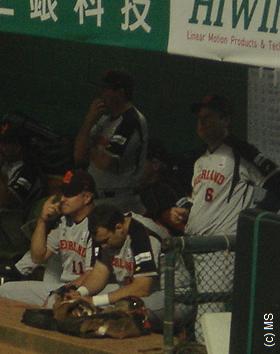 ...Brian Farley (left) gives signs...
...during the World Championship...
...2007 in Taipei (Taiwan)...
(© Photo: Marco Stoovelaar)

After being released in 1987, Farley tried his luck in the Australian Baseball League, as well as in the Netherlands. In his first season in Australia (1987-1988), where he played in Adelaide, Farley was named Most Valuable Player. He then made his debut in Dutch baseball in 1988 when he pitched for First Divisionist RCH, where he was playing coach. After completion of this season, he returned to Adelaide and again was named MVP. But Farley also returned as pitcher and coach to RCH in 1989 for his second of five seasons with the Heemstede-club, which played in First Division during this entire period.

1993 was his first of four seasons with Twins in Oosterhout. In his first year, Farley again was playing coach for Twins, which then won the title in the First Division and promoted to the Dutch big league. After the season, Farley retired as player and focussed only on coaching in the next years. But during the 1995 and 1996 season, Farley took the mound himself in four big league-games, throwing in 19 1/3 inning.

In 1997 Farley returned to RCH, which in the meantime also had promoted to the big league. The difference with his previous seasons was that he returned to Heemstede as a player and didn't coach. In 25 games, he batted .246 and as a pitcher, he was 1-3, throwing in 23 2/3 inning. In the same year, Brian Farley got his first international coaching experience, as he was added to the coachingstaff of then-Manager Jan-Dick Leurs for the Dutch National Baseball Team, which then participated in the World Port Tournament and European Championship in France.

Farley returned to clubcoaching in 1998, as he was named Head Coach of Mr. Cocker HCAW. In his first season in Bussum, Farley led the team to the Play-Offs with a 33-10 record and went on to guide HCAW to its second Dutch championship when it beat Neptunus 3-1. Afterwards, Farley was named Coach of the Year. Neptunus was then led by Robert Eenhoorn, who had just ended his professional career in the USA and nowadays is the Technical Director of the KNBSB and thus Farley's new 'boss'. In 1999, HCAW again reached the Holland Series, but then lost 3-1 to Eenhoorn's Neptunus.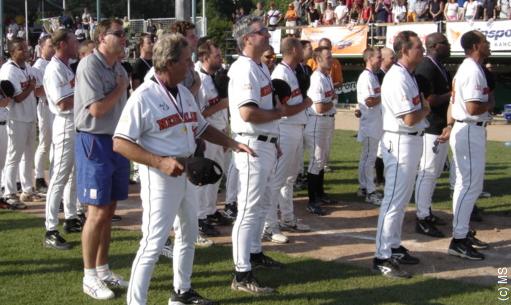 ...Brian Farley (center) during the playing of the Dutch...
...National Anthem after the team captured the...
...European title in Prague (Czech Republic) in 2005...
(© Photo: Marco Stoovelaar)

In 2000, Farley again led HCAW, winning the European Cup Winners Cup, but also returned to the Dutch National Team, as he was named 3B Coach in the staff of Pat Murphy, who was named new Manager of the team, which this year participated in the Haarlem Baseball Week and Olympic Games in Sydney (Australia). After the 2000 season, Farley resigned as coach at HCAW. In 2001, Robert Eenhoorn became the new Manager of the Dutch squad and Farley became the new Pitching Coach, succeeding Bernie Beckman. In this year, the Dutch captured the European title in Germany and also participated in the World Port Tournament and World Championship in Taiwan. In August of 2002, Steve Janssen became the new Pitching Coach of the Orange to replace Farley, who was unable to combine work and family with the busy international schedule.

In 2003 and 2004, Farley was an instructional coach for the Dutch National Women Softball Team, which back then was managed by his wife and former national team-player Gonny Farley-Reijnen.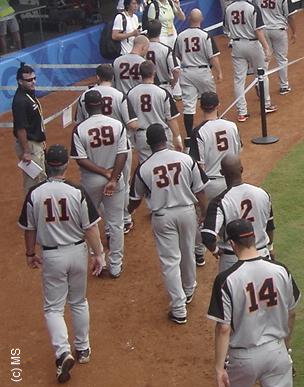 ...Brian Farley (nr. 11) enters...
...the 'mixed-zone' with the team...
...after a game during the...
...Olympic Games in Beijing...
(© Photo: Marco Stoovelaar)

In the 2005 season, Farley was the Technical Director and Bench Coach for one-and-a-half month of Almere '90, but then made another comeback in the coachingstaff of the National Team later in the year and this time was the Bench Coach of Eenhoorn during the European Championship in the Czech Republic, which was won. After the EC, Farley succeeded Janssen again as Pitching Coach in the Orange-staff, while also remaining the Bench Coach during the World Championship in the Netherlands. Farley was the Pitching Coach for the Dutch in 2006, 2007 and 2008 when the team won both the Haarlem Baseball Week and World Port Tournament, captured an European title and participated in the World Championship (2007) in Taiwan and Olympic Games (2008) in Beijing (China). Last year, Jim Stoeckel took over as Pitching Coach. Stoeckel then was the Manager this year and brought Steve Janssen back to the staff as Pitching Coach. And so, Janssen, who succeeded and was replaced by Farley as Pitching Coach in the past, now is the Pitching Coach in the staff of Manager Farley.

In 2009 and 2010, Brian Farley was the Manager of the Dutch Junior Baseball Team, as well as Manager of Player Development for the Dutch Federation. in July of this year, the Dutch Juniors (AAA) played a good tournament and, after winning 9-8 vs. Cuba, reached the quarter finals of the World Junior Championship in Thunder Bay (Canada), but then were eliminated for the semi-finals after losing to Taiwan, 4-2. The team finished in sixth place, its highest qualification ever on a World Championship.

Besides his coaching career, Brian Farley has been a frequent speaker during the European Baseball Coaches Convention and will be again coming weekend, when the event takes place in Cologne (Germany).

(November 6)