Chiba Lotte Marines win Japanese championship title!
Nederlands

NAGOYA (Japan) - The Chiba Lotte Marines won Game 7 of the Japan Series vs. the Chunichi Dragons 8-7 in 12 innings on Sunday-evening to win the title in Japanese professsional baseball. After the 5:43 hour game on Saturday (which ended in a 2-2 tie after 15 innings), tonight's game lasted 4 hours and 56 minutes.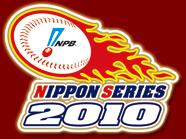 It was the third extra inning-game of the Series, as Game 4 lasted 11 innings, takling 4 hours and 41 minutes.

After capturing the title, Chiba-Manager Norifumi Nishimura got a 'doage', the traditional victory toss, to celebrate the championship. For Nishimura, this was his first year as Manager of the Marines, which won their first title since 2005.
As Marines won Game 7, an eventual eighth game was not needed. The last time that an eighth game was needed was 24 years ago.
More than 38.000 spectators in the Nagoya Dome saw the Dragons holding a 6-2 lead after three innings, but then the Marines turned the game around. The Marines opened the score in the top of the first inning when Tsuyoshi Nishioka led off with a single on the first pitch by starter Kazuki Yoshimi. Next, Ikuhiro Kiyota reached on an infield-hit and then two runs were scored on a double by Tadahito Iguchi and a sacrifice fly by Saburo Omura.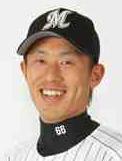 ...Yoshifumi Okada...
...gamewinning RBI...

The Dragons then answered with three runs in their first at bat. Submarine-starter Shunsuke Watanabe, who pitched on four days rest, gave up RBI-single to Masahiko Morino and Kei Nomoto and a sacrifice fly to Motonobu Tanishige that gave the home team a 3-2 lead.

The Dragons added a run in the second inning when Masahiro Araki singled with one out and stole second base, then scored on a single by Yohei Oshima, which marked the end of Watanabe, who had arm and shoulder-problems. In the home of the third, the Dragons increased the lead to 6-2 by scoring two more runs.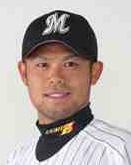 ...Toshiaki Imae...
...MVP...

But from the fourth inning on, the Marines started to come back. With two outs, Yoshifumi Okada singled in a run, then three more runs were scored in the fifth with two outs, highlighted by a basesloaded, 2-run double by Tomoya Satozaki to make it a 6-6 score. In the seventh inning, an 2-out single by Korean Tae-Kyun Kim gave the Marines a 7-6 lead.

Leading 7-6, closer Hiroyuki Kobayashi took the mound for the Marines, but gave up a lead-off triple to veteran Kazuhiro Wada, who then scored the tying run on a sacrifice fly by Tony Blanco. In 2006, Wada was a member of the Japan-squad that won the first World Baseball Classic and in 1994, he participated in the Haarlem Baseball Week with the national team of Japan. By the way, three more players of the Dragons, as well as their Manager and two players of the Marines have participated in an Haarlem Baseball Week.

In the top of the 12th inning, Dragons-reliever Takuya Asao walked lead-off hitter Toshiaki Imae, who then advanced on a sac-bunt by pitcher Yoshihiro Ito and scored on a triple on a full count by Yoshifumi Okada to give the Marines an 8-7 lead. Closer Yoshihiro Ito then retired the side in the home of the 12th to complete the game.

Toshiaki Imae was 4-for-5 and became the first player in Japan Series-history with three 4-hit games. Imae hit .444 (12-for-27) with six RBI's and was named the Series MVP, which he also was when the Marines won the title in 2005. The Marines became the first team that finished in third place in the season to not only reach the Japan Series, but also to win the championship.

(November 7)