Neptunus takes lead with 3-0 shutout
Nederlands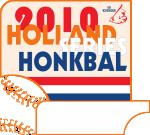 ROTTERDAM (Neth.) - DOOR Neptunus took a 2-1 lead in the best-of-seven Holland Series on Thursday-evening with a 3-0 shutout-win vs. L&D Amsterdam Pirates, despite being outhit 9-3! Neptunus decided the game early by scoring runs in the second and third inning. The Series continues on Saturday with Game 4 at Amsterdam and Game 5 on Sunday at Rotterdam. Game 4 will start at 2 PM, but Sunday's game starts at 1:15 PM because of TV-coverage.

As mentioned, Amsterdam outhit Neptunus 9-3, but also left eight runners behind. In the history of the Holland Series, there have been eleven previous games won by teams who were outhit by their opponent, but the margin of six was the most ever. It was also the first 'outhit' that ended in a shutout-loss.

By winning the game on only three basehits, Neptunus set a record. The previous low for basehits by a winning team was four, set in Game 4 of the 1995 Series by Neptunus, which in that game defeated Kinheim 1-0 to win the title.

The three basehits tonight by Neptunus was the lowest total hit by the team in a Holland Series-game, since it registered only two basehits on September 26, 1999 in Game 2 vs. HCAW. In that game, Jurriaan Lobbezoo threw a complete game 2-hitter, which was won by HCAW, 4-0.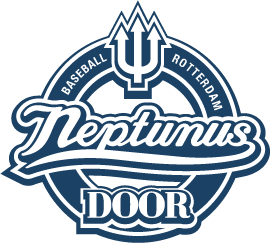 Amsterdam got a surprise starting pitcher in Ben Grover, who threw 1 1/3 inning in relief on Sunday, tossing 31 pitches, gave up four runs and ended up a the losing pitcher. A little over four days later, the American returned to the mound and wasn't successful again. On Thursday, the righthander gave up only one basehit, but on the other hand walked five batters and accounted for two runs himself with a wild pitch and a throwing error. In 2 1/3 inning, Grover delivered 55 pitches, 32 of which were balls and only 23 of them being a strike.
Amsterdam got a big scoring opportunity to break open the game in the second inning off starter Kevin Heijstek. With one out, Kenny Berkenbosch, Rashid Gerard and Roelie Henrique all singled to load the bases, but then next batter Michael Kramer grounded into a double play, which gave both Heijstek and Neptunus a boost. In the remainder of the game, Amsterdam got only six more runners (five of them with a basehit), but not more then one per inning.
In its second at bat, Neptunus did open the score. With one out, Ben Grover walked Jeffrey Arends and Jeroen Sluijter, who then advanced on a grounder by Mourik Huijser. Next, a wild pitch gave Neptunus its first run.
In the third, Grover started the inning by walking Eugène Kingsale, who then stole second base. Moments later, Kingsale moved to third base when Grover threw the ball into no man's land, as his pick-off landed somewhere in centerfield, as neither the second baseman or short stop were at the base to take his throw. Hereafter, Benjamin Dille also walked and Raily Legito singled to bring in the second Neptunian run, while Dille was eliminated at third base trying to advance on the basehit. It marked the end for Grover, as Frank van Heijst took over and ended the inning when Danny Rombley grounded into a double play. Van Heijst, who many thought was to be the starting pitcher tonight, did a great job in the remainder of the game, only getting into trouble in the fifth inning. In that at bat, he gave up a lead-off double to Mourik Huijser, then walked Kingsale intentionally and gave up an RBI-double to Benjamin Dille. Van Heijst then walked Legito to load the bases, but got out of the inning when a pop-fly into rightfield and line-out to second base followed. The two doubles were the only basehits Van Heijst allowed and he retired 10 of the last 12 batters he faced. Van Heijst delivered 74 pitches in his 5 2/3 inning, 42 of which were strikes. In the sixth inning, he needed only four pitches and was supported with a double play in this at bat, which lasted only three minutes!
After getting out of the bases loaded-jam in the second inning, Kevin Heijstek grew and threw a fine game. In the third inning, he gave up a 2-out single to Sidney de Jong, who was left behind. In the third, Vince Rooi led off for Pirates with a double, but stranded at second base. In the fifth, there was another 2-out single, this time by Nick Urbanus. In the sixth, Roelie Henrique singled with one out on the 102nd delivery by Heijstek, who was then replaced by Dushan Ruzic, who got out of the inning when a double play followed. Last Sunday, Ruzic took over the pitching for starter Leon Boyd in the fifth inning and became the winning pitcher. Tonight, Ruzic, who was the MVP in the play-off between Neptunus and Konica Minolta Pioniers, earned a save.
In the eighth inning, Amsterdam got its first (and last) runner on third base since the second inning. Wesley Connor led off with a double, then advanced to third base on a surprise sacrifice bunt (despite trailing 3-0) by Nick Urbanus, but then was left behind. In the ninth, Vince Rooi led off with a walk, but then three outs followed, inluding two strikeouts on the last two batters.
Eugène Kingsale, who suffered an injury in his left calf last Sunday, was back in the line-up for Neptunus and tied a Holland Series-record by walking four times. Catcher Martijn Meeuwis (who was hit on his hand by a foul ball last Sunday) and short stop Dwayne Kemp (who hit himself on his foot with a foul ball) didn't play tonight.
(September 9)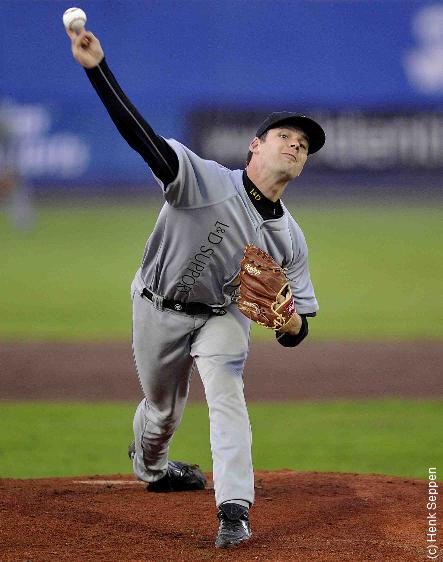 ...Amsterdam-starter Ben Grover...
(© Photo: Henk Seppen)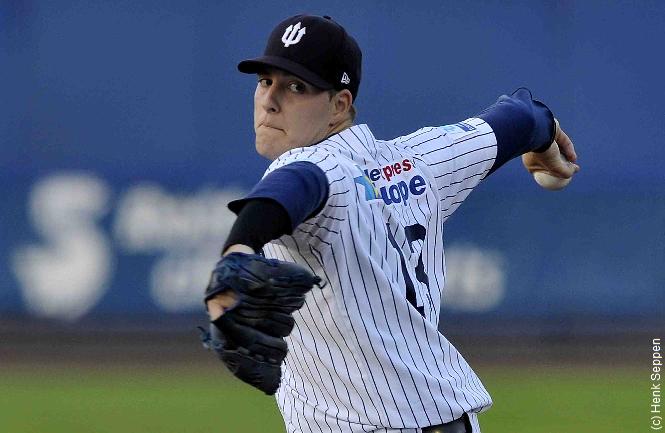 ...Neptunus-starter and winner Kevin Heijstek...
(© Photo: Henk Seppen)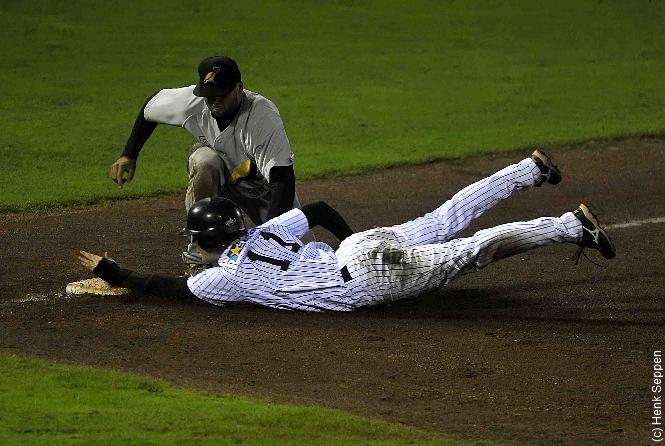 ...Benjamin Dille is elminated at third base by Vince Rooi...
...after trying to advance in the third inning...
(© Photo: Henk Seppen)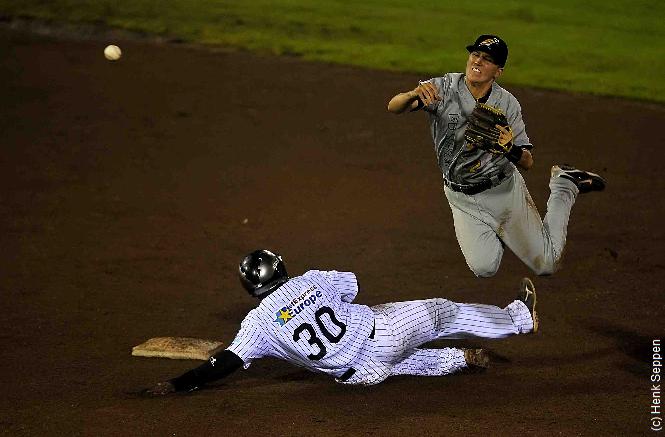 ...Raily Legito is forced out at second base, as short stop Nick Urbanus...
...completes a double play to end the third inning...
(© Photo: Henk Seppen)