Cordemans dominates; Amsterdam balances Series again
Nederlands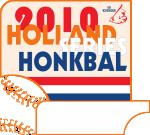 AMSTERDAM (Neth.) - Veteran pitcher Rob Cordemans on Saturday-afternoon dominated on the mound for L&D Amsterdam Pirates and didn't allow a basehit for 7 2/3 innings in which he faced the minimum of 23 batters. In the end, the righthander, who struckout 10 batters, gave up three basehits, as Amsterdam won Game 4 of the best-of-seven Holland Series 3-1 to even the final at 2-2, meaning a sixth game will be necessary to decide this years championship. Offensively, Wesley Connor doubled in the first run in the third at bat, then gave Amsterdam an insurance run when he hit a homerun in the seventh inning to make it 3-0.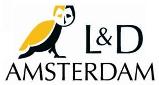 Game 5 will be played on Sunday at Rotterdam, starting at 1:15 PM (due to TV-coverage), while Game 6 is scheduled for next Saturday at Amsterdam. That game will start at 2:00 PM, as of now, but that might also chance because of TV-coverage.
The more than 1200 spectators in Amsterdam almost witnessed history, as Rob Cordemans, who turns 36 next month, not only pitched outstanding, but flirted with a No-Hitter, which he took into the eighth inning! Never before was a No-Hitter thrown in a Holland Series. The righthander retired the first 13 batters in a row and faced the minimum of 23 hitters in 7 2/3 inning after which the No-Hitter ended when Dwayne Kemp singled through the leftside of the infield. In the 7 2/3 hitless innings, Cordemans allowed two batters to reach base, but both were caught stealing.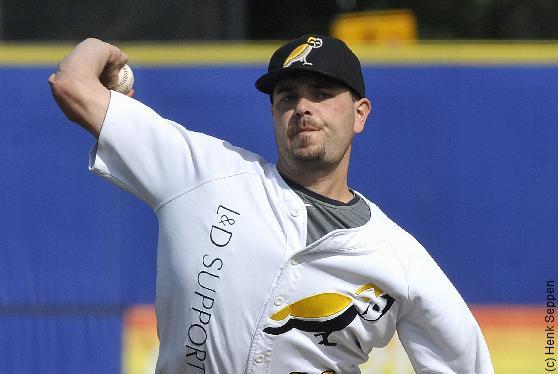 ...Rob Cordemans...
...7 2/3 no-hit innings...
(© Photo: Henk Seppen)

In the fifth, after the first 13 hitters were retired in order, Jeffrey Arends reached on an error, but then was caught stealing with two outs. In the seventh, Raily Legito walked with two outs, but also was caught stealing moments later.

In the first six innings, Cordemans needed only 61 pitches (the highest inning-total was 12 in the fourth) and as only 11 of them were balls it shows how much he was in control of the game. In his last 2 2/3 inning, Cordemans, who was relieved with two outs in the ninth, threw 62 pitches (26 balls) to bring his total to 123. The seventh inning was the first in which the righthander needed more pitches (21), getting a full count on two batters. In the next at bat, he retired the first two batters, before giving up the single to Dwayne Kemp which ended the No-Hitter. Hereafter, Cordemans recovered immediately by striking out the next batter to end the inning. In the ninth, Head Coach Charles Urbanus sent Cordemans, who had delivered 99 pitches at that moment, back to mound to give him the chance to throw a complete game. This would have been the first complete 9-inning game in a Holland Series since Patrick Beljaards (Kinheim) went the distance on September 23, 2006 and would have been Cordemans' first complete game in a Holland Series since September 27, 2003 when he threw 8 innings for Neptunus. Cordemans came very close to his first 9-inning complete game in a Holland Series since September 30, 1995, but after having thrown 123 pitches and with runners on first and second base with two outs, Urbanus took him out.

In the Neptunus-ninth, Cordemans started by striking out pinch-hitter Marvin Bleij, then gave up a single to Shaldimar Daantji and walked Eugène Kingsale. Cordemans then also struckout pinch-hitter Rien Vernooij (who was hits 10th strikeout-victim) and ran the count to 2-2 on next hitter Raily Legito, who then singled through the middle to bring in speedy Daantji for the first Neptunian run and put runners on first and second base. Hereafter, Cordemans got a standing ovation as he left the mound and was replaced by Al Morales Gomes.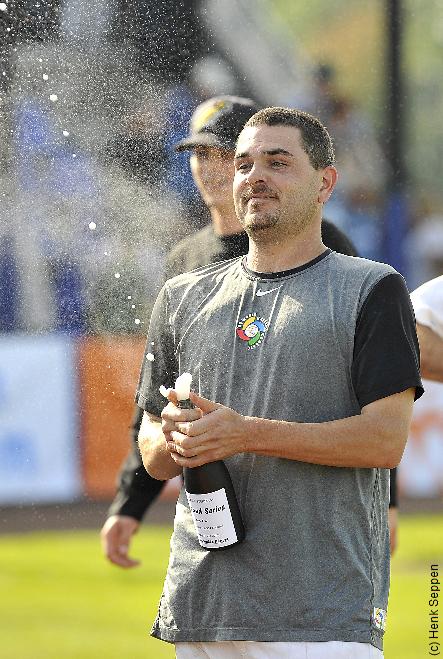 ...Rob Cordemans...
...Man of the Match...
(© Photo: Henk Seppen)

The Mexican faced Danny Rombley and threw some high pitches, but then got the powerhitter to ground to short stop Nick Urbanus, ending the game. For Cordemans, this was his 12th victory in a Holland Series, sharpening his own Series-record. It also marked the sixth time in 19 Series-games he pitched that he struckout 10 or more batters.

Amsterdam registered its first basehit off starting pitcher Diegomar Markwell in the second inning when vince Rooi's hit ended up in short rightfield, just behind first base. But moments later, Rooi was eliminated when next batter Kenny Berkenbosch hit into an inning-ending double play. Amsterdam then opened the score in the third at bat. Rashid Gerard led off with a single and advanced on a grounder by Nick Urbanus. With two outs, Wesley Connor doubled down the third base-line to bring in Gerard and put Amsterdam ahead 1-0. The inning ended when next batter Roelie Henrique flied out. In the batting order, Henrique and Urbanus had switched places as opposed to the previous three games. In those games, Urbanus was hitting in the number 2 spot, while Henrique batted eighth.

In the third inning, Amsterdam doubled its lead. Sidney de Jong led off with a double, then moved when Bas de Jong followed with a single. Next, Vince Rooi flied out in rightfield, but the runner was held at third base. De Jong then scored when Kenny Berkenbosch also delivered a double to make it 2-0. With runners on second and third base, a pop-fly and grounder ended the inning.

In the sixth inning, a great defensive play by third baseman Raily Legito prevented more Amsterdam-runs. With one out, Bas de Jong walked and Vince Rooi singled just in front of leftfielder Eugène Kingsale, who then did catch a fly by next hitter Kenny Berkenbosch for the second out. Rashid Gerard followed with a hard grounder which would have bring in a run, but Raily Legito made a great play and eliminated the hitter at first base to end the inning.

Pirates then did add an insurance run in the seventh inning. Diegomar Markwell got two quick outs, but then Wesley Connor went after the first pitch and drove the ball into deep centerfield for a homerun to make it 3-0. With his next pitch, Markwell hit rookie Roelie Henrique and then gave up a single to Sidney de Jong, just out of reach for centerfielder Shaldimar Daantji and rightfielder Danny Rombley. With runners on first and third base, Markwell ended the inning with a strikeout and was relieved by Jorian van Acker, who threw the eighth inning. Van Acker retired the side and got support from Raily Legito, who made another great defensive play, this time on a grounder by Kenny Berkenbosch.

It was a fine day to play ball and both teams played another attractive game in this Holland Series, the first best-of-seven since 1989. But today belonged to Rob Cordemans, who in his 17th season in the Dutch big league showed he is still one of the best (if not the best) pitchers in Dutch baseball!

(September 11)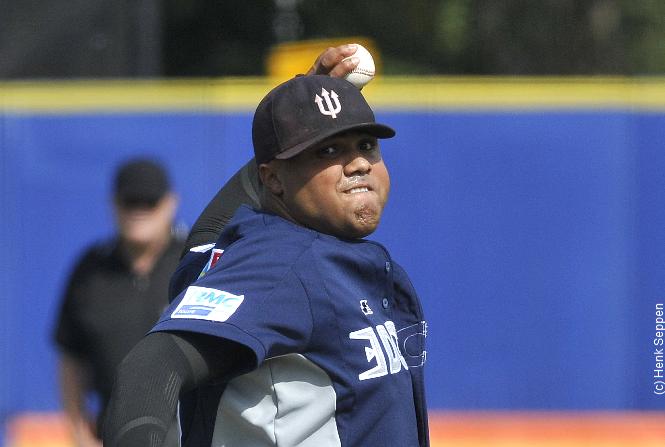 ...Neptunus-starter Diegomar Markwell...
(© Photo: Henk Seppen)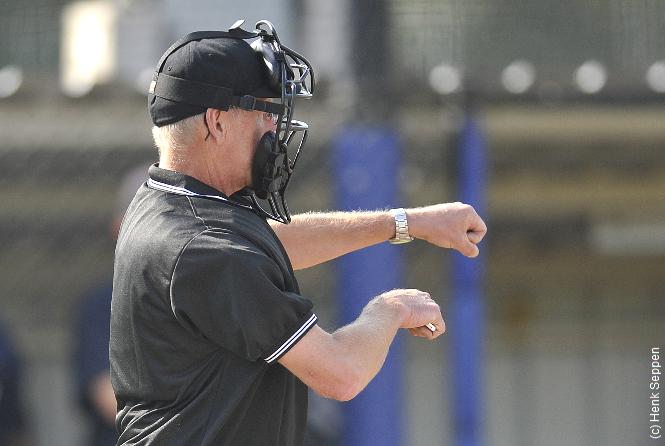 ...Home Plate Umpire Johan Brandsma makes a strike-out call...
(© Photo: Henk Seppen)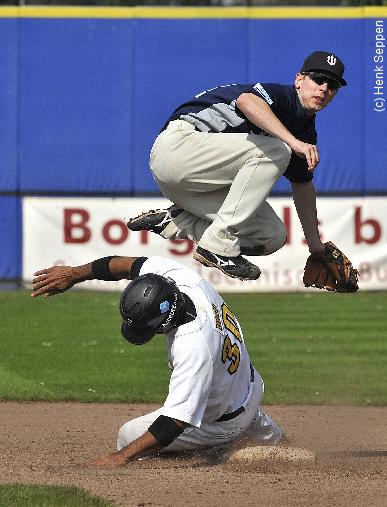 ...2B Benjamin Dille jumps over Vince Rooi to complete...
...a double play in the second inning...
(© Photo: Henk Seppen)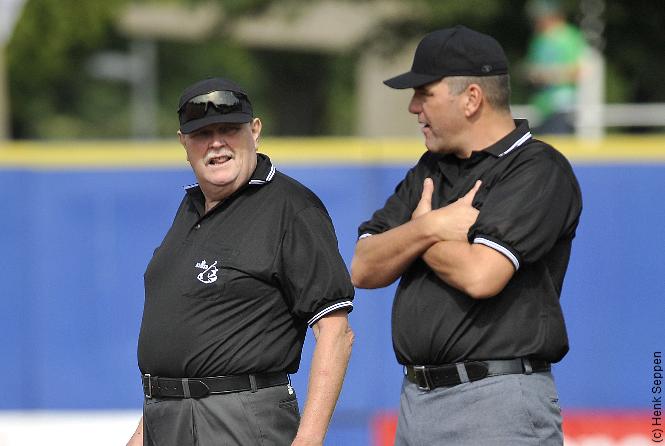 ...Veteran umpires Fred van Groningen Schinkel (left) and Henri van Heijningen...
(© Photo: Henk Seppen)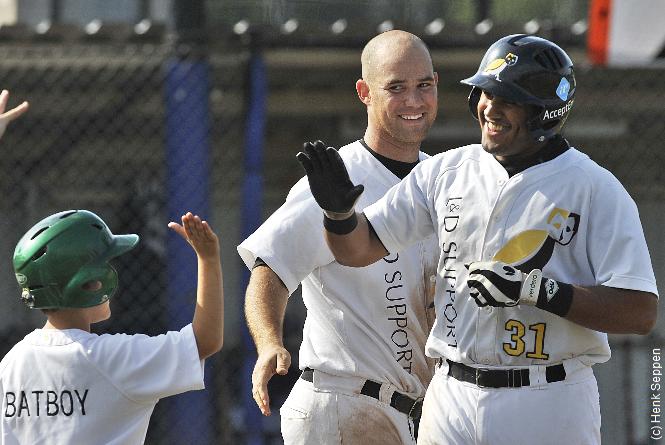 ...Wesley Connor is welcomed by Kenny Berkenbosch and bat-boy Matthijs...
...after hitting his homerun in the seventh inning...
(© Photo: Henk Seppen)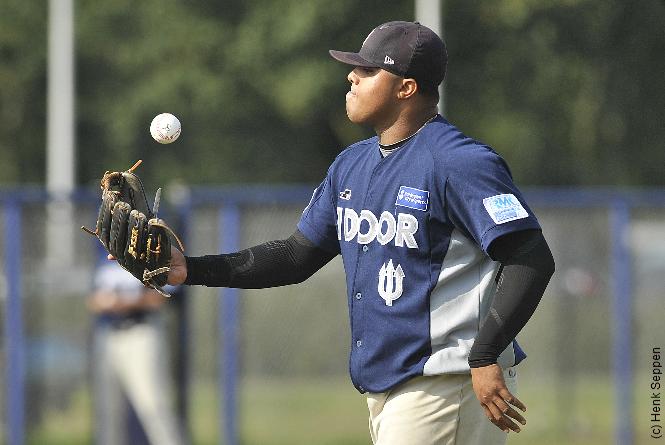 ...The face of Diegomar Markwell is saying enough in the 7th inning...
(© Photo: Henk Seppen)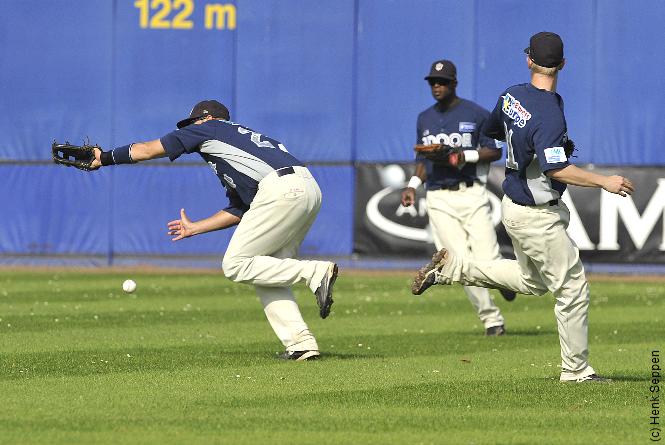 ...Moments later, RF Danny Rombley, CF Shaldimar Daantji and 2B Benjamin Dille...
...cannot get to a ball hit by Sidney de Jong...
(© Photo: Henk Seppen)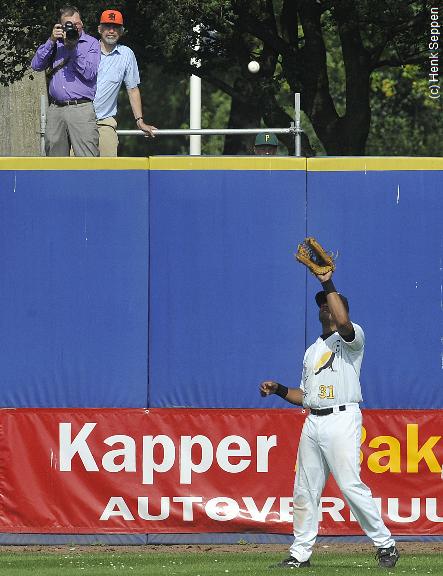 ...Centerfielder Wesley Connor catches a fly hit by Jeffrey Arends in the 8th inning...
(© Photo: Henk Seppen)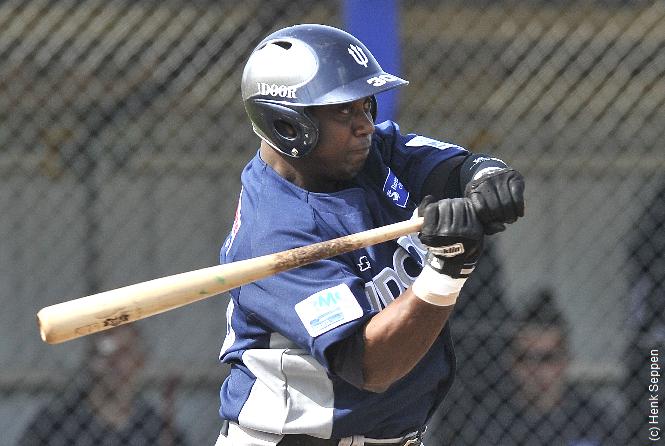 ...Raily Legito singled in Neptunus' run in the ninth inning...
(© Photo: Henk Seppen)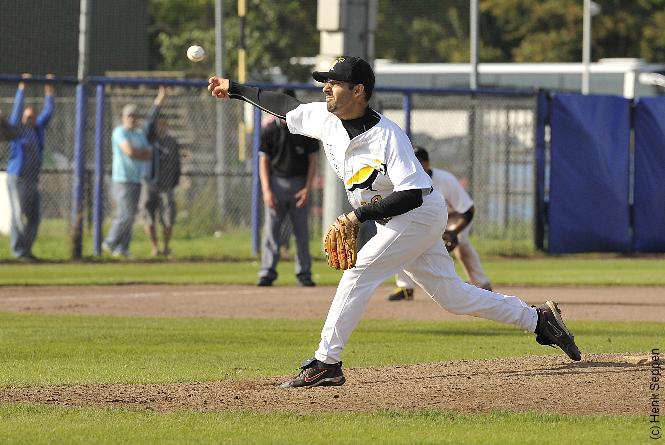 ...Al Morales Gomes completed the game and earned a save...
(© Photo: Henk Seppen)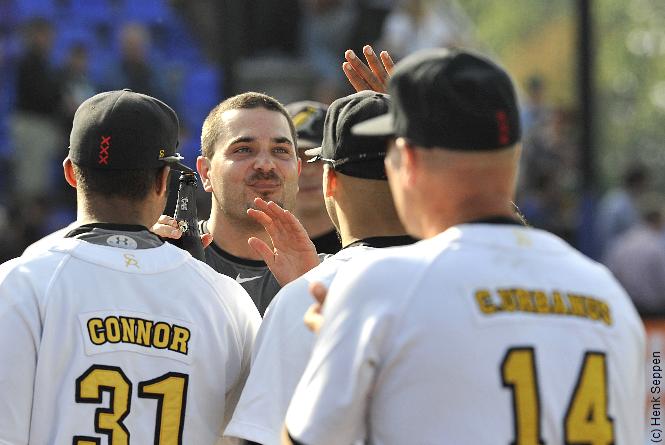 ...Winning pitcher Rob Cordemans is congratulated by his teammates...
(© Photo: Henk Seppen)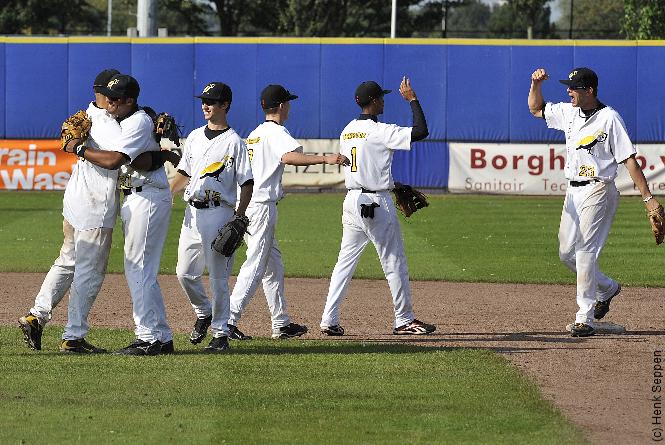 ...Amsterdam celebrates the victory...
(© Photo: Henk Seppen)