Neptunus comes from behind again to take lead
Nederlands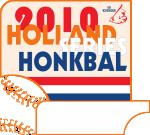 ROTTERDAM (Neth.) - DOOR Neptunus registered another come-from-behind victory on Sunday to win 3-2 vs. L&D Amsterdam Pirates. With this, the reigning champion takes a 3-2 lead in the best-of-seven Holland Series, which continues with Game 6 next Saturday at Amsterdam.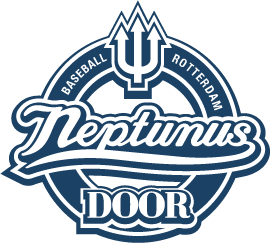 Neptunus faced a 2-1 deficit with two outs in the bottom of the eighth inning, but then the Amsterdam bullpen failed to hold onto the lead. Neptunus had taken an 1-0 lead in the first inning on an RBI-double by Benjamin Dille, but Amsterdam got on top in the fourth on a 2-out, 2-run double by Michael Kramer.
In the second inning, Amsterdam-starter Jos de Jong got out of a basesloaded jam with a strikeout and then didn't encountered further problems. With the strikeout, he eliminated 18 of the next 20 batters, including the last 13 in a row. With two outs in the eighth inning, De Jong gave up a single to Danny Rombley. Hereafter, it was decided to relief De Jong and bring in Rik Geestman. However, the lefthander got behind in the count quickly on the first two batters he faced and gave up singles to Jeffrey Arends and Dwayne Kemp, with the latter accounting for the tying run. Hereafter, Geestman, who was credited with a Blown Save, was replaced by Al Morales Gomes, who loaded the bases by walking Jeroen Sluijter. The Mexican then gave up a single to rookie Mourik Huijser, which brought in Arends for the go-ahead run, 3-2.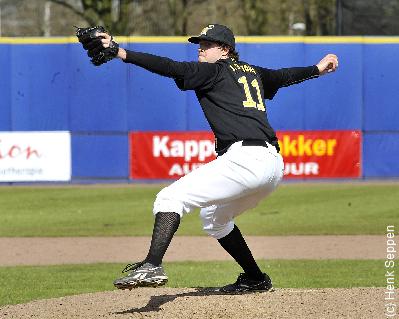 ...Amsterdam-starter Jos de Jong...
(© Photo: Henk Seppen)

Dushan Ruzic, who had taken over the pitching in the eighth inning for starter Leon Boyd, retired all six batters he faced, including three strikeouts, and became the winning pitcher. Ruzic also ended up as the winning pitcher a week ago when he threw 4 1/3 innings in relief in Game 2 when Neptunus turned a 3-1 deficit into a 5-3 win by scoring four runs in the eighth inning off the Amsterdam bullpen. Ruzic then earned a save in Game 3, throwing the last 2 2/3 inning of a 3-0 shutout.

For the second time in exactly a week, Neptunus was able to come back from a deficit late in the game. It underscored again that the two finalists are up to each other. Also, the return to the best-of-seven format is proving to be successful, as the five games played so far are very attractive, offer great baseball and are visited very well.

Today, Neptunus-starter Leon Boyd appeared to be up for a shaky again, as he was a week ago. Again, the Canadian-born righthander needed a lot of pitches. In his first outing, Boyd threw 57 pitches in his first four innings, today he delivered 61 in the same period. In the first inning, Boyd needed 18, as he walked lead-off hitter Wesley Connor and then Bas de Jong with two outs, but a flyout then ended the first scoring opportunity for Amsterdam, which stranded four runners in the first three at bats. In the second, Roelie Henrique doubled with one out, then Nick Urbanus singled with one out in the third, but also was left behind at second base after stealing it.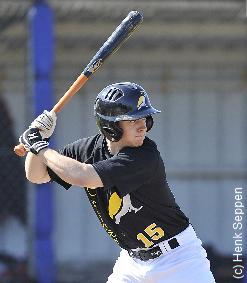 ...Michael Kramer...
...2-run double...
(© Photo: Henk Seppen)

In its first at bat, Neptunus got on the board immediately. Eugène Kingsale led off with a single, then scored all the way from first base (despite still being hampered by a leg-injury) when next hitter Benjamin Dille doubled down the third base-line. Just like Amsterdam, Neptunus also left several runners behind, including the bases loaded in the second inning. In that at bat, the Rotterdam-squad loaded the bases with two outs. Mourik Huijser and Shaldimar Daantji then singled and Eugène Kingsale walked, but then Jos de Jong came back strongly and struckout Benjamin Dille.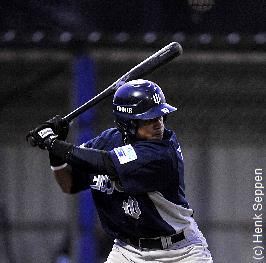 ...Dwayne Kemp...
...score-tying single...
(© Photo: Henk Seppen)

In the third, Raily Legito led off with an infield-hit, but then three outs followed and in the fourth, Mourik Huijser walked with one out, but also was left behind.

Trailing 1-0, Amsterdam took the lead in the fourth inning. With one out, Kenny Berkenbosch walked and advanced to third base when next hitter Rashid Gerard singled. Next, Berkenbosch took off for home on a grounder towards first base by Roelie Henrique, but was eliminated at the plate. Hereafter, Michael Kramer hit a double in the leftfield-corner. Gerard scored easily and speedy Henrique scored all the way from first base to put Pirates ahead, 2-1, before a grounder ended the at bat.

In the middle innings, Jos de Jong and Leon Boyd were in control. After giving up the 2-run double in the fourth inning, Boyd eliminated 10 of the 11 batters he faced, while De Jong retired 13 batters in a row after walking Mourik Huijser in the fourth.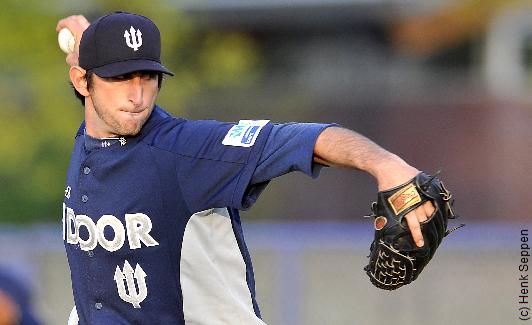 ...Dushan Ruzic...
...second victory...
(© Photo: Henk Seppen)

Jos de Jong, who needed 71 pitches in the first four innings, threw 38 in the next three innings. In the seventh, the righthander got two quick outs when Benjamin Dille flied out and Raily Legito grounded out, but then gave up a single to Danny Rombley on his 116th delivery and was replaced by Rik Geestman. The lefthander got a full-count on Jeffrey Arends, who then singled. Next, Geestman had an 2-1 count on Dwayne Kemp, before allowing another single that brought in Rombley for the tying run, as catcher Sidney de Jong barely missed him with a tag. Geestman was replaced by Al Morales Gomes, who walked Jeroen Sluijter on five pitches, then gave up an RBI-single to Mourik Huijser just over second base that gave Neptunus a 3-2 lead. Huijser is the replacement of catcher Martijn Meeuwis, who left the game a week earlier in Game 2 after having dislocated his thumb and is out for the Series. Still with the bases loaded, the inning ended when Shaldimar Daantji lined out to short stop Nick Urbanus.

Amsterdam was unable to turn the game around in its favor again. Leading 2-1, Pirates faced Dushan Ruzic in the eighth inning, but was retired in order, including two strikeouts. Then trailing 3-2 in the ninth, Ruzic also retired the side, including another strikeout, to end the game.

21 years ago, when the first and only other best-of-seven Holland Series was played, Neptunus also took a 3-2 lead in the fifth game, beating Haarlem Nicols 8-7. But then, Nicols came back to win the next two games, 3-1 and 3-2, to win the championship.

(September 12)