L&D Amsterdam Pirates announces roster changes
Nederlands

AMSTERDAM (Neth.) - L&D Amsterdam Pirates on Tuesday-evening became the first club to release their roster changes and announced that it has acquired two new players for the 2011 season. Powerhitter and first baseman Percy Isenia (Sparta-Feyenoord) and righthanded pitcher Jurrian Koks (ADO) will wear the Amsterdam-colors next year. The club also announced that righthanded closer Pim Walsma and outfielder Michael Kramer will not be back with the team next season. Walsma then will pitch for Corendon Kinheim, while Kramer retired, despite being only 21 years old. The transfer-period in Dutch baseball ends at midnight October 31.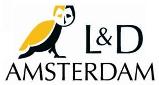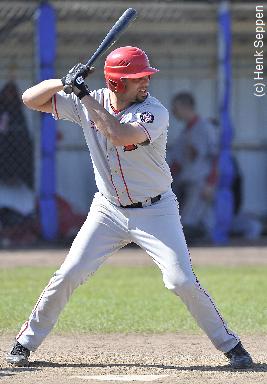 ...Percy Isenia...
(© Photo: Henk Seppen)

This season, veteran player Percy Isenia appeared in 38 games and batted .279 (36-for-129), which was the second highest batting average for Sparta-Feyenoord. The righthanded hitter scored 11 runs and batted in 16 runs, while hitting six doubles and one homerun. After completion of the regular season, Sparta-Feyenoord played in the Play-Downs and swept ADO in three games. Isenia didn't play in that series, as he was in Venezuela at that moment, being the Field Manager of the Dutch National Women Baseball Team during the Women Baseball World Championship. Isenia made his big league-debut during the 1996 season, when he was added to the roster of Neptunus, appearing in four games in which he went 5-for-8 (.625), scored five runs, hit three homeruns and was credited with five RBI's. He then became the regular first baseman of the Rotterdam-club a year later and developed into a solid hitter. While playing for Neptunus in 1996-2005, Isenia belted 44 homeruns. After his rookie-season, he added 40 homeruns in the next seven seasons, then had a homerun-less year in 2004 (the lone one in his career) and hit one more in his last season in Rotterdam in 2005. While playing for Neptunus, Isenia was a teammate of pitcher Rob Cordemans and he will be reunited with the righthander, who joined Amsterdam after the 2009 season. After his 10 seasons with Neptunus, Isenia then played two seasons for ADO (where he was a teammate of Koks), adding three more homeruns. The last three years, Isenia was the first baseman of Sparta-Feyenoord, where he hit four more homeruns, that gave him a career total of 51. In 2008, his first with Sparta-Feyenoord, he led the team with a .304 average.

In 1999, Isenia made his debut in the Dutch National Baseball Team and went on to play in 153 official international games through February 2009. With the national squad, Isenia participated in the Olympic Games of 2000 (Sydney, Australia) and 2008 (Beijing, China), but didn't made the Olympic-roster for Athens (Greece, 2004). Isenia also participated in the 2006 World Baseball Classic, three World Championships, three Intercontinental Cups, four European Championships, five Haarlem Baseball Weeks and four World Port Tournaments. In February 2009, Isenia was a member of the preliminary roster of the Dutch Team that prepared in Florida for the second World Baseball Classic and then played his last two games for the Orange, as he was left of the roster for the WBC and also didn't return to the national team later in the year.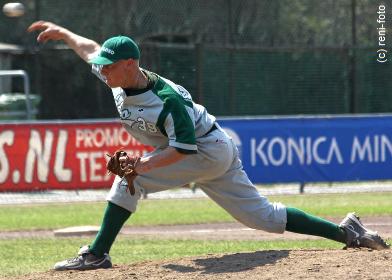 ...Jurrian Koks...
(© Photo: www.reni-foto.nl)

Jurrian Koks appeared in 20 games for ADO this season, including five as a starting pitcher. The righthander was 3-5 and earned no saves, but struckout 51 batters in 61 innings, while walking only 15. Koks gave up 72 basehits and 30 runs and finished with a 3.98 ERA. In the Play-Downs vs. Sparta-Feyenoord, Koks was the losing pitcher twice in relief. He appeared in all three games and struckout eight batters in eight innings. Koks made his debut in the Dutch big league in 2006 playing for ADO, where he also pitched in 2007. In these two seasons, Koks also was a teammate of Rob Cordemans, who then played for the team from The Hague. He then pitched for Konica Minolta Pioniers in 2008, but returned to ADO the next season.

Pim Walsma was 1-3 in 16 games as reliever and earned only one save this season. The righthander threw 20 2/3 inning, struckout 11, but walked 32 batters. Walsma gave up 17 hits and 22 runs, finishing with a 7.40 ERA. In the Play-Offs vs. Corendon Kinheim, Walsma was used in only one inning of the four games played. He then made no appearances during the six games of the Holland Series against DOOR Neptunus.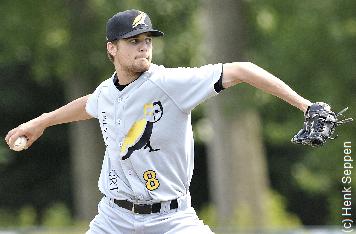 ...Pim Walsma...
(© Photo: Henk Seppen)

Walsma made his debut in the Dutch big league in 2005, playing for Amsterdam Pirates, where he has played in all of his six seasons on the highest level. During the 2008 and 2009 season, Walsma was the ace closer of Amsterdam and was credited with 20 saves.

On July 2, 2008 Walsma made his debut in the Dutch National Team during an exhibition game against Cuba in Rotterdam (Netherlands). Hereafter, the righthander went on to appear in nine official international games for the national team, with whom he participated in the Haarlem Baseball Week and the Olympic Games in Beijing (China) in 2008. Last year, he participated in the World Baseball Classic and World Port Tournament, but didn't made the final roster for the World Championship. This year, he wasn't selected for the national team.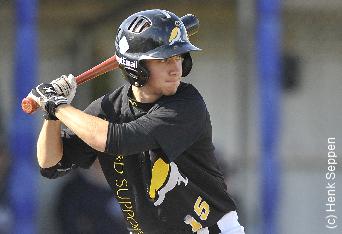 ...Michael Kramer...
(© Photo: Henk Seppen)

Michael Kramer batted .206 (21-for-102, three doubles, one triple) in his first full season in the Dutch big league, scored 11 runs, had 10 runs batted in and walked 17 times in 36 games. In the Play-Offs vs. Corendon Kinheim, Kramer played in all four games, batting .125 (2-for-16) and scored four runs. He then also played in all six games during the Holland Series vs. DOOR Neptunus, hitting .211 with two doubles, one run scored and three RBI's. In 2009, Kramer made his debut in the big league and the Pirates-squad, appearing in seven games.

This season, L&D Amsterdam Pirates finished in third place in the regular season with a 25-17 record to qualify for the Play-Offs. Amsterdam was led by Charles Urbanus, Jr., who was in his first season with the club after also having been its Head Coach in 1995-1997. In the best-of-five Play-Off, Amsterdam (which had five rookies in its team this season) eliminated second placed Corendon Kinheim, 3-1, to reach the Holland Series. In the final, Amsterdam faced reigning champion DOOR Neptunus, which dominated the season and lost only three games. Amsterdam was close to an upset, almost winning the championship title, but in the end lost the best-of-seven 4-2 to finish in second place.

Except for Pim Walsma and Michael Kramer, all other players on this years roster will return and play for the team from the Dutch capital, which then again will be led by Head Coach Charles Urbanus.

Chairman John Witte stated: ,,This season, we've overachieved our goals. By reaching the Holland Series, we qualified for the European Cup. Therefore, we improved our goals a little for the upcoming season. By adding Isenia and Koks, we filled the spots that were left vacant with the departure of Kramer and Walsma and we have a team which will gladly face the new challenges.''

For next season, Amsterdam filed for candidacy to organize the European Cup Tournament.

(October 12)