Women World Baseball Cup suspended after incident!
Nederlands

CARACAS (Venezuela) - The fourth Women Baseball World Cup was suspended on the second day of the event after a shooting incident (!) during the game between The Netherlands and Hong Kong! When the game was halted, the Dutch Team was leading 12-9 after three complete innings. Two other scheduled games to be played later on Friday were canceled, as were all games to be played on Saturday.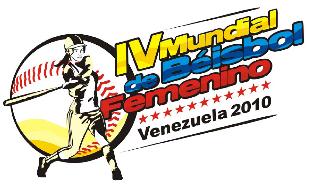 In a statement, the International BAseball Federation (IBAF) confirms ''that a bullet struck a player from the team of Hong Kong in the lower leg during the game that took place today, August 13th 2010 in Caracas, Venezuela. At this point, IBAF suspended this game, and future games.''
In the statement, the IBAF also mentions ''that the injured player is stable and is currently being taken care of in a military medical facility in Caracas and underwent successful surgery.''
Furthermore, the IBAF states ''that all of the delegations are safe and back in the hotel facilities.''
After the incident, IBAF representatives gathered with the government of Venezuela and spoke by phone with President Hugo Chavez, as well as with the Vice-President, the Minister of Internal Affairs and Justice and the Minister of Sports. The Minister of External Affairs confirmed that he was in conversations with the Embassies of the delegations.
The government expressed its concerns and sadness regarding the events that took place in the José Antonio Casanova Stadium in Caracas. It confirmed that safety and security measurements will be maximized for the delegations should they choose to stay for the duration of their stay in Venezuela. An official report of the incident will be presented to the delegations for their review.
The IBAF will make no final decision without analysis of the report and consultation with the delegations. The IBAF underscores that the safety of the athletes, officials, organizers and volunteers is its priority.
A meeting about the investigation with all delegations will be held on Saturday-morning.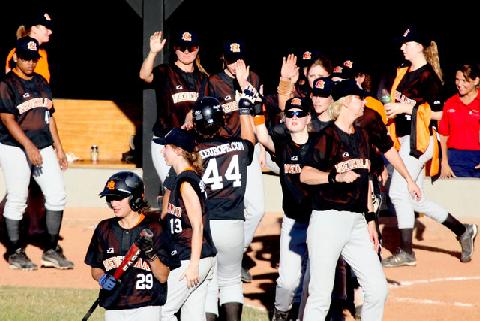 ...Letticia Horstman (44) is welcomed after scoring a Dutch run...
(photo: Américo Morillo)

the game
After the Dutch side was retired in order in the first inning, Hong Kong scored twice in its first at bat off starting pitcher Mickey Ras, who walked three batters in this inning and gave up two hits, but the Asians also stranded three runners. In the second inning, the Dutch Team tied the score. With one out, Minke Blok walked and Letticia Horstman doubled. A grounder by Thari Diefenbach then led to the first run and the tying run was then scored on a single by Marlina Becker.

In the home of the second inning, Hong Kong appeared to take a decisive lead, as the team rallied for seven runs on four basehits to take a 9-2 lead. However, the Dutch Team had a big rally of its own in the third at bat, scoring 10 (!) runs to take a 12-9 lead. In the inning, 16 batters stepped up to the plate, who produced five basehits. Tessa Heeres, Kirsten Vierdag and Jessica Kroeskop led off with singles to load the bases, then a sacrifice fly by Hilde Bosker, single by Minke Blok and an error gave the Dutch three runs. Next, the bases were re-loaded because of a walk. A walk for Marlina Becker, single by pinch-hitter Linde Gerritsen, walk for Tessa Heeres, a passed ball and a wild pitch gave the Dutch a 10-9 lead. Another error and another basesloaded walk, this time for Letticia Horstman, led to two more runs and a 12-9 lead for the Dutch.

Hereafter, the game was halted after three complete innings.

(August 13)