Danny Rombley to play for UVV
Nederlands

UTRECHT (Neth.) - Veteran outfielder and National Team-player Danny Rombley will play for UVV in 2011. The announcement came on the same day that the Utrecht-based club confirmed that it had accepted the request by the Dutch Federation to take the spot in the Dutch big league, which was left vacant by Almere Magpies when that team withdraw. This year, Rombley played in his first season for Dutch champion DOOR Neptunus, which confirmed the transfer of the former pro on Thursday.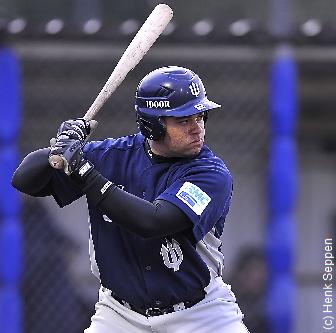 ...Danny Rombley returns to UVV...
(© Photo: Henk Seppen)

For Danny Rombley, the choice for UVV means the return to the club where he had started his baseball-career as a youth player. Danny's father Tony Rombley also briefly played for UVV. In 1997, Rombley made his debut in the Dutch big league, playing for Mr. Cocker HCAW, where he then appeared in two games, hitting a basehit in the lone at bat he got. Later in the season, he played in one game for HCAW during the Holland Series.

In 1998, Rombley played his first full season in the Dutch big league when he was with Twins. In his rookie-season, he played in 44 games, scored 41 runs, had 20 RBI and went 67-for-171 for a .392 batting average to lead his team. Back then, Rombley's teammates at Twins were Wouter Heemskerk, Ferenc Jongejan, Kevin Knollenburg, Roel Koolen, Harvey Monte, Jan Naterop, Erik de Rijcke and Jochem Theunissen, who all went on to play for Neptunus in later years, except for Theunissen.

For Rombley, the 1998 season was his last in the Dutch big league at that time, as he had signed a professional contract with the organisation of the Montreal Expos. The outfielder went on to play in six professional seasons in the organisation of the Canadian club, which later moved to become the Washington Nationals. In 1999, Rombley made his professional debut playing in the Rookie League-team of the Expos.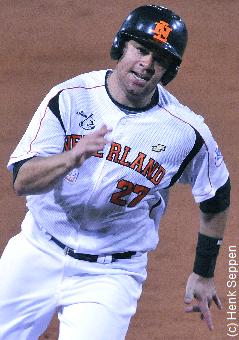 (© Photo: Henk Seppen)

In the following years, he payed on three different Single-A levels (Short Season, Full Season and Advanced), before being promoted to Double-A during the 2004 season, playing in 41 games for the Harrisburg Senators. In six professional seasons, Rombley played in 558 games, scoring 281 runs and hitting 474 basehits (four homeruns) to finish with a .238 batting average. After the 2004 season, Rombley was released and returned to the Netherlands, where he went on to play for Corendon Kinheim.

In his first season back in the Dutch big league (2005), Rombley scored 35 runs, had 15 RBI's and batted .278 (44-for-158) to be the second-best hitter of Kinheim behind Edward Illidge. After hitting .295 in 2006, Rombley led Kinheim in hitting in the next three seasons. In 2007, he led his team with a .392 average, then did the same in 2008 (.333) and 2009 (.396). This season, his first and only with Neptunus, Rombley finished in third place in team-hitting behind Raily Legito and Jeffrey Arends. Rombley batted .309, scored 32 runs and hit 46 basehits (7 doubles, 4 triples, 1 homerun), but set a career-high with 34 RBI's. In 2007, he was the Batting Champion of the Dutch big league.

In 1998, during the Haarlem Baseball Week, Rombley made his debut in the Dutch National Baseball Team, being used primarily as a pinch-hitter. In the following World Championship in Italy, Rombley appeared in two games, including one as third baseman. Because of his professional seasons, he wasn't available for most of the events in the next six years, but participated in the 2001 World Championship and 2003 European Championship. After his professional career ended, Rombley became a regular in the Dutch Team and from 2005 went on to participate (amongst other events) in the 2008 Olympic Games in Beijing (China), two World Baseball Classics, two World Championships, one Intercontinental Cup, three European Championships, three Haarlem Baseball Weeks and two World Port Tournaments. He only missed the 2007 World Championship in Taiwan. In total, Rombley played in 120 official international games for the Dutch Team.

(October 14)