Roster-change Dutch Team: De Jong replaces Rooi
Nederlands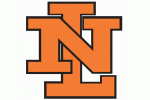 NIEUWEGEIN (Neth.) - A few hours after the 24-man roster of the Dutch National Baseball Team for the upcoming Intercontinental Cup was announced on Friday-morning, an update came as a roster-change had to be made due to an injury.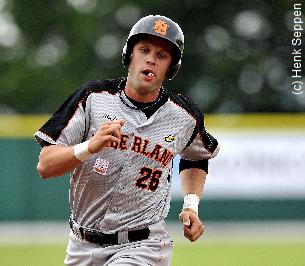 ...Bas de Jong...
(© Photo: Henk Seppen)

Infielder Vince Rooi is bothered by a rib-injury, but after practice sessions on Tuesday and Thursday, it appeared that he was ready to play for the Dutch Team during the event in Taiwan. Therefore, he remained on the active roster and an announcement followed with the naming of the 24-man roster.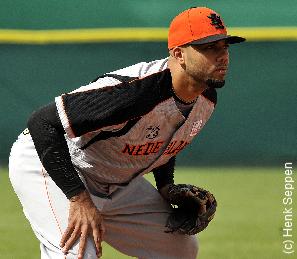 ...Vince Rooi...
(© Photo: Henk Seppen)

However, a few hours after the announcement, Rooi informed Manager Jim Stoeckel that he was unable to play after all due to his injury. In his place, Bas de Jong was named to complete the roster. De Jong, who was part of the preliminary roster and has practiced with the team the last weeks during the preparations for the Intercontinental Cup, plays for L&D Amsterdam Pirates, as is Vince Rooi.

On July 1, 2009, De Jong made his debut in the Dutch National Team when it played an exhibition game against the Dutch National Junior Team (AAA) in Amsterdam. The rightfielder then made his international debut a few days later during the World Port Tournament in Rotterdam. He then went on to participate in the following European Baseball Series, but was cut from the roster for the World Championship. This year, Bas de Jong was part of the team that participayed in the Haarlem Baseball Week and European Championship, where he was also used as first baseman.

(October 15)