Yankees come-from-behind to win ALCS-opener
Nederlands

ARLINGTON, Texas (USA) - The New York Yankees trailed 5-0 on Friday-evening vs. the Texas Rangers after six innings and 5-1 after seven, but then rallied for five runs in the top of the eighth inning to come from behind and win 6-5 in the opener of the American League Championship Series.

Former Texas-pitcher and current owner Nolan Ryan threw out the ceremonial first pitch (with former catcher Jim Sundberg doing the catching), then watched the game together with former American President (and former Texas-owner) George W. Bush.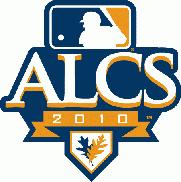 Yankee-starter C.C. Sabathia (who pitched his last game nine days ago during the ALDS vs. the Twins) struggled early, as he already trailed 3-0 after having faced only three batters. The lefthander walked lead-off hitter Elvis Andrus, then gave up a single to Michael Young, which was followed by a 3-run homerun by Josh Hamilton to give Texas a 3-0 lead. Next, Vladimir Guerrero drove the ball to deep centerfield, but there Curtis Granderson made the catch just in front of the fence. Sabathia then got two more baserunners, as he gave up a single to Nelson Cruz and issued another walk, this time to Ian Kinsler. An infield-fly pop-up by Jeff Francoeur followed, but then the bases got loaded when Sabathia also walked Matt Treanor. The inning ended when Cruz was called out at home in a close play when he tried to score on a passed ball. That was an important out, as the scoring could have continued, but now was kept to three runs.
Sabathia appeared to recover, as he retired the side in the second inning, but then walked lead-off hitter Josh Hamilton in the third at bat, who then stole second base and was awarded third base on a balk. But a strikeout and two groundout prevented him from scoring.
The Rangers then did more damage in the home of the fifth inning, scoring twice with two outs. With one out, Matt Treanor singled, as did Elvis Andrus with two outs. Michael Young then followed with a 2-run double to make it 5-0.
Texas-starter C.J. Wilson (who was 11-3 at home this season) retired the side in the first and second inning, but then faced five batters in the third inning. With one out, Curtis Granderson singled and Brett Gardner walked, but then a flyout and pop-fly followed to end the inning. Wilson faced five more Yankees in the fourth, as Robinson Cano and Marcus Thames singled with two outs, but a line drive by Jorge Posada ended this scoring opportunity. In the fifth inning, Wilson walked lead-off hitter Curtis Granderson, but a groundout and double play made a quick end to this at bat.
In the home of the fifth, Joba Chamberlain took over the pitching for Sabathia, walked Nelson Cruz with one out, but encountered no problems. Chamberlain's successor Dustin Moseley threw a scoreless sixth. With one out, Jorge Cantu reached on an error by third baseman Alex Rodriguez, which gave him several reactions from the Texas-fans, as he is a former Ranger, as is Mark Teixeira. But then Moseley struckout the next two batters to end the inning.
C.J. Wilson retired the side again in the sixth, but then gave up a lead-off homerun to Robinson Cano in the top of the seventh, then followed with three outs.
But in the eighth inning, things changed quickly and the Yankees struck. First, Brett Gardner led off with an infield-hit, then scored all the way from first base on a double by Derek Jeter. Hereafter, Wilson was relieved by Darren Oliver, but the lefthander started by walking Nick Swisher to bring Mark Teixeira to the plate, whom he then also walked to load the bases, bringing the other former Ranger, Alex Rodriguez to bat. He faced new pitcher Darren O'Day and drilled his first delivery into leftfield for a 2-run single that made it a 5-4 score. It brought in another new pitcher, as Clay Rapada took over for O'Day. Rapada, who was added to the roster earlier in the day, was greeted by an RBI-single by Robinson Cano on his first pitch that tied the score (5-5). Hereafter, Derek Holland became the fifth Texas-pitcher in this inning and he took over with runners on first and third base, but still no outs. But on his sixth pitch, Marcus Thames also singled to bring in Rodriguez and give the Yankees a 6-5 lead. Next, Jorge Posada flied out to deep rightfield, which brought Cano to third base. Holland then struckout Curtis Granderson and got a groundout from Brett Gardner, but the Yankees had staged a great comeback to take over the lead.
In the home of the eighth, Kerry Wood became the new pitcher for the Yankees. He started by walking Ian Kinsler, but then picked him off first base and got Kinsler him in a rundown. A groundout followed and Wood then struckout pinch-hitter Julio Borbon.
The Yankees appeared to continue their hitting in the ninth when Derek Jeter led off with a double to deep centerfield, but he stranded at second base.
Closer Mariano Rivera (who earlier this season got two blown saves vs. the Rangers) took the mound for the Yankees in the ninth. The veteran was greeted with a lead-off single by pinch-hitter Mitch Moreland, who was brought to second base by a sacrifice bunt by Elvis Andrus on an 1-2 count. Next, Rivera struckout Michael Young and then a grounder to Alex Rodriguez by Josh Hamilton ended the game.
(October 15)