Rangers even ALCS vs. Yankees
Nederlands

ARLINGTON, Texas (USA) - For the second day in a row, the Texas Rangers struck early and hold an apparent comfortable lead against the New York Yankees and this time hold on to the lead to win 7-2 and even the best-of-seven American League Championship Series at 1-1. The Series now moves to New York, where Game 3, 4 and 5 will be played in the Bronx on Monday, Tuesday and Wednesday. For the Rangers, this was their first postseason-victory ever and with this, they also end a 9-game losing streak against the Yankees in the postseason.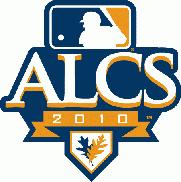 Unlike the day before, the Yankees this time were unable to turn the game around in their favor. In Game One, on Friday-evening, they were trailing 5-0, but went on to win 6-5. Today (Saturday-afternoon), they again were trailing 5-0 early, but this time the Texas-bullpen saved the lead.
The Rangers opened the score in the first inning. Elvis Andrus led off with a single off Phil Hughes, then advanced on a wild pitch and stole third base. Next, Josh Hamilton walked and with two outs, a double-steal was executed with Hamilton stealing second base and Andrus stealing home to give the Rangers an 1-0 lead. It was only the fifth time in LCS-history that home plate was stolen.
In the second inning, the Yankees threatened to do something back when Nick Swisher doubled with two outs and Jorge Posada walked, but then a line out followed. Texas then added two runs in the home half of the second. First, David Murphy homered with one out, then Hughes gave up 2-out singles to Mitch Moreland and Elvis Andrus, followed by an RBI-double by Michael Young to make it 3-0.
In the third, New York reached base again twice with one out, when Derek Jeter singled and Curtis Granderson was hit by a pitch, but this time and infield-fly and force out followed. Texas then again scored twice in its third at bat. Nelson Cruz led off with a double and advanced on a sac-bunt by Ian Kinsler, then back-to-back doubles by David Murphy and Bengie Molina led to two runs and a 5-0 score.
In the fourth, the Yankees got one run back. Robinson Cano led off with a double, moved on a wild pitch by starter Colby Lewis, then scored with two outs (two strikeouts) on a single by Lance Berkman.
The Rangers then did something they didn't do the day before, add more runs and expending their lead. In the fifth, Nelson Cruz again led off with a double and then Ian Kinsler followed with a triple. That led to a pitching change and Joba Chamberlain was brought in to relief Phil Hughes. He started with two strikeouts, but then gave up an RBI-single to Mitch Moreland that made it 7-1.
Hereafter, the Rangers didn't score more runs, but this time their lead was enough, as the bullpen kept things together, unlike they did the day before. In the Yankees' sixth, Robinson Cano homered with one out to make it a 7-2 score. Then, with two outs, Jorge Posada singled and Lance Berkman walked to bring in reliever Clay Rapada, who ended the at bat by striking out pinch-hitter Marcus Thames.
In the seventh, Alexi Ogando became the new Texas-pitcher, who started by walking Derek Jeter, then gave up a 2-out single to Alex Rodriguez, but finished by striking out Robinson Cano.
The Yankees kept on reaching the bases, but were unable to score. In the eighth, new pitcher Darren Oliver walked lead-off hitter Nick Swisher, then got two outs and gave way to Darren O'Day, who ended with a groundout. In the home of the eighth, the Rangers also failed to add an additional run. Reliever Boone Logan walked lead-off hitter Mitch Moreland, then was replaced by Sergio Mitre, who walked Elvis Andrus. A double play followed, then Josh Hamilton was walked intentionally for the second time in the game, but Mitre ended by striking out Vladimir Guerrero.
In the ninth, closer Neftali Feliz took over for Texas and started by striking out Derek Jeter, but ran in some problems as he walked Curtis Granderson and Mark Teixeira, but a groundout and flyout then ended the game.
(October 16)