Legendary pitcher Bob Feller passed away
Nederlands
IN MEMORIAM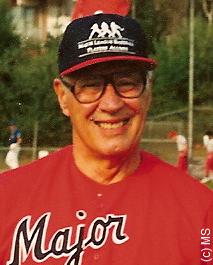 ...Bob Feller...
(1918 - 2010)
---
IN MEMORIAM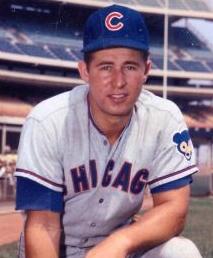 ...Ron Santo...
(1940 - 2010)

CLEVELAND, Ohio (USA) - Legendary Hall of Fame-pitcher Bob Feller has passed away at the age of 92 on Wednesday-evening, December 15, due to complications related to acute leukemia. Feller was diagnosed with acute myeloid leukemia (cancer of the myeloid line of white blood cells in the blood and bone marrow) in August and underwent surgery to implant a pacemaker in October. In mid-November, he was hospitalized with pneumonia.

It was the second passing of a legendary player in a short period. On December 2, former Chicago Cubs-third baseman Ron Santo passed away at the age of 70, due to complications from bladder cancer and diabetes. Santo played his entire 15-year Major League-career (1960-1974) for the Chicago Cubs. In 1990, he became the color commentator for the Cubs on WGN-radio, which he did until this season. When he was 18 years old, Santo was diagnosed with diabetes. This eventually led to amputation of both his legs below the knee in 2001 (right leg) and 2002 (left leg).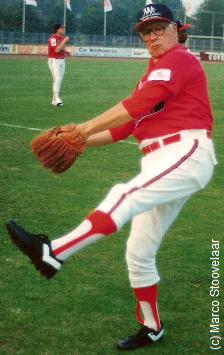 ...Bob Feller shows...
...his famous wind-up...
(© Photo: Marco Stoovelaar)

Robert William Feller played in 18 Major League-seasons for the Cleveland Indians. He missed almost four complete seasons during the prime of his career (1942-1945), as he was one of the first Major League-players to enlist following the attack on Pearl Harbor (Hawaii) on December 7, 1941. More than of his baseball career, Bob Feller was proud of his service in the US Navy during World War II.

During his impressive baseball career, Bob Feller was known for the speed of his fastball, which was said to have been 100 mph. Therefore, his fastball was nicknamed 'The Heat from Van Meter', referring to the place Feller was born on November 3, 1918, Van Meter (Iowa). There, Feller grew up on a farm, where his father built a baseball field for him. It was there were Feller learned how to play baseball and pitch all by himself. When he was 17 years old, he was offered a contract by the Cleveland Indians and in 1936, four months before his 18th birthday, Feller made his debut in the Major League, without having any professional experience. Before he turned 18, Feller had won five games and had thrown games in which he struckout 10 to 17 batters. Feller made his debut in relief and after having thrown in six games as a reliever, he got his first start against the St. Louis Browns. Feller threw a complete game, struckout 15 batters and was the winning pitcher. His career ended on September 30, 1956.

In 1940, he won a career-high 27 games and started the season by throwing a No-Hitter on Opening Day against the Chicago White Sox, which still is the only Opening Day No-Hitter in Major League-history. In 1946, he set a career-high with 348 strikeouts.

In 1939, 1940 and 1941, Feller led the American League in victories, 24, 27 and 25 respectively. But when Pearl Harbor was attacked in December 1941, Feller enlisted the next day to serve his country in World War II. He took that decision at the prime of his career and he always stated that he was proud to have done so. ,,Any other decision would have been selfish'', he once said. Feller served in the Navy as Chief Petty Officer and returned to baseball during the 1945 season, having missed almost four seasons. In his first full season back on the mound in 1946, Feller led the American League again in victories (26), as he did in 1947 (20).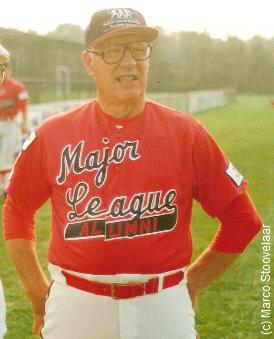 ...The legendary Bob Feller...
(© Photo: Marco Stoovelaar)

Feller was the most famous strikeout-pitcher of his era and had six seasons in which he won 20 or more games. In his 18 year Major League-career, Bob Feller won 266 games and struckout 2581 batters. The righthander, who was nicknamed 'Rapid Robert', threw three No-Hitters, twelve one-hitters and 44 shutouts. He led the American League in victories six times and in strikeouts seven times. Feller threw in 570 games, including 484 as a starter. He completed 279 games and finished with a 3.25 ERA.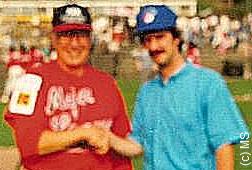 ...Bob Feller with Grand Slam...
...Webmaster Marco Stoovelaar...

In 1962, his first year of eligibility, Bob Feller was elected into the Hall of Fame with a 93.8 percentage. At that time, it was the fourth highest percentage ever to be elected and the most for a pitcher, as the others were Ty Cobb, Babe Ruth and Honus Wagner. Ruth also was a pitcher in the first years of his career, but became an outfielder later. Since 1962, ten other players got higher percentages, including three pitchers, being Tom Seaver, Nolan Ryan and Steve Carlton.

In August 1990, Bob Feller was a member of the Major League Alumni Team that visited The Netherlands and played two games. On August 26, the team played a game in Bussum against a combination-team of HCAW and Quick Amersfoort. The next day, the Major League Alumni played a game against the Dutch National Baseball Team. Bob Feller was the starting pitcher in both games. In Bussum, he faced two batters, in Rotterdam, he faced only Dutch lead-off hitter Robert Niggebrugge, who flied out.

In June 2009, when he was 90 years old, Bob Feller was the starting pitcher in the first Hall of Fame Classic in Cooperstown and faced three batters.

(December 16)