Four home teams empty handed
Nederlands




HOOFDDORP / ROTTERDAM / THE HAGUE / ALMERE (Neth.) - All four home playing teams were left empty handed on Saturday. In the second match-up between last years finalists DOOR Neptunus and Konica Minolta Pioniers, the first won 6-2. Over at The Hague, Corendon Kinheim pounded ADO 16-0 and L&D Amsterdam Pirates won big vs. Sparta-Feyenoord, 11-2. In the evening, Mr. Cocker HCAW handed Almere Magpies a 7-3 loss.
---
Konica Minolta Pioniers vs. DOOR Neptunus, 2-6

HOOFDDORP (Neth.) - DOOR Neptunus decided today's game in the first three at bats. The Rotterdam-team scored four runs in that span and held onto the lead, while Pioniers was unable to get things going. Pioniers outhit Neptunus 6-5 in the first six innings, but the difference was that the five Neptunus-hits all came in the first three innings, while Pioniers' basehits were more spread.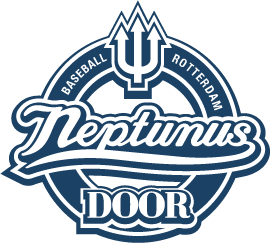 In the first inning, Neptunus scored the first run off Eddie Aucoin, who made his second start of the season. Dwayne Kemp led off with a double, advanced on a grounder by next batter Benjamin Dille and scored on a following single by Raily Legito. As simple as that and probably with this first run, the game already was decided, as Pioniers stranded a runner in its first and then gave up two more runs in the second at bat. Those came after Aucoin had started the inning with two strikeouts. But then he walked veteran Jeroen Sluijter (who by the way is still a solid short stop) and gave up a single to Shaldimar Daantji. A single by Dwayne Kemp then made it 2-0, while Daantji was able to score when Kemp got stuck in a rundown. Neptunus increased the lead to 4-0 in the third inning when Benjamin Dille singled, advanced safely to third base on a throwing error and scored on a grounder by Danny Rombley.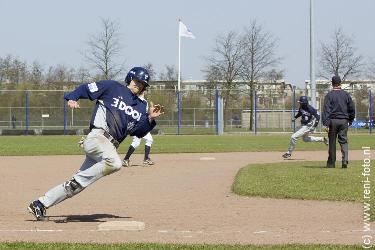 ...Jeroen Sluijter and Shaldimar Daantji...
...on their way to home in the 2nd inning...
(© Photo: www.reni-foto.nl)

Pioniers got back into the game in the sixth inning. In the first five at bats, it had stranded seven runners, but in the sixth, they scored twice. Neptunus-starter Diegomar Markwell walked lead-off hitter Mervin Gario, then gave up a double down the line to Edwin de Graaf. A grounder by Jeffrey de Vrieze then enabled Gario to score. With De Graaf on second base (he was unable to advance on the grounder), veteran Dè Flanegin was brought in to pinch-hit and he did his job, by connecting for an RBI-single to make it 4-2. Pioniers currently has some injured players on its roster, including Tjerk Hogervorst and Lennart Koster, so therefore the club activated Flanegin again, who is the team's Hitting Coach. After Flanegin's single, Markwell was relieved by Richard Orman. The lefthander gave up a single to Shurty Tremus, then committed an error himself on a bunt by Jefferson Muzo, but was then supported with a double play. In the seventh, Orman gave up a lead-off single to Norbert Lokhorst and then made a throwing error on a force play-grounder by Mark Duursma. Hereafter, it was decided to replace Orman, who is the all-time recordholder for victories by a lefthanded pitcher and had pitched 16 seasons for Pioniers (1992-2007), before retiring and return to Aruba. However, during last season, Orman returned and was added to the roster of Neptunus. Leon Boyd took over for Orman and while Pioniers continued reaching base, it didn't score. Boyd gave up a sac-bunt, then Lokhorst (who was a third base) made a baserunning mistake and was eliminated on a grounder to third. After a walk, Boyd and Neptunus got out of the inning when Flanegin flied out.

In the eighth inning, Neptunus added two insurance runs off reliever Jean-Paul Gulinck. Raily Legito led off with a double and Danny Rombley followed with a single, then the two scored on an one-out single by pinch-hitter Eugène Kingsale to make it 6-2. In the ninth inning, Pioniers got two runners on base off Jorian van Acker, but two grounders ended the game, resulting in the home team stranding 15 runners.

Line Score, Box Score & Play-by-Play
---
Sparta-Feyenoord vs. L&D Amsterdam Pirates, 2-11

ROTTERDAM (Neth.) - L&D Amsterdam Pirates won its third game in a row, winning convincingly 11-2 vs. Sparta-Feyenoord on 15 basehits, including four by Zaïr Koeiman, who was 4-for-5. Vince Rooi went 3-for-5 with a double. Starting pitcher Jos de Jong struckout seven batters and gave up four hits in six innings.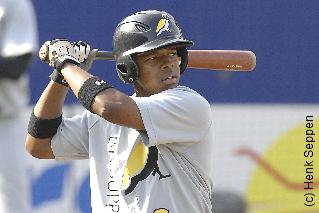 ...Zaïr Koeiman: 4 hits, 1 run, 2 RBI's...
(© Photo: Henk Seppen)

Amsterdam scored two unearned runs in the first inning when Zaïr Koeiman singled and Bas de Jong reached on an error. Both scored when a flyball by Vince Rooi was dropped. In this game, the Sparta-Feyenoord committed six errors, leading to eight unearned runs.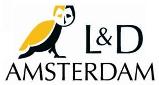 After giving up the two runs in the first inning, Sparta-Feyenoord starter Gregory Gustina held Amsterdam scoreless for three innings, but then gave up two more unearned runs in the fifth. Wesley Connor then reached on an error and scored on an one-double by Kenny Berkenbosch, who later scored on a 2-out single by Rashid Gerard. Two more runs were then added in each of the next three at bats. In the sixth, Nick Urbanus and Wesley Connor both singled and went on to score on a single by Koeiman and a wild pitch by Raynard Doran, who had just taken over the pitching from Gustina. In the seventh, two unearned runs were scored with two outs. Vince Rooi then doubled and scored on a fielding error, then Rashid Gerard scored on a wild pitch. In the eighth, two more unearned runs were added with two outs. Kenny Berkenbosch then reached on an error, advanced on another error and scored on a wild pitch, then a single by Vince Rooi led to another run. Amsterdam scored its eleventh run in the ninth at bat when Roeland Henrique, Jr. reached on a fielder's choice and scored on a single by Zaïr Koeiman.
Sparta-Feyenoord was productive in the first inning, but didn't score. Nick Eppinga led off with a single, but then was caught stealing in a double play while the batter struckout. Hereafter, Amsterdam-starter Jos de Jong walked Percy Isenia and Ramiro Balentina. Next, José Ventura singled with Isenia being waved home, but he was then eliminated on the plate. In the third inning, Sparta-Feyenoord had runners on second and third base with one out, but both stranded. In the fifth, another runner was thrown out at the plate. Nick Eppinga led off with a walk and the tried to score on a double by Roderick Simon, but didn't succeed.
Trailing 8-0, Sparta-Feyenoord scored its first run in the seventh inning off new pitcher Rik Geestman. With one out, Kevin van Nederpelt singled, then was awarded both second and third base on two consecutive balks and scored on a grounder by Nick Eppinga. In the eighth inning, with Pirates now leading 10-1, the Rotterdam-team scored its second run. Percy Isenia led off with a single, reached second base safely on an error and went on to score on a single by Sape Wagenaar.
Line Score, Box Score & Play-by-Play
---
ADO vs. Corendon Kinheim, 0-16 (7)

THE HAGUE (Neth.) - Corendon Kinheim registered a big 16-0, 7-inning victory on Saturday vs. ADO on 15 basehits, including three by Remco Draijer, who also scored four runs. Niels de Weert also scored four runs and reached base five times in his first game for Kinheim after having played for Almere Magpies in the previous seasons.

ADO got only four basehits, which were all hit off Duko Jansen, who got today's start. Head Coach Eelco Jansen switched his starters for this weekend opposed to last week. In the Opening Weekend, Jansen started with David Bergman on Saturday and Jansen on Sunday. Bergman will now start on Sunday this weekend. Jansen (the coach) made the switch, as Bergman had other commitments today and therefore was unable to be with the team. Jansen (the pitcher) gave ip a lead-off double to Frans Richardson in the first inning, but then three outs followed. In the second inning, he gave up a 2-out single to Remco Seitzinger, then Michel Korzeniewski and Koen Meershoek hit back-to-back singles with two outs in the third, but that was all for ADO. Hereafter, Jansen and his reliever Onno Baur (who took over in the sixth) retired the next 12 batters in a row, before two walked, followed by a game-ending pop-fly.
Kinheim opened the score with two runs in the first inning, which were both scored on a double by Bryan Engelhardt. In the next at bat, singles by Dirk van 't Klooster and Jason Halman made it 4-0. After a scoreless third, Kinheim broke open the game completely by scoring four more runs, highlighted by an RBI-triple by Engelhardt. Five more runs were added in the fifth inning off Tjibbe van Dijk, who relieved starter Ludwin Obispo during the previous at bat. Jason Halman hit a 2-run double in this inning, while Tjerk Smeets and Rodney Michel added RBI-singles. With a 13-0 lead, three more runs were scored in the sixth inning, including two on a single by Smeets. Seven of Kinheim's runs were unearned, as the ADO-defense committed eight errors, six of them in the infield.
Line Score, Box Score & Play-by-Play
---
Almere Magpies vs. Mr. Cocker HCAW, 3-7

ALMERE (Neth.) - In the evening, Mr. Cocker HCAW handed Almere Magpies a 7-3 loss, taking an early 4-0 lead after three innings. Randy Daal contributed with two doubles and had three RBI's, while going 3-for-5. Michael Pluijmers also had three basehits, going 3-for-4, including a double.

Both teams got a scoring opportunity in the first at bat. With one out, HCAW's Michael Pluijmers doubled and Bart Sabel walked, but then a double play followed. In Almere's first, the home team got the bases loaded with one out when Daniël Zijderveld reached on an error, Joey Berkenbosch singled and Mitch Graham walked, but also a double play ended this at bat.
HCAW then opened the score in the second inning by scoring three runs. Mitchel Koot (error) then scored on a single by Quensley Bazoer, while Dirimo Enrique Chavez and Bazoer both scored on a single by Joep van Els. A single by Koot made it 4-0 in the third inning.
Almere got the bases loaded again in the third inning (with two outs), but this time starter Kevin Miner ended the at bat with a strikeout. The Magpies then left two more runners in scoring position in the fourth. Next, HCAW added another run in the fifth inning, thanks to a single by Randy Daal.
Trailing 5-0, Almere got a run back in the sixth inning when Sytse Visbeen singled with two outs and scored on a single by Daniël Zijderveld, but again two runners were left behind. HCAW was left scoreless again in the seventh and Almere then narrowed the deficit to 5-3 by scoring twice in its seventh off Robin van Eis, who had come on in relief in the fifth inning. With one out, Churandy la Cruz singled and Juriën Overman walked. Jaïr Roseburg, the pinch-runner for La Cruz, then scored on a single by Ferd van Stekelenburg, resulting in a pitching change. Joran Klarenbeek took over and was greeted with a sacrifice fly by Stefan Hoogewerff that made it 5-3.
HCAW took more distance by scoring two runs in the ninth inning. With one out, Michael Pluijmers and Bart Sabel singled, then both scored on a double by Randy Daal.
Line Score, Box Score & Play-by-Play