Cameraman Rodney van Dekken passed away
Nederlands
IN MEMORIAM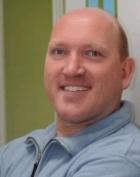 ...Rodney van Dekken...
(1967 - 2010)

DIEMEN (Neth.) - On Sunday-afternoon, the sad news broke that Rodney van Dekken, cameraman of RTV Noord-Holland, passed away early in the morning at the age of 42 after being involved in an accident on the highway near Diemen.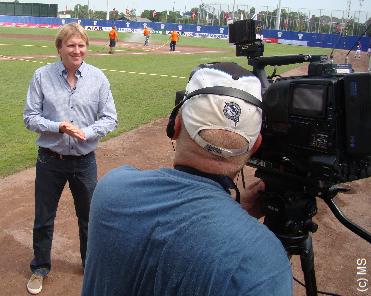 ...Rodney van Dekken behind the camera with...
...host Klaas Jan Bos making a report for the...
...Haarlem Baseball Week Journal in July...
(© Photo: Marco Stoovelaar)

Van Dekken was on his way from Almere (where he lived) to Amsterdam early Sunday-morning to cover the Amsterdam Marathon for RTV Noord-Holland. According to the police, Van Dekken, who traveled by motor, probably hit the backside of an automobile around 7 AM and ended up in the crash barrier on the leftside of the road. Surrounders tried to resuscitate Van Dekken, but unfortunately, he passed away due to his injuries.

The always smiling Rodney van Dekken over the years became wellknown on the baseball-fields in the province of Noord-Holland, as he covered several games of Amsterdam Pirates, Hoofddorp Pioniers, HCAW and Kinheim, as well as making special reports of the Haarlem Baseball Week for RTV Noord-Holland. Before coming to RTV Noord-Holland, Rodney worked for TV Flevoland and became a frequent visitor of the baseball-games of Almere '90.

As a very capable cameraman, Rodney always was very enthousiastic and driven and very involved with the subject he had to cover. Besides his work, Rodney also was active in the youth development department of soccer-club Almere City FC.

Some years ago, Rodney, who loved sports (especially baseball, soccer and cycling), served as a member of the Press Committee of the Haarlem Baseball Week, with his brother Lenno van Dekken serving as the committee's press officer.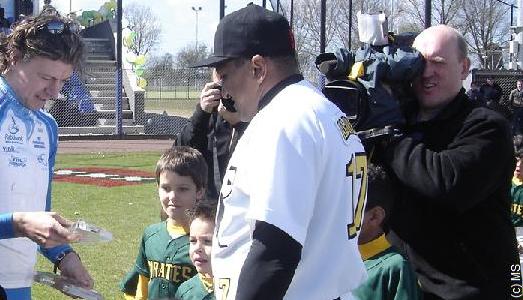 ...Rodney van Dekken at work in Amsterdam during...
...Opening Day of the 2007 baseball-season...
(© Photo: Marco Stoovelaar)

Last year, Rodney worked as a cameraman during the World Baseball Championship for the games played in Amsterdam and Haarlem.

More recently, Rodney did the camerawork for RTV Noord-Holland of the presentation of the 25th edition anniversary book of the Haarlem Baseball Week shortly before the start of the event in July. He then worked during the event as one of the cameramen as a member of the crew that covered the games of the 25th edition of the Haarlem Baseball Week for the daily HBW-journal of the regional TV-channel RTV Noord-Holland, as well as NOS Studio Sport on national TV.

Rodney, who was a sympathetic colleague, also was the cameraman for several livechats with athletes, politicians, people from the entertainment business and others for the website of De Telegraaf-newspaper.

(October 17)