Phillies win Game 2 to even NLCS
Nederlands

PHILADELPHIA, Pennsylvania (USA) - The Philadelphia Phillies on Sunday-evening won 6-1 in Game 2 of the National League Championship Series vs. the San Francisco Giants to even the best-of-seven at 1-1. After completion of this evening-game, both teams took the long 6-hour red-eye cross-country (2523 miles) night flight to San Francisco to arrive early Monday-morning. The Giants and Phillies will then have a practice-session later in the day and play Game 3 on Tuesday-afternoon.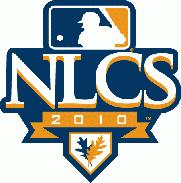 Philadelphia-starter Roy Oswalt retired the side in the first inning, but his colleague Jonathan Sanchez gave up a run in the home of the first at bat. After striking out lead-off hitter Shane Victorino, Sanchez walked Chase Utley, who then stole second base and advanced to third base on a throwing error by third baseman Mike Fontenot on a grounder by Placido Polanco. Sanchez then loaded the bases when he also walked Ryan Howard, but followed by striking out Jayson Werth. Next, Sanchez also walked Jimmy Rollins to bring in a run, then ended with a strikeout for Raul Ibanez. So Sanchez struckout three in the first inning, but the lefthander also walked three and gave up a run.
Both pitchers went unharmed in the next three innings. In the second inning, Oswalt walked Cody Ross with two outs, but he would be left behind. The righthander then retired the side in the third (two strikeouts) and the fourth inning.
After the troubled first inning, Sanchez recovered and retired the side in the second at bat, then gave up a ground-rule double to Ryan Howard in the third, but also struckout two in this at bat. The fourth started with a scorerule infield-hit. Jimmy Rollins popped the ball up between the pitcher and catcher and while 3B Mike Fontenot came in and also 1B Aubrey Huff approached no one attempted to catch the ball, which then dropped in the middle of them on the ground. And according to the scoring rules, in a case like this, you can not name this other than a basehit, or in this case, an infield-hit. Luckily for Sanchez, two flyouts and a groundout followed.
In the fifth inning, both teams scored. In the top of the at bat, Cody Ross homered with one out (his third homerun in two games) to tie the score. Before that Ross was the lone baserunner Oswalt allowed and his homerun was the first basehit he gave up. Next, Mike Fontenot walked, but a line out and strikeout left him stranded. In the bottom of the fifth, the Phillies got on top again. Shane Victorino led off with a double, advanced to third on a long flyout to rightfield by Chase Utley, then scored on a sacrifice fly by Placido Polanco.
Oswalt struckout another batter in both the sixth and (1-2-3) seventh inning. Sanchez retired the side in the sixth, including two strikeouts, but then gave up a lead-off single to his colleague Roy Oswalt in the bottom seventh and was replaced by Ramon Ramirez. Oswalt then advanced on a sac-bunt by Shane Victorino. Chase Utley was then walked intentionally to set up a force play, but Placido Polanco followed with a single. And while third base coach Sam Perlozzo held up the stop-sign, Oswalt continued running and scored the third run for the Phillies. Jeremy Affeldt was brought in as new pitcher, but then Utley and Polanco executed a double steal. Next, Affeldt struckout Ryan Howard and walked Jayson Werth intentionally to set up another force play. However, that strategy failed. With the bases loaded, Santiago Casilla became the new pitcher, but he was greeted with a 3-run double by Jimmy Rollins to deep rightfield that cleared the bases and gave the Phillies a 6-1 lead. A line drive by Raul Ibanez then ended the productive at bat.
After a scoreless eighth inning, Ryan Madson took over for Roy Oswalt and started by walking lead-off hitter Buster Posey. Next, Pat Burrell lined the ball into leftfield where Raul Ibanez made a nice diving catch. Madson followed by striking out Cody Ross, but then gave up a single to pinch-hitter Travis Ishikawa to put runners on first and third base. But then Edgar Renteria grounded to short to end the game.
And so, after having finished their previous five games in this postseason with an one-run, the Giants today finished a game with a 5-run margin. But it wasn't in their favor, as the Phillies won 6-1.
(October 17)