Neptunus claims title with record-setting championship!
Nederlands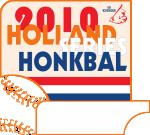 AMSTERDAM (Neth.) - DOOR Neptunus faced a 2-0 deficit briefly in Game 6 of the best-of-seven Holland Series vs. L&D Amsterdam Pirates on Saturday, but turned the game around in its favor to win 5-2. With this, the Rotterdam-squad won the Series 4-2 to win their second concecutive championship in a row and 13th title in club-history and break the all-time record of 12, which was held by Haarlem Nicols. Winning pitcher Diegomar Markwell was the star of the game, as he threw a complete game one-hitter, the first-ever in the Holland Series-history.

In 1989, Haarlem Nicols captured its 12th and last Dutch championship title when it beat Neptunus 4-3 in the first best-of-seven Holland Series. Now, 21 years later, that same Neptunus erased that record in the second best-of-seven Holland Series, which it won 4-2 vs. Amsterdam. Back then, Wim Martinus was one of the players for Neptunus and now is the third base-coach for the Rotterdam-team. Former catcher Jan Collins was the bench coach in both series for Neptunus. Also in the 1989 and 2010 Series was umpire Fred van Groningen Schinkel, who holds the record by participating in 21 of the 23 Series that has been played since 1987.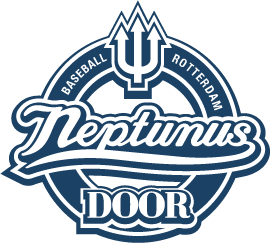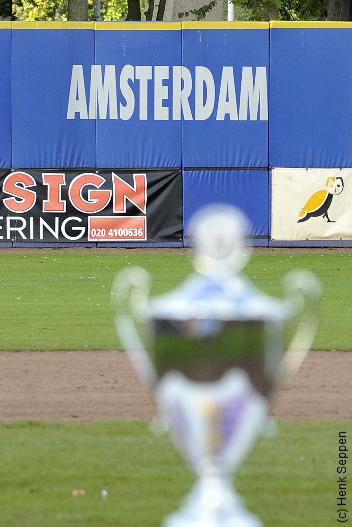 ...Neptunus captured the championship...
...trophy in Amsterdam...
(© Photo: Henk Seppen)

Starting pitchers Diegomar Markwell (Neptunus) and Rob Cordemans (Pirates) retired the side in the first inning. But then, the second at bat had two bizarre situations that gave Amsterdam a 2-0 lead. In the top half, Neptunus got its first two batters on base when Danny Rombley led off with a double and Jeffrey Arends walked. Rombley was then forced out on a bunt by Dwayne Kemp and an infield-fly and grounder ended the at bat. Things didn't went as easy in the home of the second, as there were two plays that involved veteran umpire Johan Brandsma. First, Bas de Jong led off with a walk, then Vince Rooi lined out to second baseman Benjamin Dille. Next, Kenny Berkenbosch was hit by a pitch, but then the knowledge of the rules started. Rashid Gerard singled to centerfield. De Jong took off, but while rounding third base, he collided with third base coach Randell Hannah, who was standing in his way. De Jong could not return to third base, however, as Berkenbosch, who advanced from first base, continued running towards third base, as Shaldimar Daantji had bobbled the ball. While Berkenbosch dove into third base head first, De Jong was on his feet again and ran towards home to score the first run. Immediately, there were protests from the side of Neptunus, with Head Coach Steve Janssen arguing that Hannah had touched De Jong and should have been called out for 'coach's interference'. The ruling didn't change and so Amsterdam had taken an 1-0 lead. Moments later, another weird play happened. With Gerard at first base and Berkenbosch at third, Diegomar Markwell threw the bal to first baseman Jeffrey Arends, who then threw it to third baseman Raily Legito, as Berkenbosch had left his base. There was a small collission at third between Berkenbosch and Legito, but then third base umpire Johan Brandsma awarded Berkenbosch home, as he judged that Legito had made obstruction, while Berkenbosch tried to get back to the base. And so it suddenly was 2-0 in favor of Amsterdam.

Back to the possible 'coach's interference'. On September 5, runner Michael Young of the Texas Rangers was called out by 3B umpire Alfonso Marquez, who ruled that 3B Coach Dave Anderson had touched the runner while he rounded third base and therefore had interfered. The runner was the potentional tying run. On TV-replays, it was not clearly visible, but if there was a touching, it must have been very, very briefly. The call not only ended the inning, but also a comeback rally by the Rangers and it marked the end of the game, which now was won by opponent Minnesota Twins, 6-5. 3B Coach Anderson was in front of Young with one arm in the air to stop him, while yelling to his runner, who ran by his coach, to get back to the base. While Young dived back to third base, Marquez stated that Anderson had touched Young, resulting in coach's interference and an out. This all stands in Rule 7.09 (h) which states: ''It is interference by a batter or a runner when - In the judgment of the umpire, the base coach at third base, or first base, by touching or holding the runner, physically assists him in returning to or leaving third or first base.'' Tim Tschida, the crew chief in this game, said afterwards: ,,The ruling on the play is that a base coach either touching, physically assisting in any way, with the baserunner is not allowed and the runner is called out. They can't make contact.'' Twins-manager Ron Gardenhire, who himself was a longtime third-base coach, said: ,,They made contact at third base. That's automatic. If there is contact, the umpire got to make a call. That's what he did. And they made contact. Unfortunate, yes.''

But it is up to the umpire how to interprete the ruling, as stated in 7.09 (h). In the Twins vs. Rangers situation, the umpire ruled that the third base coach had physically assisted the runner in stopping. In the Amsterdam vs. Neptunus situation, it was ruled that the third base coach didn't touch (and therefore didn't assist) the runner on purpose, as he was simply standing in the wrong place at the wrong time, leading to the collission with the runner. So, umpire Johan Brandsma, who is in his 18th big league season and participated in his 11th Holland Series, made the right call!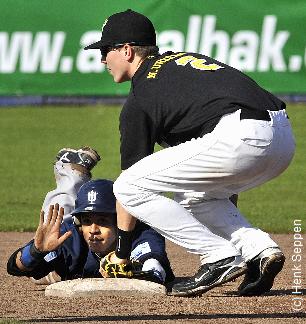 ...Dwayne Kemp dives back to 2nd base...
...Nick Urbanus is too late with the tag...
...Moments later, Kemp scores the tying run...
(© Photo: Henk Seppen)

But is was a call that everyone will remember, as it was an unique one. Veteran umpire Fred van Groningen Schinkel, who was the Technical Commissioner for this game: ,,I've never seen a situation like this in my 40 years of umpiring. I never had to made a call like that.'' Fred's American colleague Tim Tschida said on September 5: ,,In 30 years of doing this, it's the second time I've ever seen it.''

OK, back to the game, after Amsterdam had taken the 2-0 lead, next batter Roelie Henrique struckout in a double play, as Gerard was caught stealing to end the inning.

In the third at bat, Neptunus got one run back. With one out, Eugène Kingsale and Benjamin Dille singled, but Dille's single could easily have ended in a force out. The Belgian player singled to centerfield, where Wesley Connor got the ball quickly, but threw it off target to second base. A good throw might have forced Kingsale at second base. After a flyout, Danny Rombley singled to give Neptunus its first run of the afternoon. In the fourth, Neptunus came alongside. Dwayne Kemp led off with a single, then advanced on a sacrifice bunt by Jeroen Sluijter. Next, Mourik Huijser flied out to deep centerfield, bringing Kemp to third base, who then scored when Shaldimar Daantji followed with a single.

Neptunus then took the lead in the fifth inning off Rob Cordemans, who had strong outings in his two previous starts in the Series, but today didn't dominate as he did before. With one out, Raily Legito singled and advanced on a single by Danny Rombley, which bounced up in front of third baseman Vince Rooi. Legito and Rombley then moved when Amsterdam-catcher Sidney de Jong threw the ball on Legito's back in a pick-off attempt. Jeffrey Arends followed with a double off the wall in leftfield, which just ended up short of a homerun, but Neptunus had taken a 4-2 lead. An error followed, but then a foul-pop-fly and strikeout ended the inning.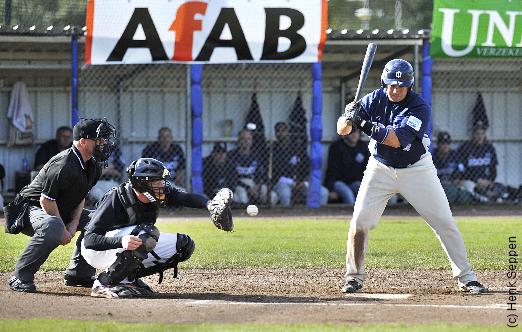 ...Danny Rombley...
...4 basehits...
(© Photo: Henk Seppen)

Cordemans was relieved by Frank van Heijst in the sixth inning, who then gave up Neptunus' fifth run in the seventh inning. With one out, Danny Rombley doubled to register his fourth basehit of the game (he was 4-for-4 with a walk). With two outs, Rombley scored on a single by Dwayne Kemp. In the eighth inning, Neptunus got the bases loaded with two outs, but didn't score. In the ninth, the Rotterdam-team got three more runners on base off lefthander Rik Geestman, but stranded two.

Did Rob Cordemans dominate a week ago in Game 4 for Amsterdam, today it was the day for Diegomar Markwell, who did an outstanding job. The lefthander, who was the losing pitcher in his first two outings, gave up only one basehit and allowed only three players to reach base. Amsterdam had no players left on base in this game, which was a first in a Holland Series-game. The previous low for runners left on base was two, which was accomplished six times. In the second inning, the first two batters who reached base, also scored for Amsterdam, then the third batter who became a runner was eliminated in an inning-ending double play. With the strikeout that ended the second inning, Markwell started a remarkable feat, as he retired the next (and thus last) 22 batters in a row! Amsterdam simply had no chance offensively today, while Markwell also got fine support from his defense, including a nice play by short stop Jeroen Sluijter that ended the seventh inning.

The one-hitter by Diegomar Markwell was the first-ever by one pitcher in a Holland Series-game. The previous best was a 2-hitter, thrown by Jurriaan Lobbezoo (like Markwell a lefthander) on September 26, 1999, when he went the distance for Mr. Cocker HCAW in a 4-0 shutout vs. Neptunus. Coincidentally, Feiko Drost was the Official Scorer in both games. By the way, playing in that game 11 years ago was Jeroen Sluijter, who today was the short stop for Neptunus and back then played at second base. Also playing in that game were Wim Martinus and Adonis Kemp, who now are the 3B and 1B Coach respectively for Neptunus, which now includes the son of Adonis, Dwayne on its roster. There has been one one-hitter before, but that was shared by two pitchers and was also registered by Neptunus on September 26, 2004 when Eelco Jansen went 8 1/3 inning and Ferenc Jongejan threw the remaining 2/3.

Danny Rombley became the 18th player in Holland Series-history to hit four (or more) basehits in one game and the first since Maikel Benner and Marvin Bleij (who now is on the Neptunus-roster) both hit four hits for Pirates on October 10, 2008 in Game 3 vs. Kinheim, which also was a championship-clinching game. The last time a Neptunus-player hit four basehits in one game was on September 28, 2001 when Jeroen Sluijter accomplished the feat in Game One vs. HCAW. It was the seventh time that a Neptunus-player hit four basehits in one game, including Eric de Bruin, who set the record with six on September 22, 1991 in Game 2 vs. HCAW-Tijgers.

Neptunus-closer Dushan Ruzic, who was the winning pitcher twice in relief and earned a save in the third Neptunian-win before today, was named Most Valuable Player of the Holland Series.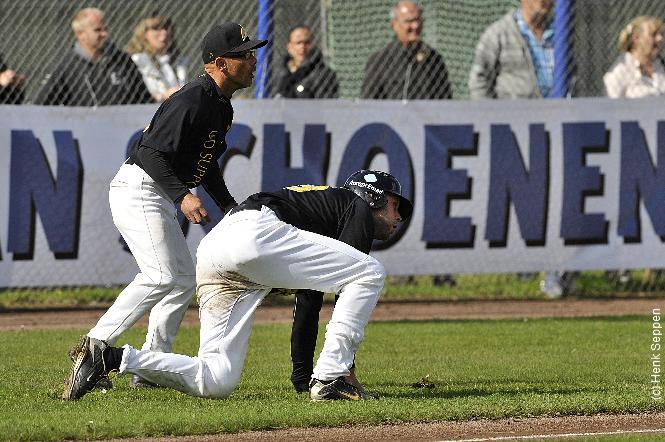 ...Bas de Jong stands up colliding with 3B Coach Randell Hannah in 2nd inning........
(© Photo: Henk Seppen)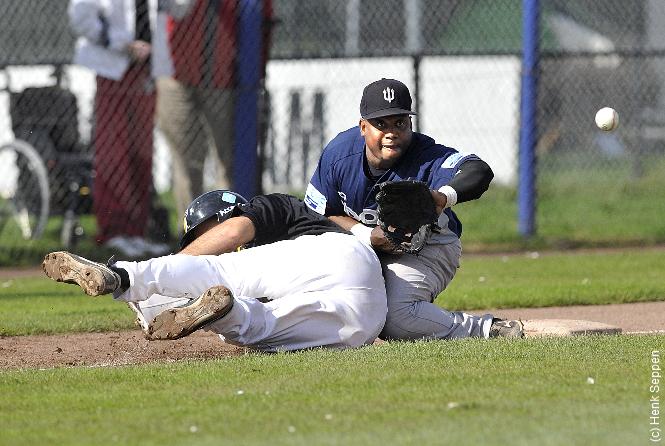 ...As the ball is underway, 3B Raily Legito blocks the base in...
...the 2nd inning when Kenny Berkenbosch dives back...
(© Photo: Henk Seppen)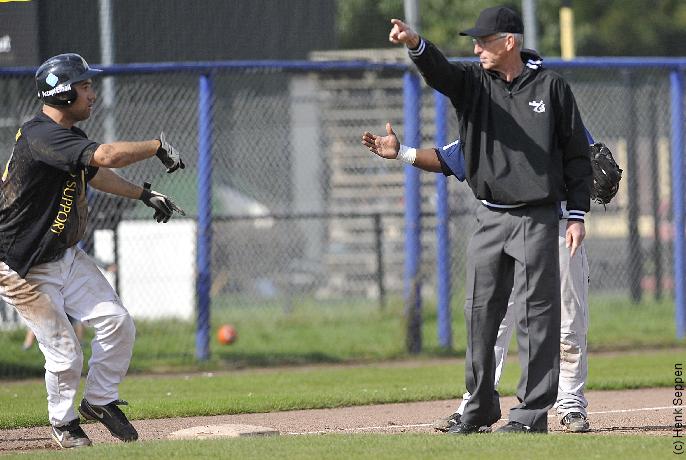 ...Umpire Johan Brandsma calls 'obstruction' and awards home to Berkenbosch...
(© Photo: Henk Seppen)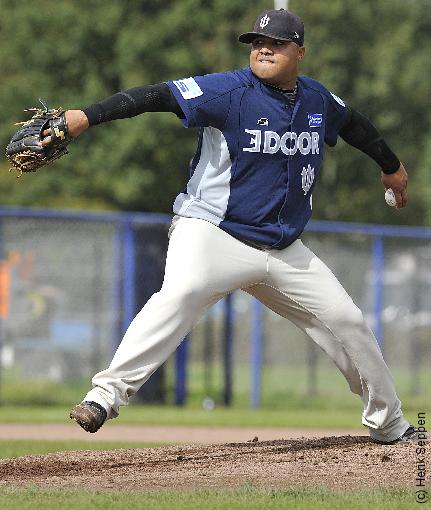 ...Dominating pitcher Diegomar Markwell, who threw an one-hitter...
(© Photo: Henk Seppen)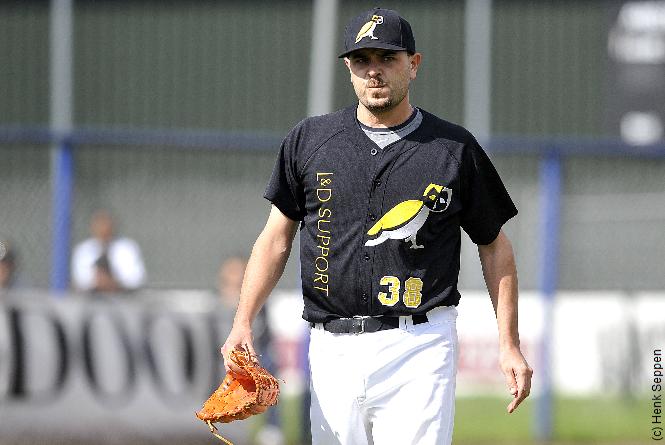 ...Rob Cordemans couldn't repeat his dominance from the week before...
(© Photo: Henk Seppen)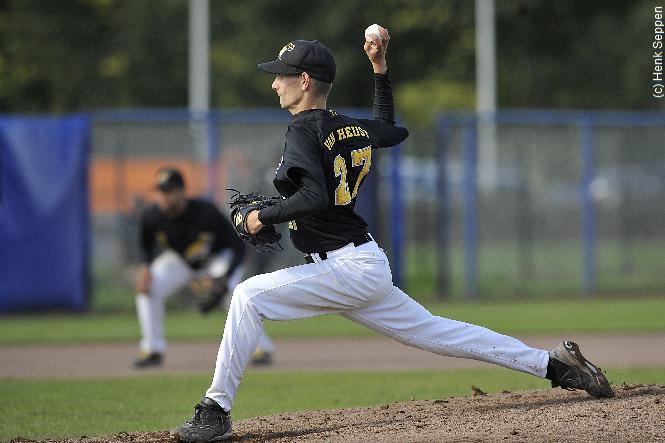 ...Frank van Heijst relieved Cordemans in the 6th inning...
(© Photo: Henk Seppen)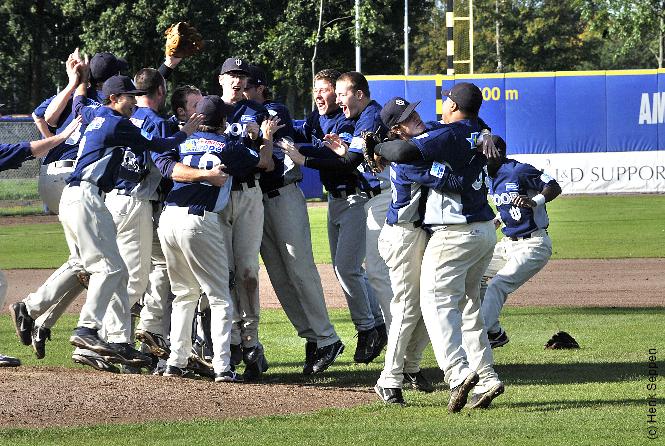 ...Celebration time: Neptunus captures its 13th title...
(© Photo: Henk Seppen)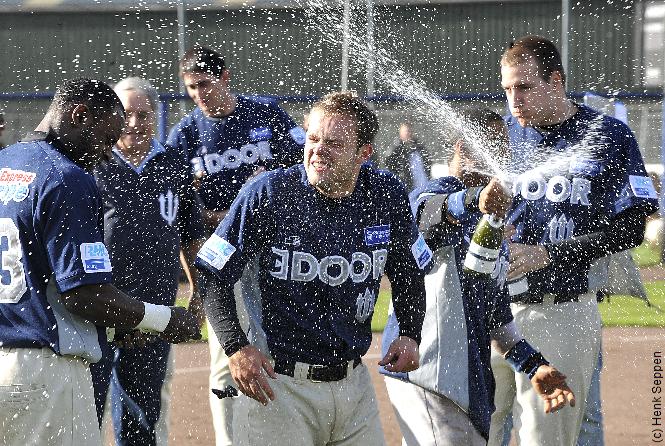 ...Time to open some champagne bottles...
(© Photo: Henk Seppen)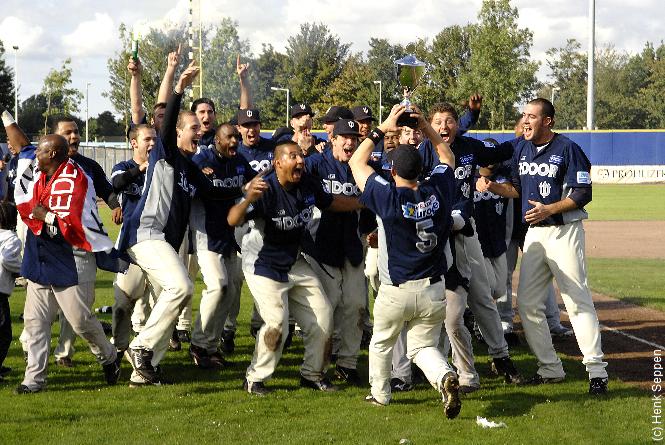 ...Captain Jeroen Sluijter (5) brings the trophy to the team...
(© Photo: Henk Seppen)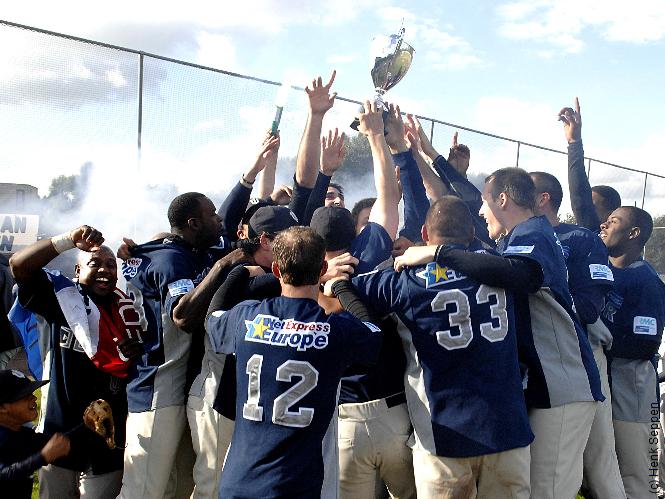 ...DOOR Neptunus sets a record with 13 championships...
(© Photo: Henk Seppen)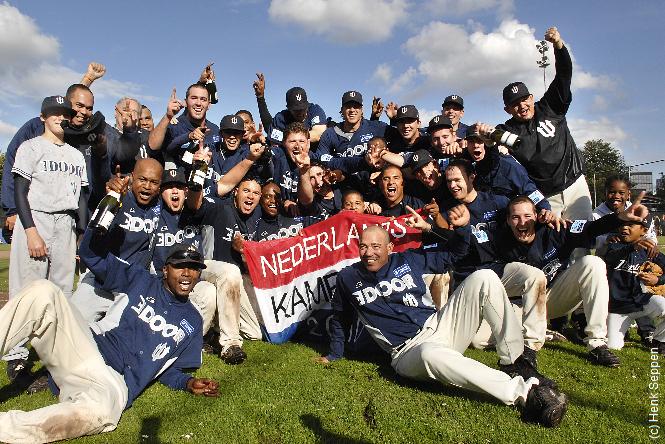 ...Champion 2010: DOOR Neptunus...
(© Photo: Henk Seppen)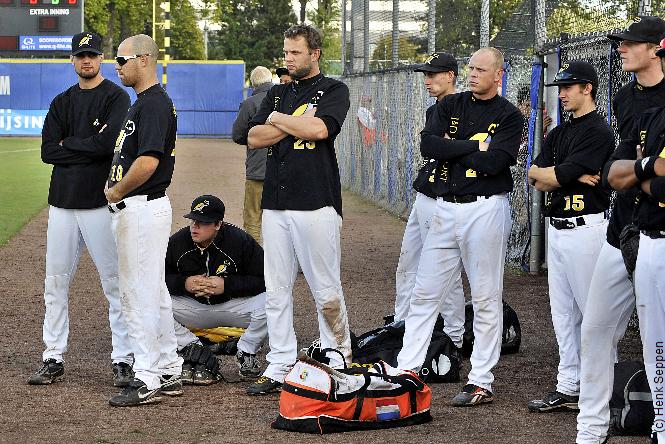 ...The disappointed players of L&D Amsterdam Pirates look on...
(© Photo: Henk Seppen)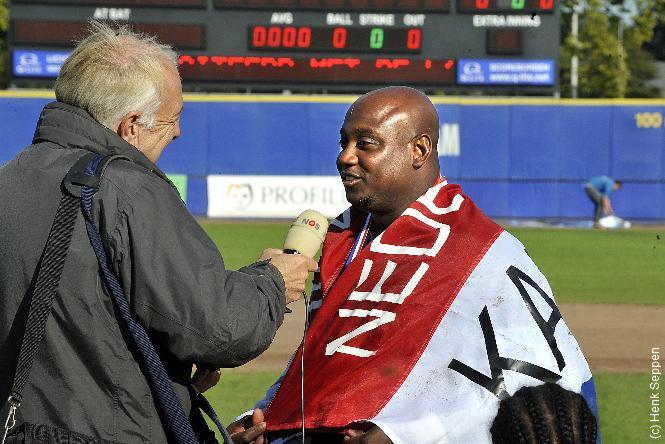 ...3B Raily Legito is interviewed by Theo Plasschaert of NOS Langs de lijn...
(© Photo: Henk Seppen)
(September 18)