Rangers shutout Yankees to take lead in ALCS
Nederlands

NEW YORK, New York (USA) - The Texas Rangers shutout the New York Yankees 8-0 on Monday-evening to take a 2-1 lead in the best-of-seven American League Championship Series. The Rangers decided the game with a 6-run rally in the ninth inning and got an outstanding performance from starter Cliff Lee, who struckout 13 and gave up only two hits in eight innings. The two Yankees-hits were the third lowest ever by a New York-team in their long and rich postseason-history.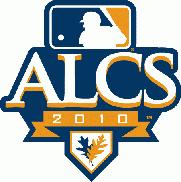 It was another great pitching match-up in this postseason, as lefthanders Andy Pettitte (Yankees) and Cliff Lee (Rangers) faced each other. Lee came to the Rangers on July 9 in a trade with the Seattle Mariners and had great control this season. In 212 1/3 inning, Lee walked only 18 batters (!), while striking out 185. With this Lee became only the second pitcher in history since 1900 to throw at least 200 innings and issue 25 or less walks.
The Rangers struck first, scoring two runs in the first at bat off Andy Pettitte. With one out, the lefthander gave up a single to Michael Young, then Josh Hamilton followed with a 2-run homerun. Hereafter, Pettitte retired the next seven batters, before giving up a 2-out single in the third to Michael Young again, but this time the inning ended when Josh Hamilton grounded out. Pettitte retired the side in the fourth inning, including striking out Vladimir Guerrero and Nelson Cruz, then threw another 1-2-3 inning in the fifth.
Texas-starter Cliff Lee retired the first nine batters he faced, including strikeouts for Mark Teixeira, Alex Rodriguez, Marcus Thames, Jorge Posada and Curtis Granderson. In the fourth inning, Lee started by striking out Derek Jeter and Nick Swisher, but then after having retired 11 in a row, Lee allowed the first Yankee to finally reach base when he walked Mark Teixeira, but then Alex Rodriguez lined out to leftfielder Nelson Cruz, who made a nice running catch. Lee's No-Hitter was broken in the fifth inning. He first got two outs again, including his eighth strikeout, but then Jorge Posada singled over the infield into rightfield. However, Lee followed with his ninth strikeout.
In the sixth inning, Michael Young hit his third single of the evening off Andy Pettitte, then a repeat of the first inning appeared to be in the making when Josh Hamilton drove the ball into deep rightfield, but there Nick Swisher caught it just in front of the wall. Pettitte then finished by striking out Vladimir Guerrero. In the Yankees' sixth, Brett Gardner led off with a single and stole second base, then advanced to third on an one-out grounder by Nick Swisher, but was left there.
Andy Pettitte gave up a 2-out single in the seventh inning, but encoutered no problems, then Cliff Lee retired the side again in the home of the seventh and finished with his eleventh strikeout. In the eighth, Kerry Wood took over for the 38-year old Pettitte and retired the side and Lee did the same again and raised his strikeout-total to 13.
Texas broke open the game in the ninth inning with a 6-rally to lift the lead to 8-0. Boone Logan became the new Yankee-pitcher, but was greeted with a double by Josh Hamilton that went by leftfielder Brett Gardner. Logan was replaced by David Robertson, but he gave up a single to Vladimir Guerrero that put runners on first and third. Next, Nelson Cruz also singled to bring in the third Texas-run. Cruz then advanced on a wild pitch while Ian Kinsler struckout and the bases were loaded to create a force play by walking pinch-hitter David Murphy intentionally. But then the Rangers-offense did more damage. First, Bengie Molina singled to bring in a run, then Mitch Moreland singled to bring in two more and Elvis Andrus doubled in another run to lift the lead to 7-0. With runners on second and third, Sergio Mitre became the new pitcher, but started with a wild pitch, enabling Moreland to score. The inning then finally ended with a groundout and flyout.
When the home of the ninth started, most Yankee-fans had left the stadium, resulting in a lot of empty seats. Neftali Feliz took over for Cliff Lee, who had pitched outstanding with 13 strikeouts and gave up only two hits. Feliz started by striking out Derek Jeter for third time in the game, then a grounder and strikeout ended the game.
(October 18)