Giants take 2-1 lead in NLCS
Nederlands

SAN FRANCISCO, California (USA) - The San Francisco Giants shutout the Philadelphia Phillies 3-0 on Tuesday-afternoon to take a 2-1 lead in their best-of-seven National League Championship Series. Game 4 will be played on Wednesday-evening.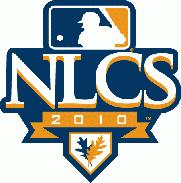 The Giants decided the game in the middle innings, scoring twice in the fourth and once in the fifth. Again, it was a game for the pitchers, as both teams combined on only eight basehits. The Phillies were held to only three hits, including two off starter Matt Cain, who threw seven innings. Javier Lopez then threw a hitless eighth and Brian Wilson closed the game for the Giants, giving up one more basehit.
The Giants collected five basehits, all off starter Cole Hamels, who pitched six innings. Cuban Josť Ariel Contreras then threw two hitless innings for the Phillies. The Giants registered all their five hits in the two at bats in which they scored their three runs.
Both starters retired the side in the first and second inning. In the top of the third, Carlos Ruiz singled with one out for the Phillies, then Shane Victorino was hit by a pitch with two outs, but both stranded. Matt Cain got two baserunners again in the fourth when Ryan Howard singled with one out and Jayson Werth walked, but they also were left behind.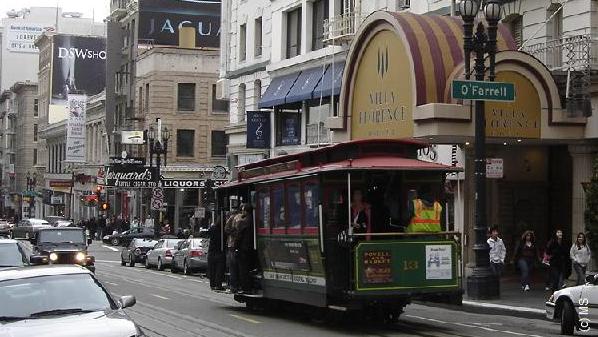 ...The Cable Car on one of the streets of San Francisco...
(© Photo: Marco Stoovelaar)

Cole Hamels also retired the side in the third, but then gave up a lead-off single to Edgar Renteria in the fourth. Renteria advanced on a sac-bunt by Freddy Sanchez, but then Buster Posey struckout. But with two outs, the Giants struck. First, Pat Burrell walked, then Cody Ross singled to bring in the first run. Aubrey Huff then followed with another single to make it 2-0.

The Giants added a run in the fifth when Aaron Rowand led off with a double and scored on a 2-out single by Freddy Sanchez.

Giants-starter Matt Cain retired the side again in the sixth, then allowed two batters to reach base with two outs in the seventh, but again these two were left behind. In the eighth, Javier Lopez took over and retired the side. In the ninth, closer Brian Wilson gave up an one-out single to Jimmy Rollins, but then Raul Ibanez grounded into a double play to end the game.

(October 19)