Minnesota Twins first to win title!
Nederlands

MINNEAPOLIS, Minnesota (USA) - The Minnesota Twins are the first Division-champion in the Major League. The last two seasons, the Twins needed an one-game tiebreaker after the 162 games in the regular season to decide the championship, but won only one of these. On Tuesday, more than a week before the end of the season, the Twins clinched their sixth title in the American League Central Division in the last nine seasons and second in a row.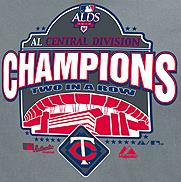 The Twins defeated the Cleveland Indians 6-4, but then had to wait for the result of first place-contender Chicago White Sox. The ChiSox lost 7-2, meaning the championship was a fact.
The Twins were favorite right from the start, as they started with a club-record payroll of 100 million dollar, having added several new players. But the season didn't start well for the Twins as their closer Joe Nathan was lost for the season due to an elbow injury. Two other pitchers also missed action due to elbow problems, but also catcher Joe Mauer and three other players were bothered by minor injuries. They also missed powerhitter Justin Morneau, who was out for two months after suffering a concussion early July. But the Twins recovered well and are 45-18 since the All Star Break, which is the third best record ever since 2001 for the second half of the season.
In 2006, the Twins captured the title on the last day of the season, then lost the tiebreaker vs. the Chicago White Sox in 2008. Last year, the Twins again played a tiebreaker, but this time defeated the Detroit Tigers to win the title.
On Tuesday, the Twins trailed 4-2 after seven innings, but then they rallied for four runs in the eighth at bat to take a decisive 6-4 lead. The game was played at Target Field, the new (outdoor) home of the Twins since this season. From 1982 through 2009, the Twins played indoors at the domed Hubert H. Humphrey Metrodome.
(September 22)