Rick van den Hurk's sixth appearance for Baltimore
Nederlands

BOSTON, Massachusetts (USA) - On Wednesday-evening, Dutch pitcher Rick van den Hurk appeared in his sixth game for the Baltimore Orioles since coming to the club late July.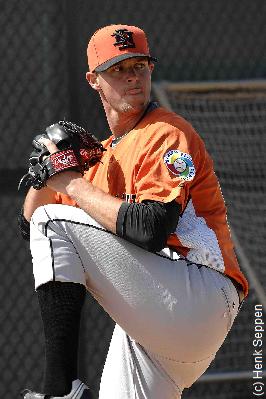 ...Rick van den Hurk...
(© Photo: Henk Seppen)

On Wednesday, the righthander threw the eighth inning for the Orioles in the 6-1 loss vs. the Boston Red Sox at historic Fenway Park in Boston. In the at bat, lead-off hitter Adrian Beltre grounded out, then Van den Hurk struckout next hitter Mike Lowell (called), before giving up a single to Bill Hall. Hereafter, Van den Hurk completed the inning by also striking out Josh Reddick.

The 25-year old Rick van den Hurk came to the Orioles on July 31 in a trade with the Florida Marlins. Just before the trading deadline expired, the Orioles sent lefthanded reliever Will Ohman to Florida in exchange for Van den Hurk.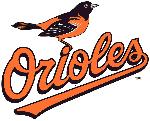 Before coming to the Orioles, Van den Hurk was 8-4 in 19 games as starting pitcher for the New Orleans Zephyrs (AAA). In three starts for Baltimore's Triple-A team Norfolk Tides, Rick was 1-1, before being called up to the Majors.
On May 21, Van den Hurk started and threw five innings against the Tacoma Rainiers, the team where Greg Halman played this season. Halman faced Van den Hurk twice in the game. He first flied out, but then struckout in his second at bat against his fellow-Dutchman. In the eighth, off Van den Hurk's reliever and while trailing 5-2, Halman hit a 2-run homerun, then Tacoma added three runs in the next inning to win 7-5.
This season, Van den Hurk had made two appearances in the Major League-team of the Florida Marlins, both as reliever. On June 8, he threw one inning vs. the Philadelphia Phillies, then gave up three hits in 1/3 of an inning on June 11 vs. the Tampa Bay Rays.
On August 16, Van den Hurk was recalled from the Triple-A team Norfolk Tides and on August 22, he made his debut in a Baltimore-uniform, throwing one inning (two strikeouts) vs. the Texas Rangers. Four days later, Rick struckout three batters in three innings vs. the Chicago White Sox. After an one-inning appearance on September 2 vs. the Boston Red Sox, he threw 5 1/3 inning vs. the Toronto Blue Jays on September 13 and gave up only two hits, while striking out three. In that game, he took over in the second inning with an 1-0 lead and was to be the winning pitcher. Van den Hurk retired 12 batters in a row, before giving up a lead-off homerun in the sixth to Edwin Encarnacion, then was replaced in the seventh inning with a 2-1 lead. But after the O's made it 3-1, the Blue Jays came alongside to make it a no-decision for Rick. In his next appearance, on September 18, he struckout two more hitters, this time against the New York Yankees. He started by striking out Alex Rodriguez, but then walked the next two hitters and gave up a 3-run homerun to Curtis Granderson.
So far this season, Van den Hurk has struckout 13 batters in 13 2/3 inning, while giving up 12 basehits and walking six batters. Wednesday was Rick's 41st appearance in a Major League-game and now has struckout 164 hitters in 168 innings.
Rick van den Hurk made his Major League-debut on April 10, 2007 vs. the Milwaukee Brewers.
(September 23)
Players struckout by Van den Hurk this season in Major League
#
date
player
team
1
June 8
Raul Ibanez
Philadelphia Phillies
2
August 22
Elvis Andrus
Texas Rangers
3
August 22
Michael Young
Texas Rangers
4
August 26
Juan Pierre
Chicago White Sox
5
August 26
Alexei Ramirez
Chicago White Sox
6
August 26
Gordon Beckham
Chicago White Sox
7
September 13
Aaron Hill
Toronto Blue Jays
8
September 13
Adam Lind
Toronto Blue Jays
9
September 13
John Buck
Toronto Blue Jays
10
September 18
Alex Rodriguez
New York Yankees
11
September 18
Brett Gardner
New York Yankees
12
September 22
Mike Lowell
Boston Red Sox
13
September 22
Josh Reddick
Boston Red Sox