Dutch Team opens Intercontinental Cup with big win
Nederlands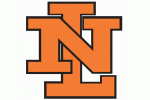 DOULIU CITY, Yunlin County (Taiwan) - The Dutch National Baseball Team started the Intercontinental Cup on Saturday-evening with a big 10-0 victory vs. Italy. With this, the team took revenge for losing the final of the European Championship last Summer in Germany when the Italians captured the title for the first time since 1997. The Dutch Team has changed since that, adding new (professional) players to its roster for this event, but hey, you still have to win.

Italian starter Chris Cooper gave up an one-out double to Mariekson Gregorius in the first inning, but he was then caught stealing at third base moments later.
In the second inning, the Dutch rallied for eight runs on seven hits. Curt Smith led off with a triple, then Bas de Jong (who was the designated hitter today) walked. Next, the first run was scored when Raily Legito singled, followed by another runscoring single off the bat of Sharlon Schoop. This led to a pitching change and Alessandro Maestri took over. And while the righthander completed the at bat, six more runs were added, two of which were credited to Cooper. Maestri retired the first two batters he faced, Danny Rombley and Shaldimar Daantji, but the two runners moved to second and third base. Both then scored when Eugène Kingsale singled to make it 4-0 and close the book on Cooper. And it became a long inning for Maestri, who then gave up another runscoring single, this time to Mariekson Gregorius, followed by an RBI-double by Sidney de Jong and a 2-run homerun by Curt Smith. The inning then finally ended when Bas de Jong struckout.
Two runs were added in the third at bat off new pitcher Luca Panerati. First, Raily Legito led off with a homerun. Then, with one out, Danny Rombley and Shaldimar Daantji both singled. After Eugène Kingsale flied out, Mariekson Gregorius singled to bring in another run.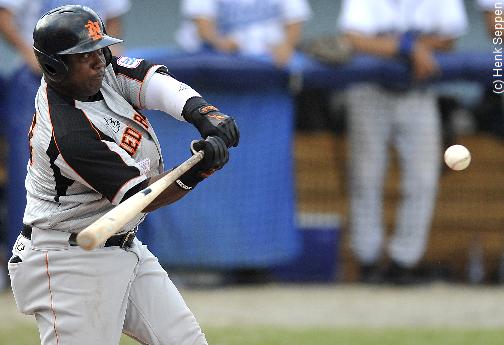 ...Raily Legito: 3 hits, homerun, 2 runs, 2 RBI's...
(© Photo: Henk Seppen)

After having their productive first innings, the Dutch didn't score more runs in the next four of this 7-inning contest, but did reach base. In the fourth inning, Raily Legito singled with two outs, but stranded. In the fifth, Danny Rombley led off with a single, but then Shaldimar Daantji lined into a doubled play. In the sixth, Curt Smith reached on an error, but also was left behind.

Tom Stuifbergen started for the Dutch Team and threw four strong innings. The pitcher from the Minnesota Twins-organization struckout four batters, walked none and gave up only one basehit. After retiring the side in the first inning, Stuifbergen gave up an one-out double to veteran Mario Chiarini in the second inning, but then retired the next eight batters in a row.

Orlando Yntema took over for Stuifbergen in the fifth inning. That Yntema, who has a Dutch father and Dominican mother, is known to the Italian hitters became in his first outing. Yntema, who this season played in the Italian Baseball League for Catania Warriors, started by striking out Mario Chiarini, but he reached first base on a wild pitch. Next, Juan Pablo Angrisano and Loidel Chapelli both singled. Chiarini was waved home, but was thrown out at the plate on a good throw by centerfielder Shaldimar Daantji. A force play-grounder and groundout then ended the at bat.

After Yntema had thrown two innings, Diegomar Markwell pitched the seventh. With two outs, he saw a batter reach base on an error, but the next batter lined out to end the game.

Because of the heavy rain in Taipei (due to Super Typhoon Megi) only one of the three scheduled exhibition games could be played. The Dutch Team was able to practice indoors in the Tienmu Stadium in the Taiwanese capital, but of course missed needed game action. Despite that, the Dutch Team played a strong game today, collecting 14 basehits off five pitchers, including three by Mariekson Gregorius and Raily Legito. Italy produced only three basehits.

After the Opening Ceremony, earlier in the day, host Taiwan won 11-5 vs. Korea on 15 basehits, including homeruns by Chih-Sheng Lin (solo) and Chun-Hsiu Chen (3-run). Korea had only five basehits, but two of them also were homeruns, hit by Jae-Hwan Kim (2-run) and Ji-Young Lee (solo). Dutch Umpire Henri van Heijningen was the umpire at second in this game, while Feiko Drost was one of the three Official Scorers.

Next, Cuba shutout the Czech Republic 18-0, on 19 basehits, including two homeruns by Alfredo Despaigne (2-run & 3-run). In the first inning, Cuba rallied for five runs on seven hits. The Czechs had only three basehits.

Japan, which includes several players from the Japanese big leagues, shutout Nicaragua 8-0 on 12 basehits, including a solo-homerun by Takahiro Iwamoto. Nicaragua had only four basehits. Feiko Drost also was one of the scorers for this game. There are two other foreign official scorers in the tournament, being Takuya Sumi from Japan and Stephanie Winkler from Germany. Scorer-in-Chief is Italian Marco Battistella.

On Sunday, the Dutch Team meets Nicaragua in another evening-game. As today, the game will be played at Douliu Baseball Stadium in Douliu City.

(October 23)