Dutch Team outscores Nicaragua on Day 2
Nederlands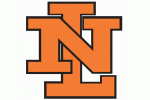 DOULIU CITY, Yunlin County (Taiwan) - On a sunny Day 2 of the Intercontinental Cup, the Dutch National Baseball Team had another good outing, as they defeated Nicaragua, 6-1 on Sunday-evening in Douliou Stadium. The team has the day off on Monday.

The Dutch Team started well, as Eugène Kingsale led off the game with a single, but then was eliminated when Mariekson Gregorius grounded into a double play.
But then, two runs were scored in the second at bat. Curt Smith was walked by starter José Tellez Vanegas and then scored when Raily Legito followed with a triple. Next, Legito scored himself as Sharlon Schoop added a single. Hereafter, Schoop was forced out on Danny Rombley's grounder, but the Dutch got the bases loaded moment later. Shawn Zarraga and Shaldimar Daantji both walked, but all would strand.
In the third inning, Nicaragua turned another double play. In the fourth, Shawn Zarraga (who was the catcher today) and Shaldimar Daantji singled with two outs, but then the first was thrown out at third base trying to reach an extrx base on the single.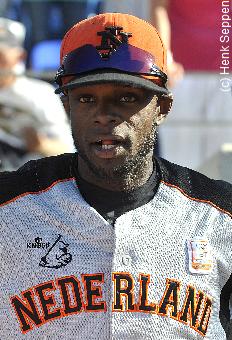 ...Shaldimar Daantji...
...3-for-3, RBI...
(© Photo: Henk Seppen)

Another run was added in the fifth. Eugène Kingsale led off with a walk and advanced on a grounder by Mariekson Gregorius and a flyout by Sidney de Jong, then scored on a triple by Curt Smith, who stranded himself.

In the sixth, the lead was increased to 4-0. With one out, Danny Rombley reached on an error, then advanced on a passed ball. With two outs, he scored on a single by Shaldimar Daantji.

The Dutch made it a 6-0 score in the seventh inning. Pitcher Marlin Granado, who took over during the previous inning, got two quick outs, but then gave up singles to Raily Legito and Sharlon Schoop. A throwing error then led to the first run in the at bat and a triple by Danny Rombley made it 6-0.

The eighth inning appeared to be another productive at bat, as Shaldimar Daantji and Eugène Kingsale led off with singles. But then a foul-out followed and Sidney de Jong hit into Nicaragua's third double play.

Dutch starter Leon Boyd started good by striking out lead-off hitter Jason Gonzalez, then saw leftfielder Esteban Ramir Garcia reached on an error with two outs, but then a groundout followed.

In the second inning, Boyd again saw a player reach base with two outs when he walked a batter and gave up a single, but these two also stranded.

In the third, Nicaraguan lead-off hitter Jason Gonzalez reached on a fielding error. But again Nicaragua was unsuccesfull, as a strikeout and double play followed.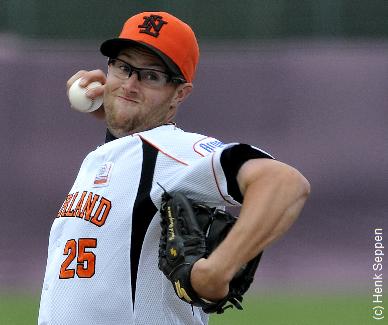 ...Winning pitcher David Bergman...
(© Photo: Henk Seppen)

Nicaragua left another runner in the fourth inning, the last pitched by Boyd, who was relieved by David Bergman. In his four innings, Boyd struckout two, walked one and gave up only two hits.

In his first inning, David Bergman gave up a 2-out single to Jason Gonzalez (who was one of the most productive batters for Nicaragua). Gonzalez stole second base moments later, but also would be left behind.

Bergman gave up another 2-out single in the sixth inning when Carlos Urbin Reyas connected, but this time a force out followed.

In the seventh, Nicaragua didn't reach base for the first time in the game, as Bergman (who became the winning pitcher) retired the side.

Nicaragua then scored their first and only run in the eighth inning off new pitcher Dennis Neuman. Jason Gonzalez led off with a triple and scored on a grounder by next hitter Dwain Evan Fox Baker. But that was it for Nicaragua.

In the ninth inning, Arshwin Asjes became the fourth Dutch pitcher. He started by walking Carlos Urbin Reyas. Asjes then struckout the next hitter and the Dutch ended the game by turning their second double play.

The Dutch Team collected 13 basehits, including three by Shaldimar Daantji (who was 3-for-3). Raily Legito, who had three hits against Italy, today added two more (including a triple) and also scored twice. Eugène Kingsale also had two basehits. Nicaragua registered only five basehits.

Day 2 started with a big 17-2 victory by Korea vs. Hong Kong, which didn't play on Saturday. At Taichung, the Koreans already lead 9-0 after two innings and ended the game in five innings, due to the international 15-run ahead mercy rule. Korea had 15 basehits, including homeruns by Jae-Hwan Kim (3-run) and Ji-Hwan Oh (3-run).

...Henri van Heijningen...
...home plate umpire...
(© Photo: Henk Seppen)

In the first game of the day in Douliu, Taiwan shutout the Czech Republic, 6-0. Taiwan scored all their runs in the first four innings, then was held scoreless in the next five. The Czechs hit only five hits off of five Taiwanese pitchers. Former Neptunus-pitcher Leos Kubat started for the Czechs and gave up 11 basehits in the four innings he pitched, also allowing all six Taiwanese runs. Jan Rehacek, who pitched in the Dutch big league for RCH and Hoofddorp Pioniers, threw the next three innings and held Taiwan hitless. Also playing in this game for the Czechs are Jakub Malik (Pioniers) and Pavel Budsky (former HCAW).

In the evening, Italy won 15-6 vs. Thailand on 16 basehits, including four by Jairo Ramos Gizzi and three by Mario Chiarini. Both also scored three runs. Thailand collected nine basehits, including two by Kongsabai Teerasak, who also scored twice and had two RBI's. Trailing 13-0 after the top of the fifth inning, Thailand scored three runs in their fifth. After Italy increased the lead to 15-3 in the sixth, Thailand avoided a 7-inning loss, as it answered with three more runs, but then was held scoreless in the remainder of the game, as was Italy.

Dutch Umpire Henri van Heijningen today was behind the plate in the Taiwan vs. Czech Republic game. Dutch Scorer Feiko Drost was one of the three Official Scorers in the same game, as well at the match-up between the Dutch and Nicaragua.

On Tuesday-evening, the Dutch Team plays its next game and then faces Japan at Taichung.

(October 24)