Texas Rangers win first title in 11 years!
Nederlands

OAKLAND, California (USA) - For the first time since 1999, the Texas Rangers have reached the Play-Offs. On Saturday, the Rangers won 4-3 vs. the Oakland Athletics to capture the title in the American League West Division.

In the American League Division Series, which opens on October 6, the Rangers probably will meet the champion of the East Division, which will be either the New York Yankees or Tampa Bay Rays.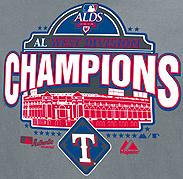 In Oakland, Texas tied the score at 1-1 when Michael Young homered in the third inning, then took a 2-1 lead in the sixth inning when Jorge Cantu singles in a run. Texas makes it 3-1 in the seventh when Elvis Andrus walks, steals second and third base and scores on a wild pitch. But in the home of the seventh, Cliff Pennington hits a 2-run homerun to tie the score, 3-3.
Texas re-takes the lead in the eighth when Jorge Cantu homers, which proves to be the winning run. With two outs in the eighth, closer Neftali Feliz takes over the pitching for Texas and earns his 38th save of the season, which is a new rookie record.
Jorge Cantu, who singled in the winning run, came to Texas on July 30 in a trade with the Florida Marlins. But in his first 24 games as a Ranger, Cantu didn't have a single runs batted in. But today, in his 25th game, he accounted for the tying run and batted in the winning run.
The last time the Rangers were in the Play-Offs was in 1999 when they won a club-record 95 games. For the Rangers, that was their third trip to the postseason, including 1996 and 1998. In all three Division Championships, the Rangers played against the New York Yankees. In 1996, the Rangers won the first game against the Yankees, which were then managed for the first time by Joe Torre. Hereafter, Texas led in the three next games, but lost all of them to be eliminated. In 1998 and 1999, the Rangers were swept twice by the Yankees.
(September 25)