Bologna captures European Cup; Candidates 2011
Nederlands

BARCELONA (Spain) - Fortitudo Bologna (Italy) on Sunday won the European Cup by winning the final game of the Final Four in Barcelona (Spain) 2-1 in 10 innings vs. Heidenheim Heideköpfe (Germany). Earlier in the day, Telemarket Rimini (Italy) won 4-3 vs. T&S San Marino (San Marino) to win the bronze medal. On Saturday, Bologna became the first finalist by winning 3-2 vs. San Marino, then Heidenheim surprised by winning 4-1 vs. Rimini.

It marks the second time in the history of the European Cup-tournaments that no Dutch teams participated in the final round. In June, the two Dutch representatives were both eliminated after having played a very disappointing preliminary tournament. Playing at home in Rotterdam, Dutch champion DOOR Neptunus failed to qualify, while in Brno (Czech Republic), last years runner-up Konica Minolta Pioniers lost three of its five games.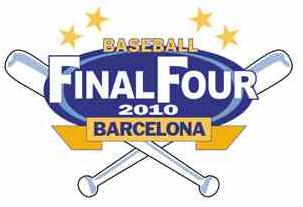 The Final Four was held for the third time in Barcelona. In 2008, Caffè Danesi Nettuno (Italy) won the Cup by winning 3-2 vs. T&A San Marino in the final, while Grosseto Orioles (Italy) won bronze after winning 3-0 vs. FC Barcelona (Spain). Back then, Corendon Kinheim won the preliminary tournament in Grosseto (Italy), but withdraw from the Final Four due to financial reasons. At Regensburg (Germany), DOOR Neptunus finished in third place.
Last year, Nettuno won the Cup again when it won 1-0 vs. Bologna. Did two Italian teams play in the final, two Dutch teams played for bronze, with Corendon Kinheim winning 3-1 vs. L&D Amsterdam Pirates.
During this years Final Four, it was confirmed that the Final Four of 2011 will be held in Brno (Czech Republic). In early November, it will be decided what the playing sites for the two preliminary tournaments will be. So far, there are four candidates to organize these events. Both Dutch champion DOOR Neptunus and runner-up L&D Amsterdam Pirates filed its candidacy, as did San Marino and Sant Boi (Spain), while it was rumored that Italian champion Parma also might be interested in organizing a tournament.
On Saturday, Heidenheim trailed 1-0 after three innings, but then scored twice in the fourth and in the eighth inning to win vs. Rimini at Estadio Carlos Perez de Rozas in Barcelona. Rimini took an 1-0 lead in the second inning on a single by Claudio Signorini. In the fourth inning, the German team scored twice. Simon Guehring (who played for Dutch big leaguer ADO some years ago) led off with a double, then scored the tying run on a single by Robert Gruber. Heidenheim then took the lead on an error. In the eighth, Ryan Lilly singled with one out, then Matthew Pali homered with two outs to make it 4-1. Martin Dewald went the distance for Heidenheim and gave up only four hits.
On Sunday, Rimini trailed 3-1 after six innings in the bronze medal game, but then scored three runs in the seventh to win 4-3. Rimini took an 1-0 lead in the third on a single by Claudio Signorini, then San Marino tied the score in the fourth on a sacrifice fly by former Antillian pro-player Ulrich Snijders. In the sixth, San Marino scored twice, this time on a single by Snijders and a sac-fly by Riccardo Suardi. In the seventh inning, Rimini reacted with three runs. A single by Mario Chiarini gave Rimini one run, then a double by Filippo Crociati gave them a 4-3 lead. Besides Snijders, another former Antillian professional, Ardley Jansen also played for San Marino. In June, Snijders and Jansen also were with San Marino on Rotterdam, but didn't play.
In the final, which was led by Dutch Home Plate Umpire Jan Maarten Kuipers, the game remained scoreless for nine innings. This meant that the game had to be decided through the tie-break rule, which put a runner on first and second base and give the coaches the option to determine the spot in the batting order where to start hitting. In the top of the 10th inning, Heidenheim took an 1-0 lead when lead tie-break runner Johannes Schaeffler scored on a single by Christopher Beck. In the bottom of the 10th inning, with one out, the first base runner was forced out on a grounder by Jairo Ramos Gizzi, but then trying to complete a double play, a throwing error followed, enabling lead runner Livinston Santaniello to score the tying run. With a runner on second base, next hitter Eddy Garabito was walked intentionally to set up a force play, but then Juan Pablo Angrisano singled to bring in the winning run.
(September 26)