Dutch beaten in ninth inning by Japan
Nederlands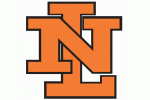 TAICHUNG (Taiwan) - On Day 4 of the Intercontinental Cup, the Dutch National Baseball Team was one ball (or at least one out) away from a sensational 1-0 win vs. Japan, but in the end was left empty-handed. The Dutch Team played a strong game on Tuesday-evening vs. tournament-favorite Japan and took an 1-0 lead into the ninth inning, thanks to good pitching by Rob Cordemans and Diegomar Markwell, the pitchers of Holland Series-finalists L&D Amsterdam Pirates and DOOR Neptunus. But in the top of the ninth inning, reliever Dennis Neuman (who pitches in the Boston Red Sox-organization) gave up a 2-out, 2-run double that would give the all-professional team of Japan a 2-1 victory to remain unbeaten. On Wednesday-evening, the Dutch team closes the preliminary round vs. Thailand, which is winless so far. A win means that the Orange clinch a spot in the championship pool.

Starting pitchers Rob Cordemans and Shota Oba kept each other in balance and didn't gave way much scoring opportunities in the beginning of the game. Both retired the sides in the first and second inning. In the Japanese third, Cordemans walked Tomoya Ichikawa with one out, but then, after two pick-off attempts, the righthander picked him off first base. A walk followed, but then also the third out.
In its third, the Dutch opened the score. Bryan Engelhardt led off with a single, then scored when Danny Rombley followed with a triple to give the Dutch the lead. Next, Shaldimar Daantji grounded out and Eugène Kingsale grounded into a double play, but the Dutch had taken an 1-0 lead and that long appeared to be the lone run in the game.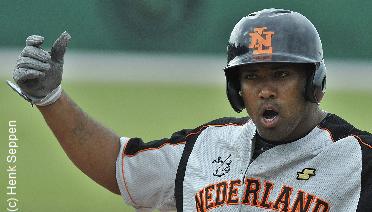 ...Bryan Engelhardt: lone Dutch run...
(© Photo: Henk Seppen)

From the fourth inning on, both teams got several runners on base and in scoring position, but didn't score. In the fourth, Tetsuya Kokubo led off with a ground-rule double. After a foul-out, powerhitter (and number 4 in the batting order) Takahiro Iwamoto was walked intentionally to create a force play. The force out didn't come, but the next two Japanese hitters were retired with a foul-out and flyout to end the inning. In the Dutch fourth, Mariekson Gregorius led off with a single, but then Sidney de Jong grounded into a double play. Curt Smith then walked, but the at bat ended when Raily Legito struckout.

In the fifth inning, Rob Cordemans retired the Japanese side again. The Dutch got another baserunner in their fifth when Bryan Engelhardt reached on an error with one out, but Danny Rombley and Shaldimar Daantji struckout.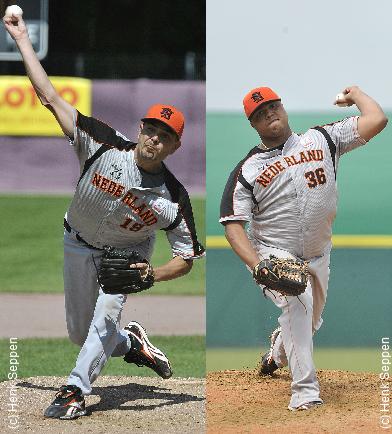 ...Rob Cordemans, Diegomar Markwell...
(© Photos: Henk Seppen)

Japan got a big scoring opportunity in the sixth inning. Itaru Hashimoto led off with a bunt-single off 36-year old veteran Rob Cordemans, who had given up only one basehit so far. Next, Tetsuya Kokubo reached on an error and a foul-out followed, but then Takahiro Iwamoto walked to load the bases. It marked the end for Rob Cordemans, who was relieved by Diegomar Markwell after giving up only two hits in 5 1/3 inning. The lefthander saw next hitter Masashi Nohara ground the ball to first, but first baseman Curt Smith was quick enough to force Hashimoto out at home, but the bases remained loaded. Markwell then ended the threat with a strikeout. In the Dutch sixth, off new pitcher Hideki Sunaga, Sidney de Jong singled with two outs, but stranded, as next hitter Curt Smith struckout.

In the seventh, both teams were retired in order. Japan got a baserunner with one out the top of the eighth, but then the Dutch defense turned a double play. The Dutch were retired in order again in their eighth by new pitcher Yusuke Uemura, including two strikeouts.

And so, the ninth inning started with only an 1-0 lead for the Dutch Team and in the end that proved to be not enough. With one out, Masashi Nohara singled and then Dennis Neuman was brought in to relief Markwell. After Nohara stole second base, Neuman struckout Taishi Nakagawa. But with two outs, Neuman hit next hitter Tetsuya Tani with a pitch to put runners on first and second base. Hey, it's another way to create a force play. But then, with an 1-2 count, Tubasa Aizawa doubled down the leftfield line to bring in both runners and give Japan a 2-1 lead. Neuman, who was credited with a blown save (and also became the losing pitcher), then saw the next hitter flyout, but that was just for the record, as Japan had turned the game around.

Despite this disappointment, the Dutch Team appeared to come back right away, getting two runners on base with one out in the home of the ninth inning. With one out, Sidney de Jong walked and was replaced by pinch-runner Dwayne Kemp. Next, Curt Smith singled bringing the speedy Kemp to third base. But the game then ended when Raily Legito grounded into a 6-4-3 double play.

The day started in Taichung with a big 16-0 win for the Czech Republic vs. Hong Kong on 21 basehits (which is the highest total so far in the tournament). Four Czechs collected three basehits, including Jakub Malik, who played for Konica Minolta Pioniers this season in the Dutch big league. Hong Kong had only three basehits. Dutch umpire Henri van Heijningen was at third base in this game and Feiko Drost was one of the Official Scorers in this game, as well as the Dutch game.

At Douliu City, Nicaragua won 18-3 vs. Thailand on 20 basehits. Huembes Gustav Lopez hit four basehits (including a triple) for the Central Americans and also scored three runs. For both the Czech Republic as Nicaragua, this was their first win of the event.

In the evening, Cuba won only 2-0 vs. Taiwan, scoring the runs in the sixth and seventh inning. Yulieski Gourriel singled in both runs. Alexis Bell had three of the eight Cuban basehits.

(October 26)