Greg Halman hits first Major League-basehit!
Nederlands

ARLINGTON, Texas (USA) - Greg Halman has hit his first Major League-basehit. On Monday-evening, in the first game of a 3-game series vs. the Texas Rangers, Greg hit an RBI-double in the second inning that gave the Seattle Mariners a 2-0 lead en route to a 7-5 victory.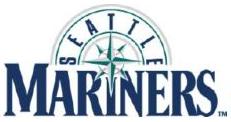 On Monday, Halman was the leftfielder for the Mariners and batted eighth vs. the Rangers. After a scoreless first inning, Justin Smoak led off for Seattle in the second inning with a single and scored the first run when Adam Moore followed with a double. Moore then advanced to third base on a grounder by Matt Mangini, which brought Greg Halman to the batter's box. He faced starting pitcher C.J. Wilson, who was 14-7 when the game began. The first pitch was a ball, then the next a called strike. Wilson followed with a slider, which became the second ball. Halman then hit the next delivery, an 84 mph change up, into leftfield for a double, which enabled Moore to score the second run. Halman would strand on second base, as next hitters Josh Wilson and Ichiro Suzuki both struckout.
In the fourth inning, Greg flied out to rightfield and in the sixth, he grounded to second base. In the eighth at bat, with runners on second and third base and one out, Greg popped out to short. But his double had given the Mariners a 2-0 lead in the second inning. Texas reacted with one run in the home of the second inning, but Seattle got the run back in the third, then added three more in the fifth on a 3-run homerun by Justin Smoak, who was Halman's teammate with the Tacoma Rainiers (Triple-A). Smoak was recalled to the Majors a few days before Halman. Texas scored another run in the home of the fifth, then scored three in the seventh on a 3-run homerun by Nelson Cruz to narrow the deficit to 6-5, but then the Mariners added an insurance run in the eighth.
(September 27)