Philadelphia Phillies win fourth straight title
Nederlands

WASHINGTON, DC (USA) - The Philadelphia Phillies captured their fourth straight championship in the National League East Division on Monday-evening by winning 8-0 vs. the Washington Nationals at Nationals Park in the American capital.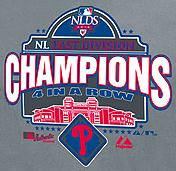 Roy Halladay went the distance for the Phillies and threw a 2-hitter, while striking out six batters, including Roger Bernadina, who went 0-for-3 for Washington. With this, Halladay improved his record to 21-10. The righthander dominated against the Nationals. After retiring the first six batters in a row, he gave up a lead-off single to Wilson Ramos in the third inning, but then retired the next 14 batters again in order. Hereafter, Halladay gave up a lead-off single in the eighth inning to Adam Dunn.
The Phillies opened the score in the second inning when Jayson Werth homered. In the sixth, three runs were added. This time, Jayson Werth hit a 2-run double and then scored himself on a double by Carlos Ruiz.
Halladay came to the Phillies in December in a trade with the Toronto Blue Jays, which was made possible, because Halladay waived his no-trade clause. With the Phillies, he signed a 3-year contract for 60 million dollar. The Phillies, who collected 12 basehits, scored four more runs with two outs in the ninth inning to increase the lead to 8-0. In the inning, with two runners on base and two outs, Placido Polanco singled in a run, then Chase Utley doubled in two runs, later followed by an RBI-single by Jayson Werth, who had four RBI's.
(September 27)