Pirates, Jeka play for First Division overall title
Nederlands


BREDA / AMSTERDAM (Neth.) - This coming Sunday, the best-of-3 overall championship series in the First Division opens between Amsterdam Pirates-2 (which is playing as Mokum Hawks) and Jeka at Breda.

In the First Division A, Pirates and Alcmaria Victrix ended in a tie for first place, despite the fact that Amsterdam was having the better record. The Mokum Hawks ('Mokum' is the nickname of Amsterdam) ended with a 19-3 record and Alcmaria finished with 18-4. Normally, this would give the Hawks 38 points and Alcmaria 36. However, during the season Amsterdam got two points subtracted, meaning the two teams both finished with 36 points. Last Sunday, Mokum Hawks (or Amsterdam Pirates-3) captured the title in the First Division A by winning an one-game tie-breaker at home vs. Alcmaria Victrix, 13-10 to reach the overall championship game. Alcmaria led through the eighth inning, but then Amsterdam turned the game around in its favor, resulting in the championship for the Hawks, who are being coached by former big league and National Team-pitcher Tim Keuter.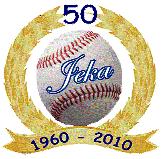 In the First Division B, Jeka captured the title, finishing with a 4-point lead over Hoofdddorp Pioniers 2. Jeka, which is coached by Roy Klerks, secured the title on Sunday, September 12 by winning 11-1 at home vs. Schiedam. The title was won one day after the club celebrated its 50th anniversary.
By winning on Sunday, Amsterdam also decided the promotion in the First Division. As Mokum Hawks is no 'standard' team, it cannot promote, meaning that Jeka will promote to the so-called Overgangsklasse, whether it wins the upcoming series or not. Jeka will take the place of Orioles, which finished in last place and will relegate.
Game Two of the First Division Championship Series is scheduled for Sunday, October 10 at Amsterdam.
Relegating from the First Division are Caribe, Onze Gezellen (both First Division A), Blue Birds and Schiedam (both First Division B).
(September 28)