Cardinals, Roef! to decide 2nd Division championship; 3 teams win title
Nederlands





HENGELO / SANTPOORT / ZWIJNDRECHT / OSS / MOERGESTEL (Neth.) - There are four Second Divisions this season, meaning that there will be four champions, but also four teams that will relegate. Three of the four pools are decided, but in one league (2D), a decision has yet to be made in both the championship, as well as the relegation.
---

Second Division A

HENGELO - Giants from Hengelo captured the title in this pool on Saturday, September 11 by winning 21-3 vs. Blokes at Veendam.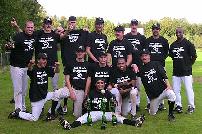 The championship game was highlighted by a good performance by pitcher (and coach) Mark Kolner, while Rogene la Reine homered for Giants.
Giants, which celebrated its 40th anniversary on June 7, will finish the season coming Sunday against fourth placed Drachten Diamonds. The team has a chance to finish the season unbeaten, as it is 17-0 at the moment. Currently, Giants is having a 4-point lead over Quick Amersfoort, which played in the Dutch big league some years ago.
Robur '58-2 relegates from this division.
(photo copyright Giants)
---

Second Division B

SANTPOORT - Terrasvogels won the title in this pool by winning 9-7 vs. Alcmaria Victrix-2 on Sunday, September 19. Terrasvogels trailed 7-5, but then took the lead in the eighth inning.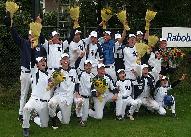 Terrasvogels could have won the title the day before, but then the game against last placed Flying Petrels-2 had to be canceled, as the team from Purmerend arrived with only seven players in Santpoort.
Last Sunday, Terrasvogels played the make-up game vs. Flying Petrels, which it won 21-2 to finish the season with a 17-3 record. For coach Frits Dijkman, this was his last game for the Santpoort-based team, as he had announced his retirement.
Flying Petrels-2 relegates from this league.
(photo copyright Terrasvogels)
---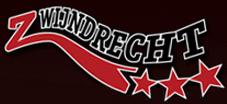 Second Division C

ZWIJNDRECHT - On Sunday, August 29, Zwijndrecht defeated Adegeest 5-1 to capture the title in this pool. Despite bad weather, the field was made playable and the game could be played. Former big league and national team-pitcher Erik de Rijcke dominated and has played an important role this season, his first back with the club where he started his career.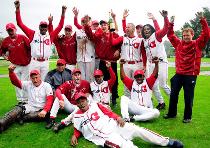 Zwijndrecht, which was led by veteran coach Ton Benningshof, Sr. (photo left), finished with a 17-1 record. The lone loss came on Sunday, August 15, when they were beaten 8-6 by Wassenaar.
On September 15, Zwijndrecht celebrated its 45th anniversary.
Biento relegates from this pool.
(photos copyright Zwijndrecht)
---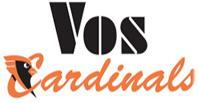 Second Division D


OSS / MOERGESTEL - This pool is not decided yet. Vos Cardinals and Roef! are sharing first place with 34 points. Cardinals, which is coached by Royce Holder, can take a possible decisive lead on Wednesday-evening when it wins a make-up game vs. Nuenen.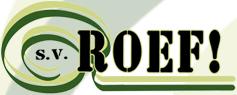 With this, the team from Oss will put the pressure on Roef! which it will meet coming Saturday at Moergestel in what will be the last game of the season for both teams. On April 25, the teams first met this season with Roef! winning 4-3. The next meeting between the two teams came on June 20 and this time, Cardinals won, 12-3.
In the cellar of this pool, UVV-2 is currently in last place, two points behind Nieuwegein Diamonds. Both teams have one game left. UVV-2 will meet MULO (fifth place) next Sunday, while Nieuwegein is playing on that day against Nuenen (fourth place). In case of a tie, there will be an one-game tiebreaker to decide the relegation.
---

(September 28)

Coming up: the situation in the Third, Fourth and Fifth Divisions