Dutch Team surrenders late to Cuba
Nederlands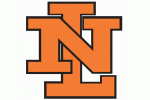 TAICHUNG (Taiwan) - The Dutch National Baseball Team on Thursday-afternoon led 3-2 vs. Cuba when the seventh inning started, but then gave up three runs and went on losing 6-3 in the opening game of the Championship Round on Day 6 of the Intercontinental Cup in Taiwan.

Cuba was off to a productive start, scoring two runs in the first two innings off Dutch starter Tom Stuifbergen, who struckout six and gave up six hits in 6 1/3 inning. After the Dutch side was retired in order in the first at bat, the righthander gave up a lead-off homerun to Giorvis Duvergel. Hector Olivera followed with a double, but was thrown out at third base when he tried to stretch it into a triple. Stuifbergen then struckout next hitters Michel Enriquez and Alfredo Despaigne to end the inning.
In the second inning, the Dutch were retired in order again and Cuba added another run when Alexis Bell led off with a triple and scored on an one-out grounder by José Abreu.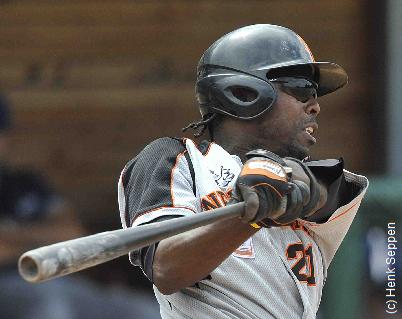 ...Eugène Kingsale...
...run, 2 hits, double, 2 RBI's...
(© Photo: Henk Seppen)

But then the Dutch tied the score by scoring twice with two outs in the third at bat off Cuban starter Freddy Alvarez. Danny Rombley led off with a double and advanced on a grounder by Bryan Engelhardt, then scored on a 2-out single by Eugène Kingsale. The latter then moved to third when Mariekson Gregorius also singled and scored the tying run on a single by Sidney de Jong. Kingsale scored before the third out was made, as Gregorius was thrown out at third base on the same play.

The Dutch then took a 3-2 lead. In the fourth Sharlon Schoop walked with one out, but was picked off, then the go-ahead run was scored in the next at bat. With two outs, Shaldimar Daantji walked and scored on a triple by Eugène Kingsale. Hereafter, Jonder Martinez took over for Freddy Alvarez and ended the inning.

Cuba appeared to score another run in its third when Yorbis Borroto led off with a single and Giorvis Duvergel reached when an error was made on his bunt, but then three outs followed. In the fourth inning, Stuifbergen struckout the side, then walked a batter with one out in the fifth and gave up a 2-out single, but no runs. In the sixth, the righthander walked a batter with one out, but then Yulieski Gourriel grounded into a double play.

After the Dutch were retired in order in the seventh, Cuba came back with three runs. First, José Abreu led off with a homerun to tie the score. After next hitter Ariel Pestano grounded out, Stuifbergen was relieved by Arshwin Asjes. The righthander was greeted with a single by Yorbis Borroto, then Giorvis Duvergel reached on a throwing error by third baseman Raily Legito. Hector Olivera followed with a triple to give Cuba a 5-3 lead. Next hitter Michel Enriquez was then hit by a pitch, but a double play ended the inning.

The Dutch didn't reach base again in the eighth and Cuba added a run in their half off of new pitcher Dennis Neuman. He gave up a lead-off triple to Alexis Bell, who then scored moments later on a wild pitch. In the ninth, Sharlon Schoop singled for the Dutch with one out, but was left behind.

Today got two surprise final scores. At Douliu City, Italy won 5-2 vs. Korea despite being outhit 9-7. Trailing 1-0 in the first inning, Italy scored twice in the home of the first, thanks to a 2-run single by (Cuban-born) Loidel Chapelli, who in the past has participated with Cuban National Teams in the World Port Tournament and Haarlem Baseball Week. Korea tied the score in the seventh inning, but Italy reacted with two runs in their seventh when the first run was scored on an error and the second on a single by Mario Chiarini. The fifth run was then added in the eighth. Dutch umpire Henri van Heijningen was at second base in this game and Feiko Drost was one of the Official Scorers.

Then, in the evening, Taiwan surprised in Taichung with a big 12-5 win vs. Japan on 14 basehits. Both team scored four runs in the second inning, then Japan got ahead 5-4 in the third, but Taiwan answered with three runs. They also scored four runs in the eighth at bat.

(October 28)