Giants take 2-0 lead with a big shutout-win!
Nederlands

SAN FRANCISCO, California (USA) - The San Francisco Giants also won Game Two of the World Sries on Thursday-evening, shutting out the Texas Rangers 9-0. The Giants led only 2-0 after seven innings, but then rallied for seven runs in the eighth inning when the Texas-bullpen fell apart. The Series now will move to Arlington (Texas), where the next three games will be played. Game Three will be played on Saturday-evening. After completion of Game Two, the Rangers took a nightflight back to Texas, while the Giants will fly to Arlington on Saturday.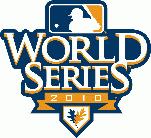 What was expected for Game One, happened in Game Two: a pitching duel. In the opener, this was expected with Cliff Lee (Texas) and Tim Lincecum (San Francisco) on the mound, but they were gone when the sixth inning had finished. Today, C.J. Wilson (Texas) and Matt Cain (San Francisco) kept each in balance and both threw a great game. Cain gave up only four hits to Texas in seven innings, while Wilson gave up only three in six innings, before he left in the seventh inning due to a bothering blister on his middle finger.
And as it was a pitching duel, it was also a game for the defense, as there was not much offensive production.
In the first four innings, the Giants got on base the most with three runners, while Texas got only one baserunner. Matt Cain retired the side in the first and second inning, then walked Mitch Moreland with one out in the third inning. Moreland would advance on a sacrifice bunt by C.J. Wilson, but he stranded, then an 1-2-3 inning followed in the fourth.
C.J. Wilson retired the side in the first, gave up an one-out double to Cody Ross in the second, an one-out single to Matt Cain (!) in the third and walked Pat Burrell with one out in the fourth.
From the fifth inning on, both teams got more runners and thus more scoring opportunities. In the fop of the fifth, Ian Kinsler led off with a doubled, then two outs followed and Mitch Moreland received an intentional pass, but no runs were scored. But then the Giants opened the score in their fifth on a big one-out homerun by Edgar Renteria, who had no RBI in the entire postseason so far.
In the sixth, Michael Young and Josh Hamilton singled with one out for the Rangers, then advanced on a wild pitch, but two outs followed. The Rangers were then retired in order again in the seventh.
C.J. Wilson retired three batters in the sixth, then walked lead-off hitter Cody Ross in the seventh and had to leave the game, due to a blister on his middle finger. Darren Oliver took over the pitching and got Aubrey Huff to groundout, but that moved Ross to second base. Next, Juan Uribe delivered a single that brought home Ross for an important insurance run.
After the Rangers stranded another runner in the top of the eighth inning, the Giants did some more scoring in their half. Darren O'Day became the new pitcher for Texas and started with two strikeouts, but then gave up a single to Buster Posey. He was relieved by Derek Holland, who then walked Nate Schierholtz and Cody Ross to load the bases. Some question marks then raised why Texas-Manager Ron Washington had made the decisions he had made regarding his relievers and wasn't going to his bullpen, but stuck with Holland. When Holland started throwing to the next hitter, a pitcher started to warm up, but then Holland also walked Aubrey Huff to bring in another Giants-run. Hereafter, Mark Lowe, who had just starting warming up, was brought in to face Juan Uribe, but he also walked and another run could be added. Next, Edgar Renteria fouled off several pitches, then delivered a 2-run single to raise the lead to 6-0. And the scoring wasn't over yet. After Mike Fontenot was announced as pinch-hitter for Javier Lopez, Washington replaced his pitcher and brought in Michael Kirkman. Next, San Francisco-Manager Bruce Bochy brought in Aaron Rowand as pinch-hitter for Fontenot (so, a pinch-hitter for a pinch-hitter). Rowand then connected for a 2-run triple to make it 8-0 and scored himself when Andres Torres followed with a double. The inning then finally ended for Texas with a strikeout, but the Giants had rallied for seven runs with two outs off four pitchers, who combined threw 54 pitches.
In the top of the ninth, Texas got another runner, but he again stranded. The Giants took a 2-0 lead in the World Series!
(October 28)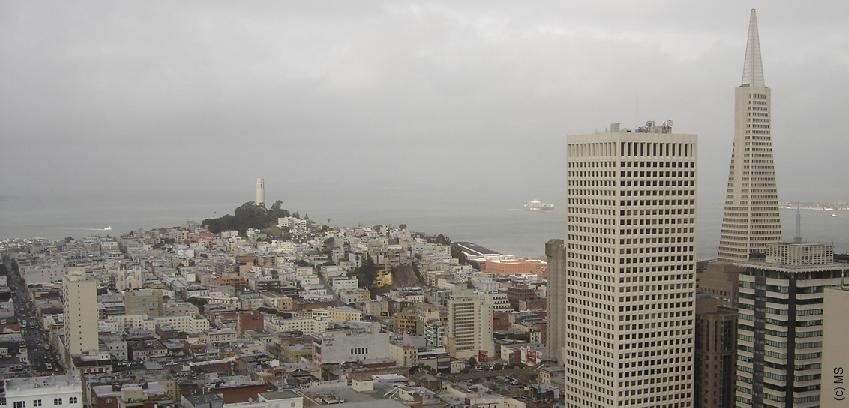 ...Beautiful San Francisco...
(© Photo: Marco Stoovelaar)